Think About It - Rod Hamdallah (Hound Gawd)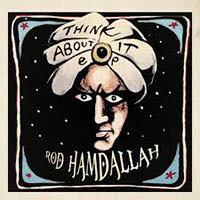 If you're going to raid the garage for inspiration, make sure you're taking your cues from the best.
Rod Hamdallah grew up in Atlanta, Georgia, and was playing gin joints and trashy dive bars before he was old enough to legally drink, steeping himself in blues, '50s and '60s rock and switchblade punk sounds from the get-go.
This 10-inch vinyl EP is a re-issue of Hamdallah's self-issued debut CD from 2014 and reverberates with rebellious righteousness.
There are five tracks on "Think About It" and they're each worth the price of admission. Hamdallah's raw guitar, soulful vocal and brash approach puts his music in the same vein as The Raunch Hands, John Schooley and Mark Sultan.
The title tune is the snarling garage-blues-country lead-off (and single) that works a treat. It's only topped on side one by "I Don't Mind", a roaring stomper. "Carry It Home" is sweetened by banjo and piano from JD Wilkes of the Legendary Shack Shakers.
Flip it over and you'll be confronted by a song of a very different breed: "Heartbreak" is bare-hands, minimalist country blues, smudges of accordion and handclaps sitting at the centre of its gypsy soul. "Take Me Back" is a matter-of-fact blues-rock strider with cantankerous guitar making a mark.



Tags: mark sultan, hound gawd records, rod hamdallah, think about it, raunch hands, john schooley , legendary shack shakers, jd wilkes