Details

By

The Barman

The Barman

Hits: 3938
Mary Mary b/w Don't Bring Me Down - Love Minus Zero (Method Records)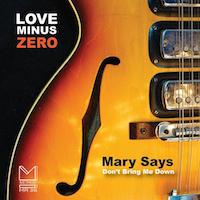 Jangling pop on one side and rocking power pop on the other.
Love Minus Zero were a Sydney band from the second half of the 1980s, active on both the Waterfont label and Green Fez, the Citadel spin-off. Their lineage came via mods Division 4, Suicidal Flowers and the (later) Bambalams.
Both cuts are on a forthcoming compilation of their output - if you were on the ball, you might have caught their recent reformation show - and you'll need to be quick if you cherish vinyl singles; as this is in a run of just 100.
"Mary Mary" gets positively Beatle-esque in its employment of a trumpet over its Rickenbacker jangle. Just like the label says, it cajoles rather than confronts and has a nice psychedelic edge. "Don't Bring Me Down" is not the Animals song. A smudge of backward masked guitar announces the song itself, a stellar pop tune led by guitarist Dario Becego's melodic vocal. The guitars rock and Joe Genua's drumming is right on the money, too. A gem.