Top Ten for 2022: Sean "The Bastard" St Leone of The Owen Guns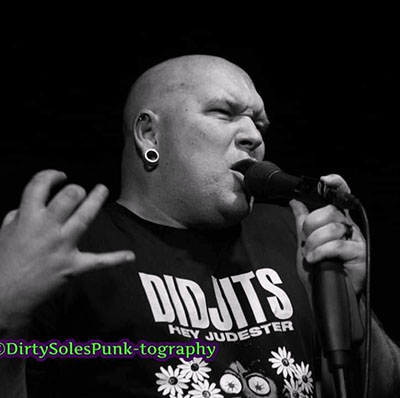 Ten Things, Bands and Albums that have caught my eye in 2022, in no particular order.
The Square Tugs – "Monster Hits "
This LP is a cracker. The Brisbane-based trio started out as a Circle Jerks cover band (hence the name), but this isn't a one-dimensional release: 16 tracks that channel everything old school (the Ramones, The Damned etc) into a great album that gets better the more you listen. Its an old school sound without sounding jaded; it still manages to sound fresh with great production and a mix of songs which are funny and also political. Most of the songs clock in at under two minutes - the only disappointment is that they're over. Check it out.
The Dark Clouds – "My Way Or The Highway"
It's taken forever for these slack bastards to get an album out, and as a consequence many of these songs will sound familar to those of you who have seen 'em live. It's been worth the wait though as this is a belting rock 'n' roll record. Led by a larger-than-life frontman, a wicked lead guitarist and a tight as a fishe's bottom rhythm section – they're just as good on record as they are live which is no mean feat. They are one of the most under rated live rock bands in the country. Uf there was any justice they would be filling big venues. If you are fans of rocking proto punk, or balls-to-the-wall Aussie pub rock you'll find something worth your while here. Buy the record, catch them live (they're old - every show could be their last.)

The Chats – "Get Fucked!"
if you don't know who these kids are, you've been living under a rock. This album is killer, played (mostly) at break-neck pace and choc full of what the youth would call "bangers". There's a lot of people who look down their nose at this band - ironically they're usually the same people who would have been flogging themselves into a coma over this album if it had been released 25 years ago. These kids are a lot better and smarter than they're given credit for. They're not reinventing the wheel, but they're not claiming to be, either. Three kids playing deadshit punk rock and doing it well. If you don't like the new album, do as the title suggests.

Litter – "Vignettes of Despondency​/​A Life Alimentaire"
A singer recruits a bunch of youngsters and resurrects his band that was last active around a decade ago, then goes on to record an album as a "passion project" featuring a bunch of guest musicians. Sounds like a recipe for a bunch of wank doesnt it? Add the album title and the alarm bell labelled "pretentious twaddle" really starts to ring... And discovering that the album comes with all the songs in two versions - punk and jazz...you just know its going to be artsy fartsy shite. Only somehow...it isn't. In fact it's really fucking good. Another album people would be pulling their dicks over if it came out at the end of last century. The punk songs are punk, varied in style with some obvious '90s punk influences but consistent in quality. And the real surprise is the Jazz versions which aren't just shitty covers, they've been reimagined and in some cases are better than the originals. The only way to hear the jazz versions is to actually buy the album (they're not on streaming sites) - so don't be a cheap cunt, buy it today.

Boudicca – "Tapestry"
Hardcore from Newcastle with both brains AND guts. This album is a full throttle blast (except for the nice little musical interlude in the middle) of tough hardcore minus the macho bullshit. The lyrics take on a historical bent and its kinda cool to hear a hardcore band sing about something more interesting than "crew" and who they beat up. Musically, this sits comfortably in my collection alongside the likes of Toe to Toe, Sick of It All and Madball. There's a touch of early Refused in there and a fair bit of NYHC. The vocals are throat tearingly ferocious without falling back on the boring cookie monster thing that most hardcore bands seem to do these days, and the lead guitar work is on point. They are also totally killer live. If you're in the mood for something heavy pick this up.
Drugs in Sport – "At Least We'll Always Have Rock n Roll To Fall Back On"
Technically this came out in Dec 2021 but I didn't get a hold of a copy until early 2022 and its my list so fuck you. This band is made up of some heavy hitters of the Newcastle music scene who are/have been members of Muzzy Pep, Australian Beefweek Show, East Coast Low, and a bunch of other bands. Its gritty guitar-based alt pop/rock and its glorious. You get the feeling that if this was being played by a bunch of young hipster looking cunts with permed mullets and sex pest moustaches, clad in ill-fitting dungarees , pastel hued trousers, turtle neck sweaters and at least one jacket with elbow patches rather than a bunch of old jaded pricks a bees dick away from needing hip replacements, the people who program JJJ would be jizzing themselves over it. But they're not. And their loss is our gain because it means that rather than playing to thousands of twats per show like they deserve, they're instead playing brilliantly to small rooms full of people who are actually there to enjoy the music. The songs themselves are tremendous and catchy, the lyrics often cynical and dry or darkly funny, and the vocals are perfect - especially the harmonies. These guys have spent years honing their craft and it shows. And if breathe isn't one of the best Aussie songs released in the last five years I'll eat my hat. The vinyl is sold out, but you can buy a CD, stream it or download it on Bandcamp (they need the cash - old people spent a lot on medication).

Tantichrist
A new Sydney band that blew me away this year. Like the aforementioned Square Tugs, these guys started out as a cover band covering a classic punk act. This time it was the Dead Kennedys and they were going under the name of Australis Uber Alles. They quickly built a reputation as a shit hot live act. Now they're doing originals under the moniker Tantichrist and they're even better at that than the DK covers. There's still a touch of DK in their songs, but also a lot of other influences including a healthy dose of NOMEANSNO and early American hardcore - it doesnt feel like they're ripping anyone off. Their front man Nicky is manic and mesmerising, and the band behind him dont miss a beat with guitarist Mitch Hertz particularly notable. GO SEE THEM LIVE! They're recording soon so keep your ear out - its gonna be great.

SICK FIZZ
Brainchild of idiot savant (or just idiot - you decide) Mike Foxall of Nancy Vandal and The Neptune Power Federation, along with Fiona from the Del Emmas and Graeme from a bunch of bands including Peabody and Silo, this three-piece played their first show the other week and it was rocking. The crowd loved them, and it was nice to see Fox step out from the shadow of the guitarists he's previously been playing with and do some quality shredding (the man works a whammy bar like it owes him cash). I'm excited to see what these three come up with when they release their album next year 'cos if its anything like their live show it will be grand!

The Limited
Not a new band (they started out just before COVID came to town) but new to me. I've been lucky enough to watch this awesome punk four-piece a bunch of times this year. They mix politics and fun and play poppy punk/skate punk in a style that you'd be familiar with if you dig the kinda bands that Fat or Epitaph release. The banter between them on stage is great and they always put on a good show. The band has a little bit of stuff up on Bandcamp and whilst its ok you can tell it was recorded on a shoestring budget and doesn't come close to how good they are live. Someone give these kids some money!!! Their standout song live is "Don't Be a Nazi" which is also pretty solid life advice. If you see them playing near you, go and enjoy them

The Owen Guns – "Dawn of the Braindead"
You didn't think I was gonna do a list and not plug my own band did ya? The Owen Guns' debut full length release "Dawn of the Braindead" came out in September. The vinyls almost gone but there's plenty of CDs left and you can always be a shitcunt and stream it. 12 awesome punk rock tracks, 23 minutes of your life you'll never get back! You'll laugh, you'll cry.... and remember, once you've bought it..NO REFUNDS!!!!!
Tags: the dark clouds, the owen guns, drugs in sport, dawn of the braindead, sean the bastard, top tens, the chats, litter, he square tugs