Top Tens for 2022: Guitar god Chris Klondike Masuak, ex-Radio Birdman, Screaming Tribesmen, New Christs and Hitmen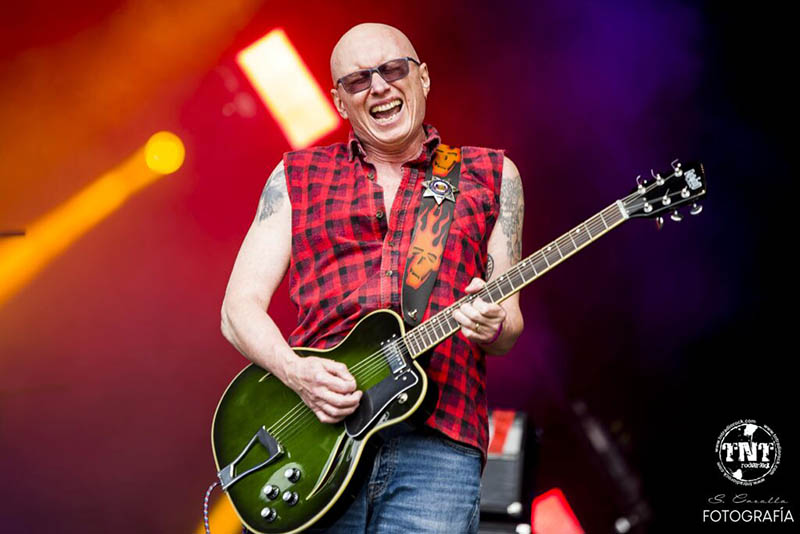 Chris Masuak at Resurrectionfest 2022 by Santiago Carollo
CHRIS KLONDIKE MASUAK'S TOP SEVERAL FOR 2022
Is it really that time again?
I can never summon up the ennui to diss Christmas. I get that it pushes some people's buttons but I'm bucking the buzzkill.
This is the time to be relentlessly cheerful, if not for your sake, for those that need it.
So, put "A Christmas Gift For You", "Rockin' Little Christmas", and "It's Christmas Time Again" on high rotation.
At mind numbing volume!
MALEVOLENT WEIRDNESS
A long anticipated family visit to my Dad in Canada tragically collapsed into a funeral and memorial service, a house cleaning with all the fraughtness implied (yeah, I made up that word), a rather delightful extended family reunion, a rather wonderful sibling reconnect, and general madness and mayhem.
Exactly as Griz would have wanted it!
BUKS? WHAT'S A BUKS?
Robert Brokenmouth discovered some of my literary meanderings and provoked me into continuing the practice.
After relentless and (frankly) annoying behaviour, at some point he said "Stop! You have a book!"
So was born "Faith And Practice In Bedlam".
People seem to like it! And, I'm not in the least bit embarrassed by the result.
HOW DO YOU SAY "METAL" IN SPANISH"?
The Viveiro Wave Riders romped through Resurrectionfest this summer after the musical drought that Covid inspired!
It would have been terrifying if not for Abe Corujo and El Kara having my back!
And, the crew was awesome!
WHAT GOES ON ON THE ROAD …
Suspect tour programming and idiosyncratic tour managing is always interesting.

I've become quite accustomed to it.
How the band members accommodate such trials and tribulations is quite another thing!
My hat is well and truly off to Zach Rembrandt and Luke Dirckze for more than rising to the occasion on September's The Prehistorics Tour de France!
A glorious clusterfuck!
VOULEZ VOUZ FUZZ?
Badass Mother Fuzzers. A truly wonderful trio of French cunts to romp amongst the mushrooms with!
BRUTAL AF!
La Menace are so fucking great! If you don't have your shit together you do not want them as your support band!
HOW DO YOU SAY "GARAGE" IN SPANISH?
A bunch of goofballs from Lugo decided to form a garage band called Los Revelators.
"Who's the singer?" I foolishly asked.
It's more fun than I deserve.

LIFE'S RICH PAGEANT
So many friends, acquaintances, and heroes have slipped away this year.
All the more reason to hold on to, love, support, nurture, mentor, or simply tolerate those in your circle, purview, or extended fake family.
Abrazos, everyone! Merry Christmas!
Tags: klondike, top ten, hitmen, prehistorics, radio birdman, screaming tribesmen, chris masuak, badass mother fuzzers, 2022, revelators