A choice Thursday night with some local heroes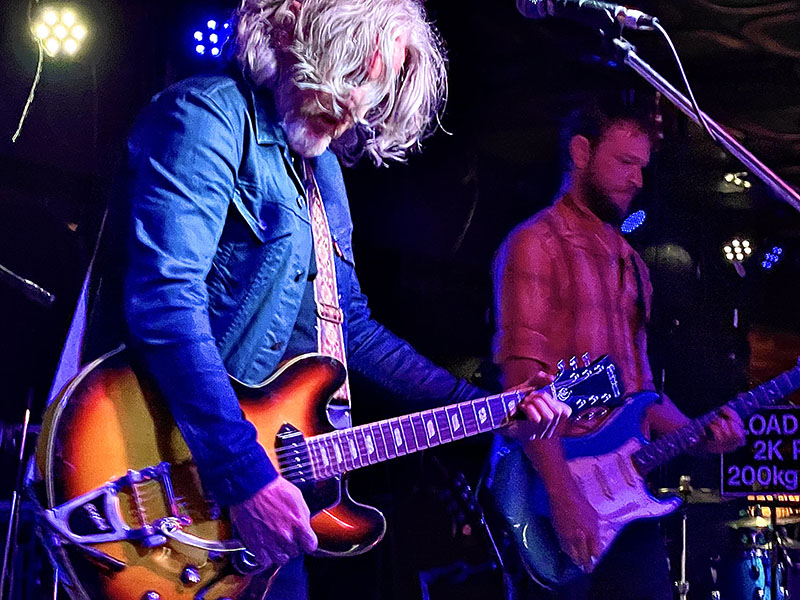 It's 17,378 kilometres from Villarreal in Spain to Marrickville in Sydney, Australia, and more than three years since Stewart Cunningham was last there. At times, it must have felt like he'd crawled all those kilometres home on his hands and knees.
Villareal is where he and his band, Leadfinger, played the last gig of their first overseas tour in 2017. It was nearly their swansong.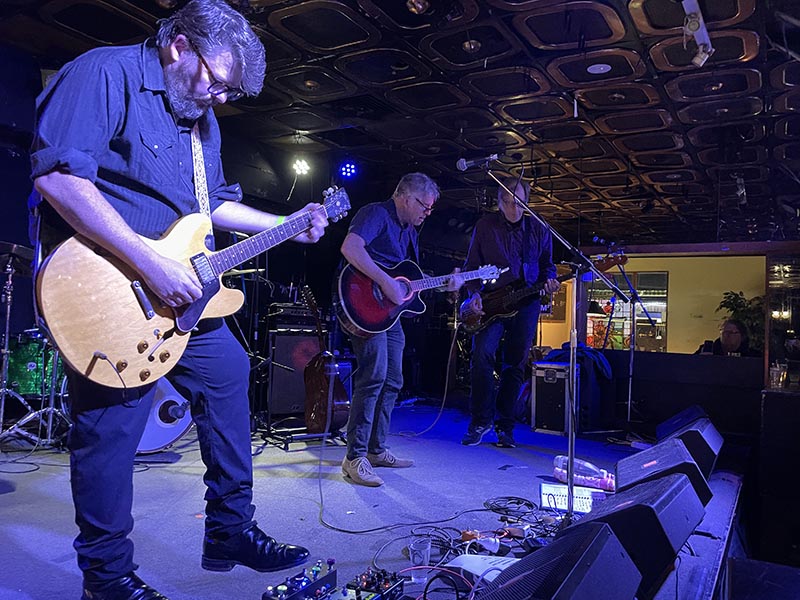 Matt Galvin, Paul Berwick and Jim Dickson are three-quarters of Paul Berwick's Magnetic Quartet.
Stewart was diagnosed with cancer after returning home.
Treatment followed – and then surgery. There was a cautious but positive prognosis. So far, so good.
Then Stewart fractured a chemo-weakened rib while reverse-parking his car, causing life-threatening internal bleeding. Freakish, and yet more hospital and recuperation followed.
What's that cliche about those things that don't kill ya?
It's been a long road and Thursday night at homely Marrickville Bowling Club is Leadfinger's first show back. The venue, like every other, has suffered its own share of near mortal blows. A post-JobKeeper injection of grants funding has sparked a run of shows and produced healthy crowds. Thursday was no exception.
Leadfinger (the man and the band) came to the gig not so much with something to prove but with something to lose: a monkey on their collective back called Bad Luck. The band had spent recent months recording a new album (a harbinger of which is here) so they knew they still mesh creatively. But no matter who you are, dicing with death will fuck with your head.
First to the support and Paul Berwick's Magnetic Quartet are what people used to call a supergroup, even if it made the recipients of the tag extremely uncomfortable. Vocalist-guitarist Paul Berwick made his mark with Happy Hate Me Nots in the '80s, '90s and again in the '00s.
Jim Dickson still plies bass with Radio Birdman and the New Christs with a lineage going all the way back to the Survivors and there's Matt Galvin on guitar (Happy Hate Me Nots, Barbarellas, Loose Pills, The Scruffs et al.) Nick Kennedy has drummed for everyone from Died Pretty to Big Heavy Stuff and Knievel.
Happy Hate Me Nots were pop-punk before it had a name or a diluted reputation. Berwick's songwriting was at its core and it's still the case with his Quartet. COVID means this is only their fifth show (two of them were streaming) and they grab attention from the outset. Berwick lays down a base with acoustic guitar for his voice and Matt Galvin's guitar to add colour. In-house engineer Richard Ball pulls a stunningly great mix with no one instrument fighting any others. Kennedy and Dickson add dynamics and melody.
The songs are rock solid (a handful recorded and ready for release) and the cover of Happy Hate Me Nots' "Blue Afternoon" is a treat.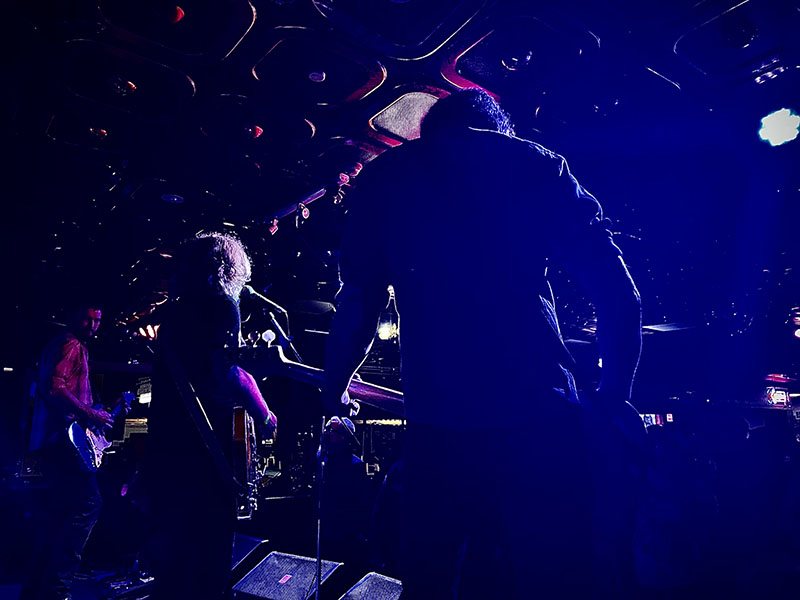 Are you ready for it?..."Leadfinger's back". Thanks. You've been a great audience.
Leadfinger dip into their own back pages with their opener, the Brother Brick chestnut "See You Tonight", and just about erase more than three years of stress and doubt with a single from the get-go. The reflective "Man I Used To Be" puts it beyond argument.
There's a succession of songs from the new album and they don't suffer despite unfamiliarity. One of them, "Here Come The Bats", nestles up hard against the classic "Friday Night Heroes" track "Champagne & Diamonds" and plays nasty with some wicked guitar from Cunningham and Michael Boyle. Boyle steps up on vocals to nail the Rifles' "O Salvation" to provide the night's surprise packet. There are no complaints from anyone.
The band's intention is to deliver a hard-hitting 45 minutes and not wear out their welcome. Box ticked. An encore is sought by the enthusiastic crowd - and granted. The anthemic "We Make The Music" closes it off but before that there's "The Price You Pay", which recalls some of Stewart's mates who played on the edge and either came back to earth, or fell off. It's a song that tells it like it was and never descends into forced sentimentality. It's very much about choices - and Leadfinger have made the right one. Do the same when you see them listed in a gig guide.
See You Tonight
Man I Used to Be
Sleeping Dogs*
Dodged a Bullet*
Stop Running Away*
Dancing in the Moonlight
Here Come the Bats*
Champagne & Diamonds
Nobody Knows*
Beside Me, Against Me
O'Salvation
---
Ya Think So?*
The Price You Pay
We Make the Music

*New songs
"Get Yer Guitars Out Tour"
Leadfinger
JULY
9 - The Stag and Hunter Hotel
10 - Maitland, Grand Junction Hotel
16 - The Chippo Hotel, Redfern
17 - Wollongong, Dicey Rileys
SEPTEMBER
4 - Link and Pin Cafe Woy Woy
NOV
13 - Bulli, Heritage Hotel Wollongong
Tags: happy hate me nots, brother brick, leadnger, marrickville bowling club, paul berwick, marickville, magnetic quartet