Glen and The Peanut Butter Men
+ The FCKUPS
+ Maximum Security
+ Ferocious Chode
+ Loose Cannon
Bombay Rock, Melbourne
October 23, 2018

But folks, the reason i travelled a lazy 900km return was to see Maximum Security and, hell, did these Sydney boys rock this fucking joint with 100kg-plus punk rockers slam-dancing the place down. I stayed in in the pensioner pit.
After bashing Maximum Security's mighty fine debut release, "Never To Be Released", for the past sixr months, I was so very excited to be here. Guy's vocals kill it live - fucking emphysema does not slow this Sydney legend down - and he did an unbelievably fine job.
Steve (bass), Donny (drums) and Dane (guitar) were all on the money, keeping it loose but tight. They had Melbourne fucking going off. What an effortless joy this gig was.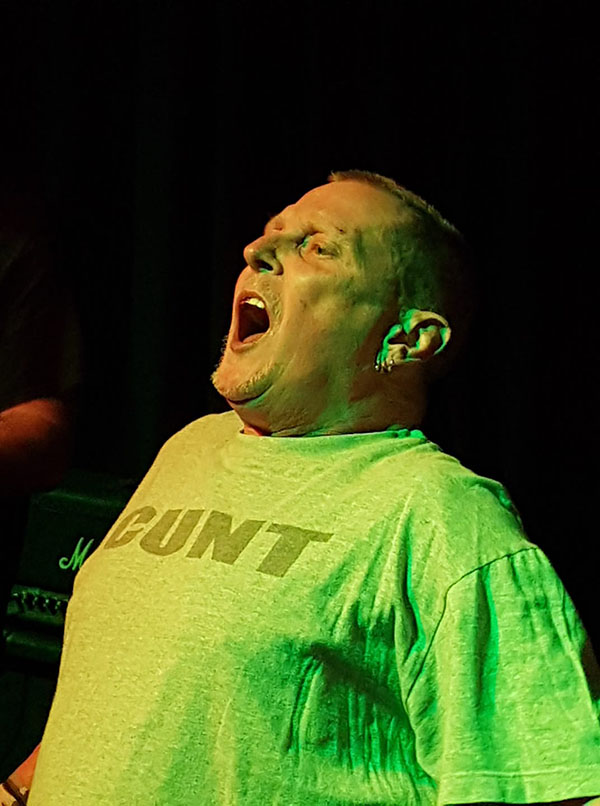 Guy from Maximum Security, dressed for success.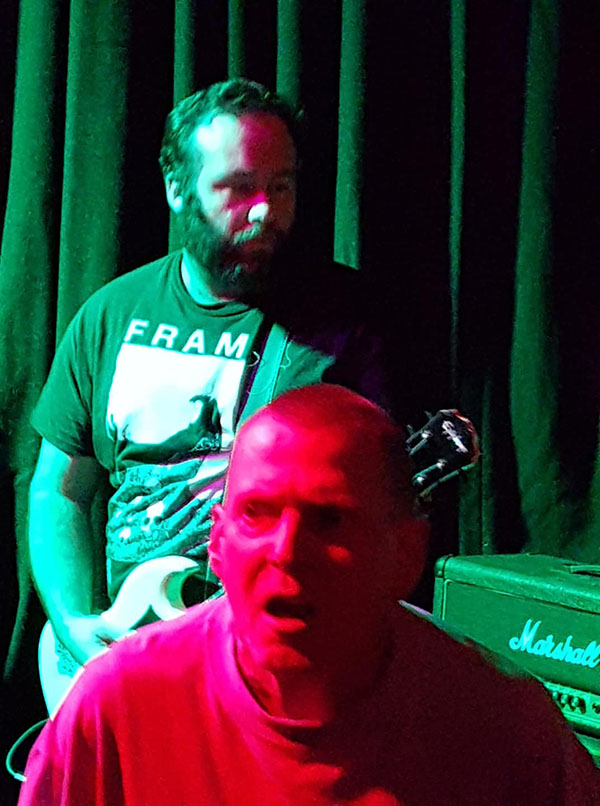 Dane and Guy.
This was after Guy and Co had witnessed the extreme mayhem and force of Ferocious Chode. They accepted the challenge and delivered a half-hour set straight off the album, starting with "Bad Man" and then "Jerry". Guy explained the origin of the song and up went the chant "Jerry! Jerry!" and off they fucking went.
These are smashing songs; "I'm Sick", "Jumping Fences", "1984" and my now personal favourite "Don't Tell Me What To Do" with backing vocals from a punter who took over Steve's mic. Fabulous gig, gentlemen. Let's do it again, soon.
Headlining the evening were Glen And The Peanut Butter Men,, old school punk rock played by old school punk rockers. Their hair hair was perfect, as was the sound.
I missed seeing The FCKUPS unfortunately, but they sounded bloody awesome from the smoking gallery.
Ferocious Chode - now here is a frontman who gives it his fucking all. His performance should be kept strictly behind locked doors. Seriously, i was scared he was going to hump my leg.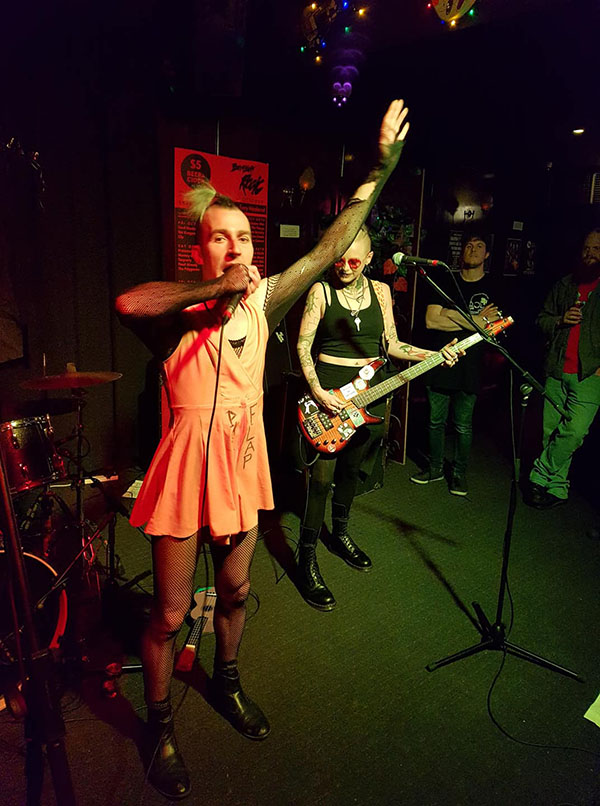 The scoreline was: Ferocious Chode 1 - Ron Brown's Leg 0
The song names escaped me but the one about cats, pussy and who the fuck knows what else was a fucking blinder. Hopefully they get these songs down on tape soon. Myself, i would start with a live performance debut (a la the MC5) because i don't know if it would translate in the studio. If you ain't seen them live, do it. They are fucking awesome. This is one band i will be seeing again, highly recommended.
Starting the night was a youthful punk band, Loose Cannon. These guys are fucking kids aged under 25 with a great sound. Great band. i can see these gentlemen for what they are - very polite, respectful and very keen to play. So if you're interstate, book them. They'r keen to travel.
So folks, 900km and 25 beers. Way two many morning glories and trying to keep up with my son and his crew of ratbags and misfits down in Melbourne. It's always a pleasure to get back to the Farmhouse, see my dog and sleep for a week. This was another rocking weekend that will be done all over again on November 28when HITS play the Bendigo Hotel in Collingwood for their only Melbourne show of 2018. I had a ball.