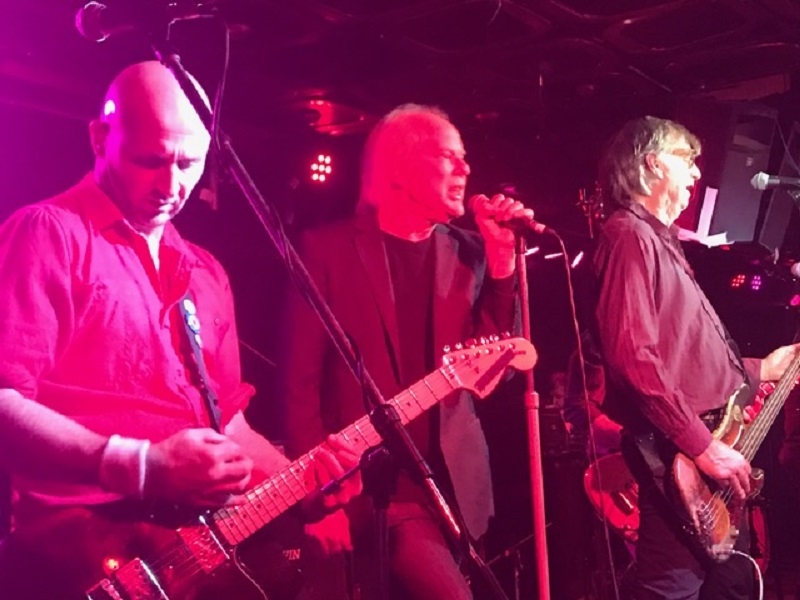 Kettley-Younger-Dickson in full flight
For me, it's been a long time between live drinks, due in part to the fact that the members (three of them, actually) have had other commitments.
So is the band's return to Sydney stages for the first time in about a year worth braving the mid-winter cold? It is – and more so when you factor in a support like James McCann and The New Vindictives.
James McCann used to be a local who'd blown in from Perth. Have guitar, would travel. Then he followed the smell of beer-sodden pub carpets, took his leave of Sydney's crumbling live music scene and set up camp in Melbourne, where they did and still do love their rock and roll, rather than just tolerate it.
Before that he'd co-founded The Drones in Perth, fronted an early version of Nunchukka Superfly and been a member of Harpoon. But it's his own music where his creative juices flow clearest and he's made a series of compelling records down the years.
The latest, "Gotta Lotta Move – Boom!", is up there with his best, eschewing the wide-screen vistas for in-your-face punk rock. I last saw him live with Leadfinger about a decade ago, so there was a bit of self-interest there when I put James's name forward to booker Sue Telfer after injury took original support The Pink Fits out of the picture for this show.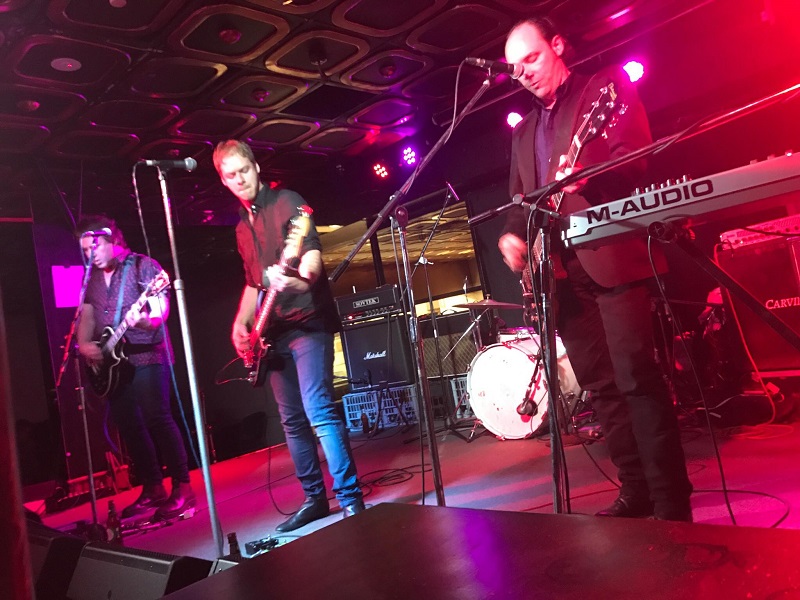 James McCann (left) and his New Vindictives.
There's not much else on around town tonight, so there's a comfortably large crowd packing in under the Copper Art pressed metal ceiling of Marrickville Bowing Club when McCann and his crack band take to the stage. Any signs of fatigue from the long drive from Melbourne are blown out the club doors and onto the lawn bowls green as The New Vindictives spit out one would-be hit after another.
McCann is a vastly underrated guitarist and sparks off six-stringed colleague Tim Deane with raw energy and alacrity. Chris Taranto (Garry Gray and the Sixth Circle, Bitter Sweet Kicks guitarist) summons the rumble on bass and drummer Jackson Kite is a flurry of hair and swinging feels.
And what songs: The raucous sing-along "Sheena Says" would be a bona fide hit in an underground radio universe and "I Can't Control Your Mind", the McCann co-write with Penny Ikinger, is a withering wonder. "Ambition" is a relentless assault. "Life in Jail" is a Spencer P Jones cover and it's a perfect choice. It's somewhat juiced up from the original and sends a bolt through the crowd even if many don't know where it's from.
There's a brisk trade being done at the merch desk for copies of the band's brand new album, "Gotta Lotta Move – Boom!" on Off The Hip and a return visit before the end of the year can't do Sydney any harm.That's if they can fit us in before or after their European tour.
There are a couple of hundred people in by the time the New Christs crank their instruments and bother Richard, the front-of-house guy who's always on the ball. The upgraded Bowlo PA is well up to the task.
The band has a comfortable meter these days and slip into their gait almost immediately. There's no need for anyone to look to another for visual cues. The odd new song makes its way into the mix - which should be enough to whet everybody's appetite for a new album.
Tonight's New Christs set list is a little predictable but not a disappointment. Familiarity doesn't always breed contempt. "Bonsoir a Vous" is the closer, "The Seeker" the encore and "Like A Curse" the anchor back to the earliest days. (Actually, I don't know that the bridge thingy is quite right in that one, but c'est la vie.) "Comin' Apart:" is always a highlight with its power and sudden, crash test vehicle ending, but it's "The Fall of Rome" that shines brightest with a rolling feel and some stinging guitar. Your own pick may differ.
If anything tonight proves that the New Christs do have a viable following in Sydney. Yes, Rob, you're popular. Cue: E-mails from Europeans bemoaning that they don't get to see them in their local café every other month.