Pop Crimes: The Songs of Rowland S. Howard in Adelaide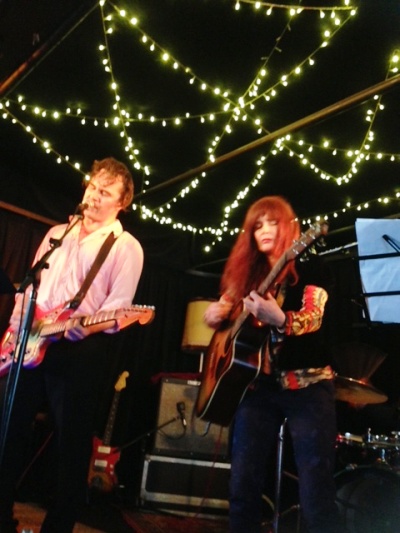 From the spectacle of the Rolling Stones the previous night, I awaken somewhat seedy and blasted. It's been a huge week, dealing with our Beasts of Bourbon documentary, taking note of Stoneswatch, seeing the Stones on a stage half a soccer pitch away and now… Rowland, who would have been 55 the previous day (AKA Stonesday here in Adelaide).
Ho to the Wheatsheaf Hotel on a borderline suffocating hot day, where Alison Lea's photographs of young Rowland (the infamous late 1980 Adelaide tour, where scrawny Nick Cave painted a skull and tentacles on his chest, performed topless with the paint running to buggery and beyond.) If you've seen the cover of the Nick the Stripper 12", that's Alison's photo. If you need more information go here.

There were two sets, the first being These Immortal Souls, and the second devoted to Rowland's solo work. It wasn't the line-up for the Melbourne shows; Hugo Race wasn't there, nor was his sister Angela, nor Ed Kuepper.
I haven't been so profoundly moved all year. Partly because, after interviewing him on many occasions and brought him down to Adelaide for a few gigs, I knew Rowland reasonably well. Which meant that seeing these songs being performed by his friends had me rather teary. It was painful to watch, confronting, nasty even; more poignantly, his words are now far more loaded…
Wheatsheaf Hotel, Adelaide
26 October 2014
Photos by Mandy Tzaras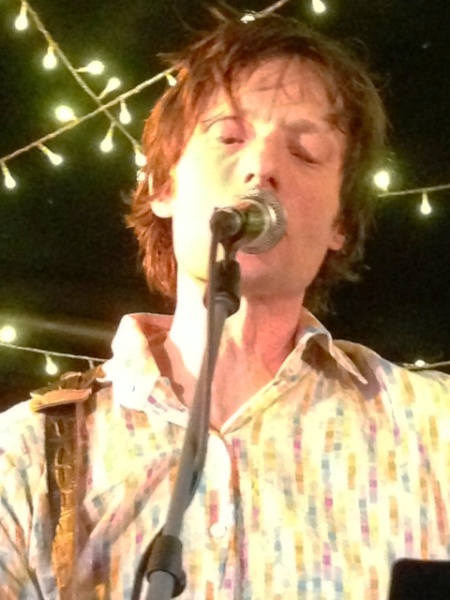 These Immortal Souls had a different live line-up here in Australia. Craig Williamson, drums; Genevieve McGuckin, keys; Harry Howard (right), bass; … and Rowland.
J.P. Shilo must be the most extraordinary, gifted, channelled musician in Australia today. Lots of musicians can more or less pick up any instrument. It takes a man of rare talent and intuition to be able to make me cry, much less numerous times during the night. My eyes are sore, dammit. And the band members' relaxed jousting with each other added to the delight; as if they needed to earth the current of each song before they became enmeshed.
J.P. Shilo was one of three musicians Rowland happened upon, and insisted on producing their first LP. Both Hungry Ghosts records are brilliant; J.P.'s early demos have also been released.
It would be a mistake to compare Rowland to J.P. - their temperaments are completely unalike, and therefore their starting positions are markedly different. That said, if you ever wanted to see Rowland take to the stage again, or wondered what he was like if you never saw him, J.P. is … man, he's in the zone. He's there. He has the emotive phrasing embedded like miniscule crystals of sulphuric acid on strands of dna … from the way he sings, the tone, to his movements onstage … he treads a path of compressed savagery.
No, he's not like Rowland. Different humour. And somehow the fact that everyone in the band doesn't respond to J.P. as Rowland - Le Figure Noir - The Boss - The Legend - makes John's achievement much more splendid. These are very close interpretations of Rowland's songs; Craig, Genevieve and Harry were Rowland's 'Immortal Souls', bringing a backdrop to Rowland's invective, his Chandleresque romantic soul and his sonic holocaust. Mick Harvey (ex Birthday Party, Bad Seeds, Crime and the City Solution) stepped up to assist for a few songs.

Here's the first set:
King of Kalifornia/ Marry Me/ Black Milk/ Hyperspace/ My One-Eyed Daughter (the title derives from Thurston Moore mishearing the original title, I Had a Daughter. Rowland liked Thurston's title better)/ The Story Goes/ Wedding Hotel/ Crowned
If you're not familiar with these songs, get acquainted.
On the left of the stage, Rowland's long-time lover Genevieve (since the late 1970s) is wedged behind an enormous Roland organ. It's bloody hot, she's in long sleeves and a velvet jacket and she's melting. Her simple, pointed melodies bring out Rowland's songs like thin white lines bring out the details in a red brick wall. These gigs are hugely intense for her, the force behind the rerelease of Rowland's "Pop Crimes", and the double-disc CD "Six Strings That Drew Blood", which has just come out to coincide with these gigs. She's been doing a lot of publicity and she must be bloody buggered, not to mention emotional. Some songs she seems to sink into, others she dances in the tiny space, others again she seems … no. See the shows and find out.
Craig Williamson is another well-travelled Australian musician who crossed paths with Rowland. His drumming is powerful and precise. Solid, he provides exactly the right balance against Harry's bass. We're more accustomed to seeing Harry play guitar with his splendid NDE; yet I have vivid memories of Harry's bass in Crime and the City Solution; liquid, strong, vivid.
Harry has a rare facility to be both unobtrusive and unavoidable. His playing is clever and impeccable. Harry accompanied the Birthday Party and their friends in London; he even took a turn on bass when the late Tracy Pew was in jail back in Australia; and again on the Shotgun Wedding tour featuring Lydia Lunch, Spencer P. Jones, Rowland … Harry may not have been famous, but it is beginning to look like he is about to be.

J.P. is so … inside the structure of the songs that, unconsciously, he moves in a similar way to Rowland. Nothing like identical, but it is an extraordinary sight.
The second set, according to the setlist, was:
Shut Me Down/ Silver Chain/ Jonny/ Breakdown/ Exit Everything/ Undone/ Sleep Alone/ Autoluminescent/ Pop Crimes/ Ave Maria/ Golden Age of Bloodshed.
That wasn't the actual order but that's not important. This line-up is Genevieve, J.P., Mick Harvey guitar and drums, Brian Henry Hooper, bass, and occasional vocals by Harry. It's not that simple of course. Adjusting the guitar strap for each player causes one of several running jokes, others involve tuning and calling Harry back from the other side of the room.
Brian Henry Hooper features in the to-be-released documentary on the Beasts of Bourbon, The Brass Ring.http://tickets.oztix.com.au/default.aspx?Event=47699Brian also played in one of Spencer P. Jones' bands - also alongside Rowland.
Seeing J.P., Harry and Mick take turns at the vocals allows us to investigate Rowland's songs in a way not possible at the time. It's all so huge, and I really do lack the language. By the end, the intimate atmosphere of the Wheaty is rather like a comfy family verandah, and we're privileged to see the interaction of Rowland's intimates. I sincerely hope they record - if not film - some of these shows. This unique insight into Rowland's mind should not be neglected.
The lp Pop Crimes is apparently still available - but I doubt if this situation will last. Buy it and everything else…

I suspect much the same will happen to "Six Strings That Drew Blood"; I'm not going to review it as I know the songs. What's it like? Five bottles, Mr Barman. Every home should have one.
As we came out, blinking and gasping into the night, the thunderhead exploded above us, lightning struck down and all around, and the deluge, stifled for so long, started to spit, then roar upon us.
'The poltergeist', muttered Harry.
Tags: harry, howard, live, adelaide, pop crimes, rowland, birthday party