Pretty Things take final Australian bow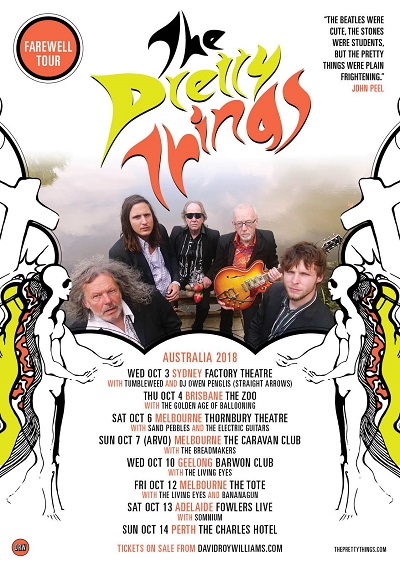 Iconic first wave British R&B and psychedelic cult heroes, The Pretty Things, will perform some of their final live performances in Australia in October.
The band has announced it will cease playing electric shows with a final hurrah in London on December 13, with special guests Special Guests David Gilmour, Van Morrison and Bill Nighy. Securign the Pretties for a run through Australia is a coup for promoter David Roy Williams.
Local legends – and massive Pretty Things fans - including Tumbleweed, The Sand Pebbles and The Living Eyes are onboard to help send them off.
The Pretty Things are waving goodbye. Be there to wave back....
Tickets are on sale from 10am (AEST) on Friday here.
Wednesday 3rd October - Sydney, FactoryTheatre
+ Tumbleweed + DJ Owen Penglis
Thursday 4th October - Brisbane, The Zoo
+ Golden Age of Ballooning
Saturday 6th October - Melbourne, Thornbury Theatre
+ Sand Pebbles + The Electric Guitars
Sunday 7th October - Melbourne, Caravan Club
+ The Breadmakers
Wednesday 10th October - Geelong, Barwon Club
+ The Living Eyes
Friday 12th October - Melbourne, The Tote
+ The Living Eyes + Banagun
Saturday 13th October - Adelaide, Fowlers Live
+ Somnium
Sunday 14th October - Perth, The Charles Hotel
The enormity of the impact The Pretty Things had on the UK music scene when they burst upon it with the dirty garage 1, 2 punch of "Rosalyn" and "Don't Bring Me Down" can't be overstated. Prettier than the Stones and grittier than The Who, the band racked up a huge history of musical and cultural "firsts" – the "longest hair in the world", first ever rock and roll drugs bust, most arrests of any band, first ever rock-opera, arrested for discharging a sawn-off shotgun, first U.K. band to win Rolling Stone Record of the Year – The Pretty Things are an indelible part of the fabric of popular music and the social influence that it has created.
With such outstanding classics as "L.S.D"., "Midnight to Six Man" and one of the wildest psychedelic singles ever released in "Defecting Grey", The Pretty Things proved a huge influence on artists as diverse as David Bowie (who as a teen followed the band around religiously and later covered two of the band's singles), The Ramones, The Sex Pistols, Radio Birdman, Aerosmith, The White Stripes, The Saints, Iggy Pop, Kasabian, Hoodoo Gurus, and many, many more – all of whom site their outrageous behaviour, incandescent stage performances and astonishing catalogue of remarkable, ground-breaking recordings as fundamental in the creation of their own work.
The influence of the band's pioneering psychedelic work can be clearly heard in the work of contemporary groups like King Gizzard & The Lizard Wizard and Thee Oh Sees.
It should be compulsory for anyone with the slightest interest in popular music and the youth and social revolution of the 1960's to see The Pretty Things before they hang up their guns at the end of this year.
Tags: pretty things, australian tour