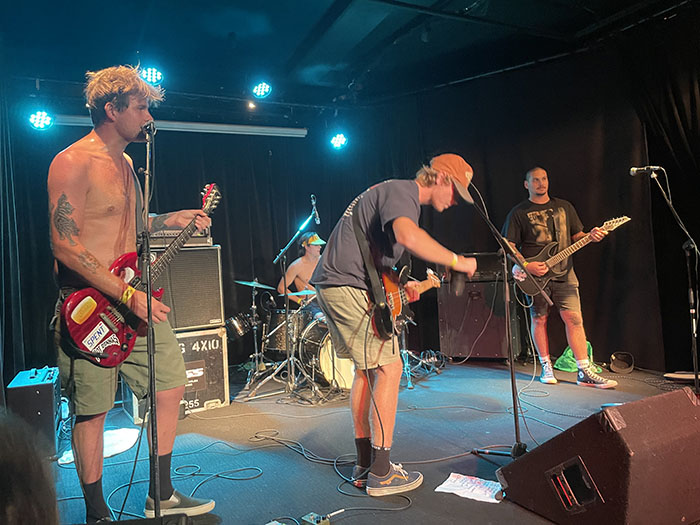 The Darrans opening proceedings. Photo by The Barman.
The I-94 Bar Stage definitely offered the dirtiest street-level rock 'n' roll. The Darrans were the first band I got in front of after a few cans of beer and looking at a few crates.of records at the market stalls.
I first saw these blokes a couple of years ago and commented at the time that you needed life insurance to be in their mosh pit. All attitude with a tough edge. Masters of the two-minute blasts, with a nod to American hardcore as well as local influences like the Cosmic Psychos.
"I am a fuckwit. You're a fuckwit, let's agree we are fuckwits." is the catchcry The Darrans have already put out an EP and a debut album. Comprising brothers Luke and James Kathner (bass, and guitar and vocals respectively), Alex Houston (guitar and vocals) and drummer Billy Randell (drums and vocals), these guys deliver no frills power chording in fine style, lacing it with Mick Jones guitar lines just like on The Clash's debut album.
Over a couple of years, The Darrans have moved away from two-minute, punch-in-the-face songs like "Crispy Socks" to more constructed and melodic songwriting – but still give a nod to the heroes by asking: "What's your favourite Ramones song?"
The Darrans are pure punk rock and tonight they won over the boomers and with a classic punked-up version of the Sunnyboys "Happy Man". It was a clever move and the room was pretty packed.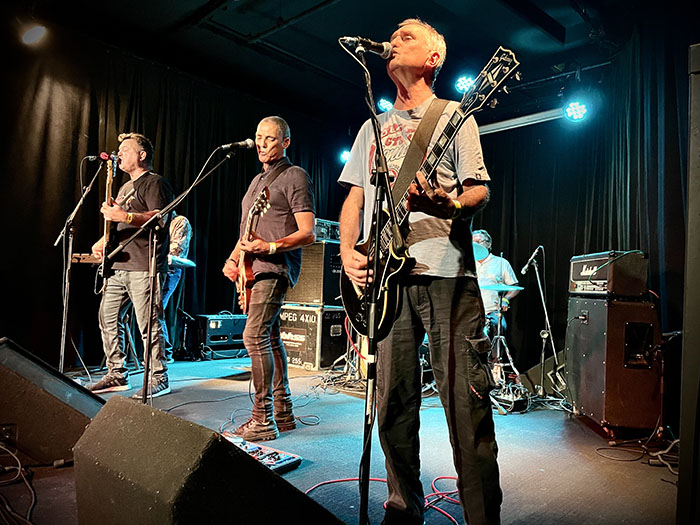 Sonic Garage. Photo by The Barman.
Fellow Northern Beaches band Sonic Garage released one of the best albums by anyone in 2021 after emerging from the ashes of Circus Chaplains. They have a late-period Stooges-meets-Radio Birdman twin guitar attack mixed with classic Northern Beaches rock.
The sound is only part of their story; this band hits you right between the ears with their song writing, delivering lyrics not normally associated with garage rock. Their songs are dark and go right below the surface. Witness "Streets On Fire" with its "I can't breathe" line, and the bluesy and forbidding "Dark Country" and "Asteroid". The latter is my favourite song of last year and it was disappointing that they didn''t did play it due to time.
Phil Van Rooyen (vocals and guitar) and Pete Bourke (bass, guitar and vocals) are damn good song writers and have penned a thoughtful collection of street-level melodic garage rock. Tonight, the soaring lead guitar of Pete Trifunovic is a stand-out against the drumming of Ronny Welsh and his Charlie Watts swing But the secret weapon is the keyboard work of Russell Parkhouse. Parkhouse is an exceptional player, squeezing out swirling and oozing melodies on a brilliant version of Radio Birdman's "Crying Sun" that would leave Deniz Tek and Pip Hoyle in the shadows.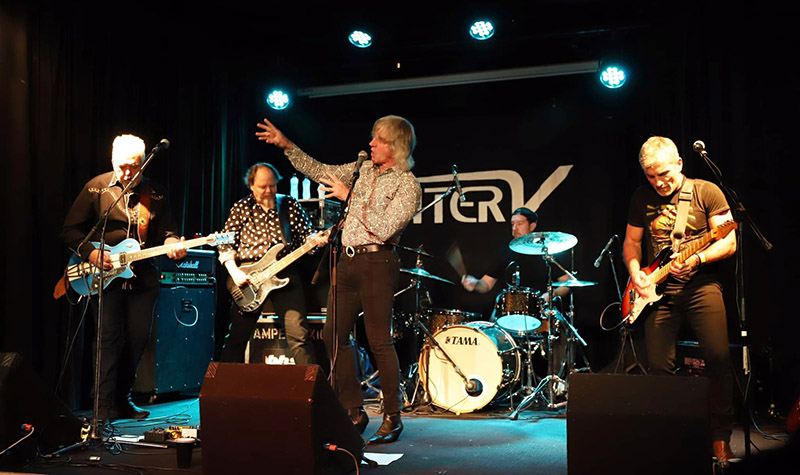 Jupiter 5 hit the floor. Shona Ross photo.
So to Jupiter 5 and I reckon if Jay Younie was not fronting them he'd be running a cult in mountains of Colorado, selling lava lamps and crystals that would extend your life for a thousand years. Alas, he became a rock 'n' roll singer fronting the wall of sound that is Jupitar 5.
The band was on fire from the start with their blistering version of "I'm Eighteen" that surely would have impressed Vincent Furnier. The twin guitar attack of Vince Cuscuna and Angelo Antidormo is not for the faint-hearted
Bass player Peter "The Rock" Ross is wearing his best shirt, and at times seems to be channelling Ian Rilen with playing as tough and hard as concrete. He's tightly locked in with drummer James McQuade. This rhythm section gives confidence to the the guitarists to do their thing with solid melodic lead and feedback.
Highlights were two originals from their recent vinyl single, "H Bomb" and "Supersonic Hero". Jupiter 5 delivered a blistering 45-minute set and by its end, the room was packed.
Jupiter 5's Jay, Peter, James and Angelo. Shona Ross photos.
These three are among some of the best street-level rock bands that Sydney has to offer right now, but most of us are here to see X. There's never been a band like them. Their music is for those who were living on the edge in squats at time when crims like Roger Rogerson and Neddy Smith ran the streets.
In 1the late 1970s and early'80s, Sydney was a city where surfies, skinheads, punks and mods claimed their own turf and they could live on the dole and play in a band . You'd come home as the sun rose, five nights a week. Sydney was one tough city with a beautiful harbour and X represented the underbelly
Almost 45 years since they first emerged, they are now a National Treasure.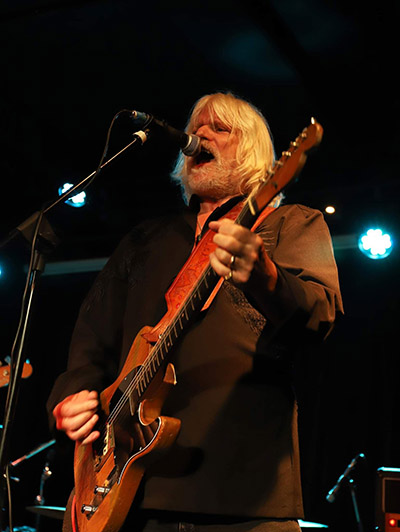 Steve Lucas. Shoina Ross photo.
Founding member Steve Lucas was in fine form tonight. As time goes on, his vocal range seems to increase. He still has command of those high notes and can revert to a low growl. As a rock singer, he is one of the best around.
The set starts with "Degenerate Boy" and the band sounds loud and hard, Lucas's trademark scream intact. The rhythm section is solid and brutal - John Butler on drums and lanky Rick Studentt. The hard-edged and pure songs from "X Aspirations" are run through: "I Don't Wanna Go Out" , "Suck, Suck" and "Dipstick". it is true that it can never be quite the same as Rilen and Steve Cafiero were the engine room four decades ago but the present-day X does a mighty fine effort in respecting the spirit of that line-up.
Second guitarist Geof Holmes is quite clever with playing that is always understated, reinforcing the original single guitar sound and adding certain harmonic layers.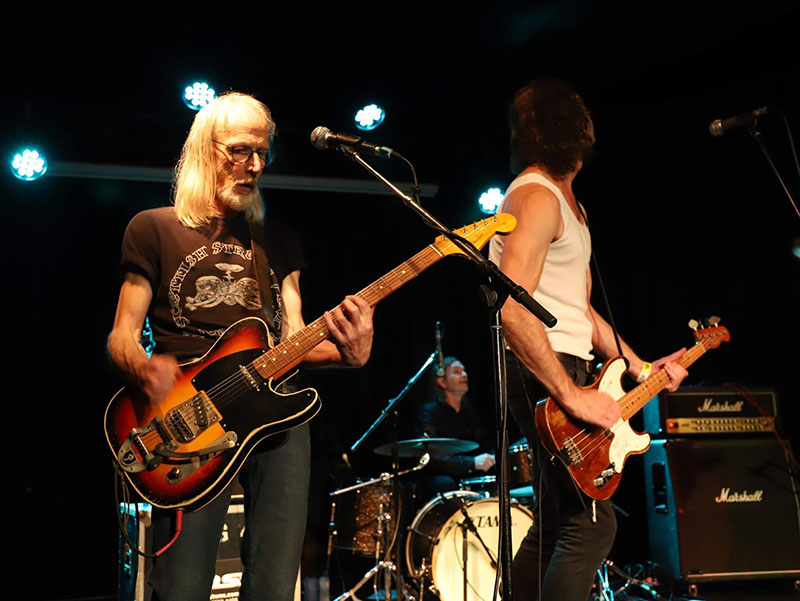 GeoffHolmes, John Butler and Rick Studentt.
It is the slower, impassioned moments like the cover of John Lennon's "Mother" where Lucas claim the music as his own. His "Don't Cry No Tears" really brought the house down. This song was a classic from the moment it was mixed by Lobby Loyde and why it's not listed in the greatest Australian songs of last century with its almost Bowie like melody, awesome guitar lines and tender emotive delivery is beyond comprehension. It was stunning.
X came back and gave us a couple more blasts of songs and left, and for me the day was over. And as it dawns that most of us have to work the next day it reminds us what a wild afternoon and evening of rock and roll we saw. Kudos to Tiffany Palmer and The Barman for an awesome event.