Americana Hero: Alejandro Escovedo's long journey from punk to troubadour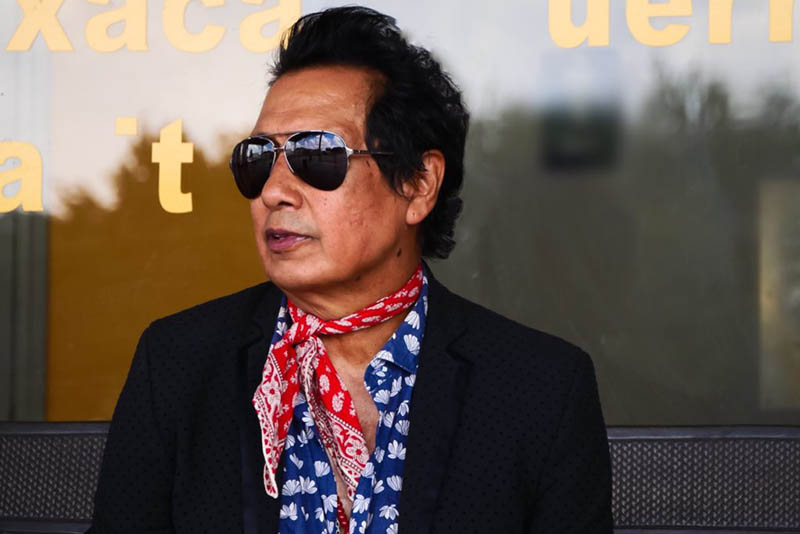 Nancy Rankin-Escovedo photo.
In 2018 Alejandro Escovedo released "The Crossing", an album based on the story of two boys, one Mexican and one Italian, travelling across the United States. "I've always lived along the border in California and Texas, so it's been part of my story," Escovedo says. But while immigration is fundamental to the evolution of modern America, in recent years it's has become a hot political topic.
(To accentuate the point, a few hours before my interview with Escovedo, US President Donald Trump invoked emergency powers to secure the funds to continue the building of his border wall between Mexico and the United States.)
Escovedo didn't set out to write a political album; it's just that "whenever you talk about immigration at this time it tends to be political because of what's going on in America".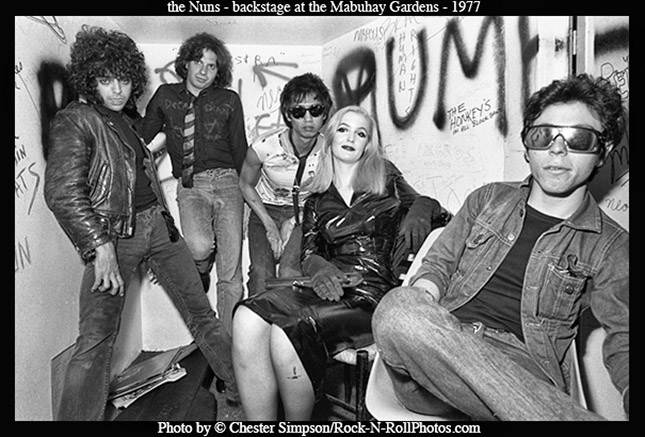 The child of Mexican immigrants, Escovedo was born in the border town of San Antonio in 1951. Escovedo came from a musical family – he would go on to play alongside his brother Javier in True Believers in the 1980s, and his niece Sheila would find fame in the 1980s under the artistic moniker Sheila E – and, in addition to the omnipresence of Mexican music, Escovedo was introduced to country music by his father and, through his mother, big band music.
When a cousin and regular babysitter played the young Escovedo some of her Elvis Presley records, Escovedo set out on a rock'n'roll journey that would take him to British Invasion bands like The Yardbirds, The Pretty Things and The Rolling Stones, and onto 1970s English outfits like David Bowie, Mott the Hoople and, via Roxy Music, Brian Eno.
By the mid 1970s Escovedo had formed a punk band, Nuns. For a Mexican kid growing up in southern California – where his parents had moved some years earlier – punk rock provided "a place where [Escovedo] was accepted. Nuns were a punk band in the classic tradition – wild, scrappy, passionate and dedicated to artistic expression.
"Punk rock was a very inclusive art form," Escovedo says. "I felt very comfortable with it in the beginning because it was all about expression, so it didn't matter what colour you were, what sex you were, whatever, as long as you had to say it was all viable and valid."
In October 1978 Nuns opened for The Sex Pistols at the Winterland Ballroom in San Francisco. Even before Johnny Rotten snarled his parting rebuke to the audience – and the industry that had tried to co-opt and corrupt the Pistols' anti-establishment rhetoric – Escovedo knew the halcyon days of punk were over.
"That gig marked the end of punk rock as we knew it," Escovedo says. "Suddenly it became more suburban, more male-dominated, more testosterone driven, more hardcore as they called it.
"The gig was the self-destruction of The Sex Pistols or the end of The Sex Pistols –they were basically imploding in front of our very eyes – but it was also the end of a lot of the innocence and naivety that I had regarding the music industry and what it was all about."
Escovedo continued playing with Nuns until 1979. Escovedo stayed around in New York, living for a time in the fabled Chelsea Hotel. Eventually, Escovedo moved back to Texas, where he formed Rank File whose fusion of punk rock attitude and country music sensibility is now regarded as one of the progenitors of "cowpunk".
For Escovedo, early country rock musicians like Hank Williams, Waylon Jennings and George Jones came from the same musical tradition that led to punk rock. "The honesty in the lyricism, the accessibility of those artists to the people who adored them, their fans. It was very much the music of the every day," Escovedo says. "It drew attention to the every day and made them feel special."
In the 1980s and '90s Escovedo kept up a regular, sometimes hectic touring schedule, playing up to 300 gigs a year. Rank and File continued playing until 1987; in parallel, Escovedo also formed True Believers. Eventually Rank and File and True Believers would be lumped under the "Americana" label, an ill-defined genre which Escovedo believes washes over the complexity and eclecticism of American music.
On stage with Cheetah Chrome of the Dead Boys.
"When you say Americana to me, it means everything from Lidia Mendoza to Lydia Lunch and Richard Hell and the Voidoids, to The Stooges, Cajun music and Arcadian music, everything from Junior Walker, the Detroit sound, The Supremes, Smokey Robinson to the blues of Jimmy Reed and Muddy Waters and Lightning Hopkins," Escovedo says.
"It's hard for me to identify exactly what someone in England would think Americana would be. Is it only Son Volt and Wilco and whoever? You could say Kurt Vile and Courtney Barnett and The Scientists have a little bit of that. I really don't care for the term 'Americana' because it labels people into certain things that it's hard for me to identify and relate to."
In 1999, now performing as a solo artist, Escovedo featured on a tribute album to former Jefferson Airplane and Moby Grape members and cult solo artist Skip Spence, who at the time was battling the cancer that would eventually take his life. Four years later, Escovedo collapsed on stage from the effects of the Hepatitis C he'd been carrying for some time. Escovedo's dire prognosis, compounded by a lack of medical insurance, led to his withdrawal from music performance, and a long period of recovery, meditation and introspection.
"When I became ill, being faced with the possibility of no longer doing what I loved doing so much, and that I'd done on a daily basis for so many years, was a frightening prospect," Escovedo says. "It was hard to determine who I was as a result of that. Even though the kindness and generosity of so many people, it was a very difficult thing for me to accept that. But once I finally got to that point, when I could accept that without pride or shame being a factor, it actually helped the healing process."
In 2006, Escovedo released "The Boxing Mirror", produced by John Cale, one of the artists who'd contributed to a tribute-cum-benefit album for Escovedo a few years earlier. "The Boxing Mirror," Escovedo says, was an important part of his healing process.
"John had a really unique way of developing the record. We spent maybe two weeks with just John and I in the studio and he would play piano and I would play guitar, and I would sing songs that I'd written for this record," Escovedo says. "He would kind of shape and build the songs around what was happening with my guitar and his piano. It was a really wonderful way to write."
That Escovedo's father also passed away around the same time added an additional emotional level to the album. Cale encouraged Escovedo to "sound stronger … to dig inside myself and say things that I had spoken earlier."
"That album was especially important to me because it helped me re-build the confidence that I had lost. So it worked on a lot of levels, not just musically, but in a way it helped me bolster my confidence."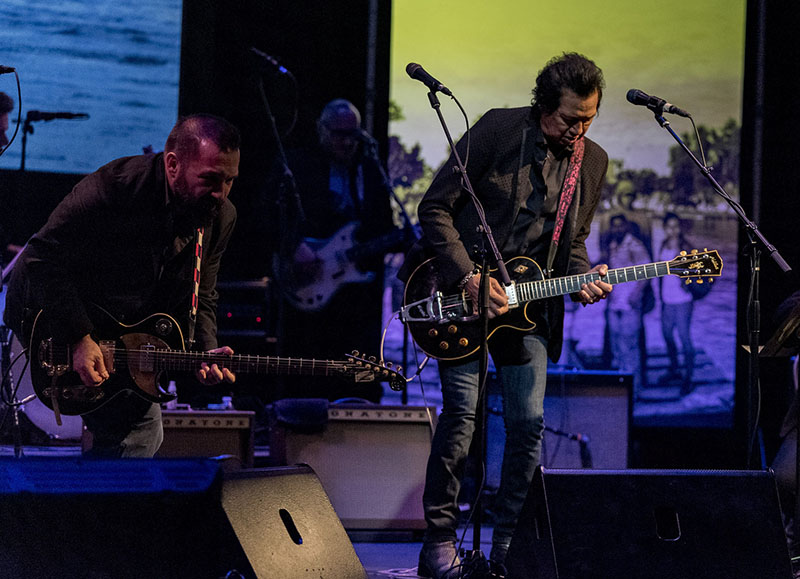 MIke Fickel photo.
Escovedo's next album, "Real Animal", looked back over his eclectic musical journey, jumping from punk rock to country, to rock'n'roll to Mexican influences. "Even though 'The Boxing Mirror"'was the first album I made after I was ill, the concept for 'Real Animal' began with that period of time, when I was ill," Escovedo says.
"I had a lot of time to think about the past, and in thinking of the past, I was thinking about how I'd got to that point. I thought it would be an interesting story of the Nuns and how that had inspired us at the beginning, the Chelsea Hotel, New York City, all the gigs we did with The Ramones, being in Rank and File."
This time it was Tony Visconti sitting in the producer's chair. "Tony was a completely different experience because he embraced the band. He wanted to really make a rock'n'roll record," Escovedo says. "Tony and John Cale were both really supportive in an avuncular way, looking over at me, making sure I was getting over this period in my life."
With his Hepatitis C now cured – Escovedo is an ambassador for a He C awareness program in the US – Escovedo continues to write and perform, and now finds himself on the eve of his first Australian tour. As well as playing alongside Tim Rogers, Escovedo – a long-time fan of Spencer Jones – hopes to record a song for the Spencer P Jones tribute album.
Like Spencer, Escovedo is a fan of music across the spectrum. Music has forged Escovedo's world view, and he believes Pete Seeger's dictum that music can change the world. "That was the last thing that Pete Seeger said to me: 'Music will change the world'," Escovedo says.
"I always tended to believe that music will have a strong impact on the world, and the way that they think about the world. So I think it's important as an artist to pursue that possibility that we have to make the world aware of what's going on. In my experience, I've learnt a lot of things through different writers, whether it's Bob Dylan or Lou Reed or Iggy Pop or whoever. I've learned a lot about the world. So for me it's always been part of my learning experience."
Alejandro Escovedo Australia-NZ Tour
with Special Guest Tim Rogers
MAR 2019
3 - Camelot Lounge, Sydney
4 - Camelot Lounge (new date)
5- Lizottes, Newcastle
6 - Junk Bar, Brisbane (earlyu and late shows)
7 - Junk Bar, Brisbane (early and late shows - new date)
9-11 - Port Fairy Folk Festival, SA
12 - Thornbury Theatre, Melbourne
13 - Caravan Club, Melbourne
15 - Tuning Fork, Auckland
16 - Caroline, Wellington
17 - Blue Smoke, Christchurch
Tickets here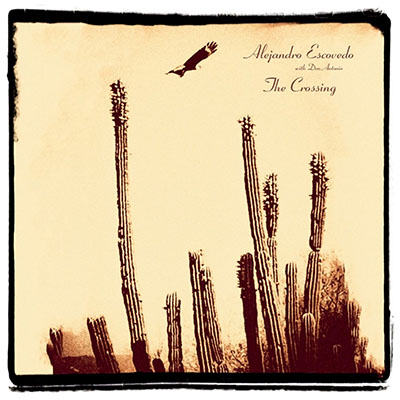 Tags: sex pistols, john cale, tim rogers, australian tour, spencer jones, alejandro escovedo, the nuns, the crossing, rank and file, real animal, tony visconti