Hanging out with Carrie Phillis & The Downtown 3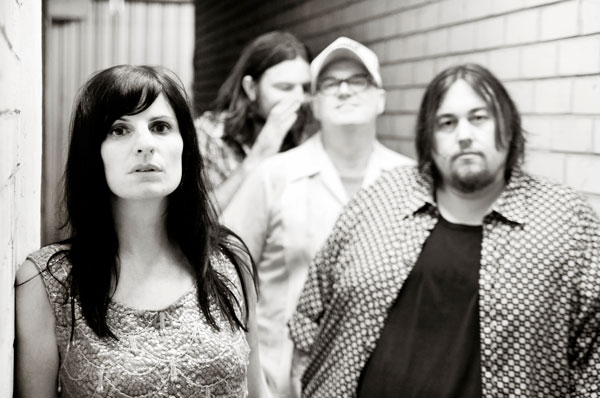 The Downtown 3 are (from left) Carrie Phillis, Craig Jackson, Scott Nash and Johnny Casino. Emmy Etie photo.
During some lean times for rock and roll in Sydney, two staples of the live scene have been Johnny Casino & The Secrets and the Booby Traps. Casino (aka John Spittles) is a guitar toting veteran of hard-hitters Asteroid B612 and a variety of bands also much of his own making, The Secrets being the most durable (and essentially a two city collective with bases in Sydney and Melbourne) playing rootsy but righteous rock. The Booby Traps were a wonderful collision of fuzzy garage pop and girl group pizzaz, fronted by fetching songstress Carrie Phillis.
With some crossover between the two groups, a more permanent combination was only a matter of time...
Thus was born Carrie Phillis and The Downtown 3, a hard-edged yet pop-inflected group revolving around the twin axis of Carrie on vocals and Johnny on guitar. With the Secrets on hiatus and the Booby Traps no more, Downtown 3 appearances have been more frequent over 2012-13. A four-track EP "Spend It With You" is in the racks right now, courtesy of Off The Hip, and showcases their mix of Rock Chick Action to great effect.
That was enough of an excuse for THE BARMAN to throw some questions Carrie's way and here's the result.
How did the band come together? You and Johnny Casino have collaborated before so I presume that had a lot to do with it?
Johnny had invited me to do some back up vocals on a few of his tracks. Guess it felt quite easy & natural, & I asked him one day, if he'd like to try writing some tunes together. Had a feeling our styles would blend well. Started off with Johnny, myself and Craig in a rehearsal room , & the songs came together quite easily. Then we recruited Scotty., which was a no brainer.
It's a great line-up. For those who don't know the background of the players, take us through that.
Well, you got Johnny Casino, Scott Nash, Craig Jackson & myself. Johnny and Scotty's guitar playing is so seamless as they spent so much time together in Asteroid B612, and Johnny is well known for his solo career. Craig has been drumming in many rock n roll bands (a couple being Brother Brick, Mindless) and the best time keeper in the biz, and then me,who came from The Booby Traps. There's a mutual respect between us & it really just feels like playing with extended family which I love.
The description of the band being a meeting of Nancy Sinatra and the MC5 is in the bio. Is that what you were aiming for and are the BellRays (who have been likened to "Aretha fronting the MC5") an influence? Who are some others?
Oh OK, didn't realise The Bellrays had that tag. Maybe we need to re word our bio. Haha.

As much as I think The Bellrays are a fantastic band andI dig Nancy, we really don't aim to sound like anyone except us. It's just what comes out in our music., A lot of our tunes have the 60s girl group melodies with the rock n roll attitude, but then we do a few slower ballads , which have a different swagger and pace all together.
Who does the songwriting? Johnny's pretty prolific but how does he work out which songs to save for the Downtown 3?
Indeed Johnny is an incredible songwriter, which is one strong element to why we find it pretty effortless when it comes to writing songs. Basically it's, Johnny's melodies and my lyrics. But it isn't always cut and dried like that. It's also a collaborative process between us all. Sometimes Johnny will have a guitar riff which we create a song from & then other times 'Ill have vocal melodies & lyrics, which we create songs from, altogether at rehearsals.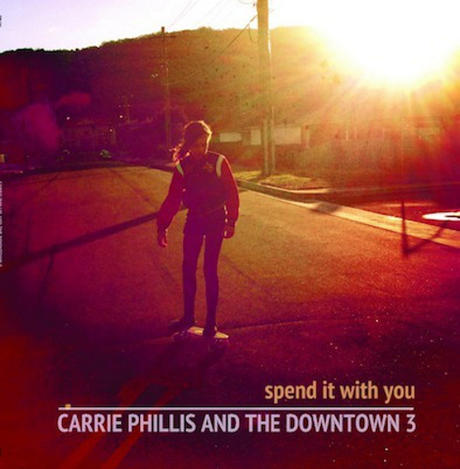 Tell us about the EP. Where was it recorded and when? Anything else in the can and what are the plans for an album?
We recorded at Tardis in Marrickville (which sadly isn't there anymore) a coupla years back. Most definatley have plans to record an album soon, as we only did a 4 track EP as the debut, we have a great bunch of songs we are dying to record.
"Until I Die" strikes me as the classic girl band cut on the EP and . Can you talk about it?
Probably my personal fave track on the EP, LOVE layered harmonies which gives it that girl group, Phil Spector sound.
Where did "I Don't Care" come from?
That's a bit of a personal question isn't it? Next…. haha
The title track seems to have an association with a lot of Johnny's recent solo work - the textural side with acoustic beds. Is that a fair call?
Indeed a fair call. The acoustic guitar work blends beautifully with the layered harmonies.
Lastly, tell us about "Outta Space", which is probably the most up-beat or garage track?
Yes, it is one of our more up beat songs on the EP, I like the rawness and urgency to it.
"Spend It With You" was initially released as vinyl. Besides the obvious appeal of those shiny wax platters, was this done for any other reason?
The limited edition shiny red platters!
Who have you played with so far and what's the launch tour been like? Any overseas plans?
Urge overkill, Los Chicos, Paul Collins, X, New Christs………. Just had confirmed too, supporting The Bellrays at The Manning Bar, 14th June!
Would love to take this overseas. We'd be a viable tax write-off for someone…. Anyone???
What's the status of your old band, the Booby Traps and will they play again?
Had so much fun with the Booby Traps, but guess like anything, there is a certain life span. & think it has come to the end of the road. But……ya never know….
First published March 26, 2013
Tags: garage, carrie phillis, downtown three, johnny casino, booby traps, mc5, nancy sinatra, spend it with you