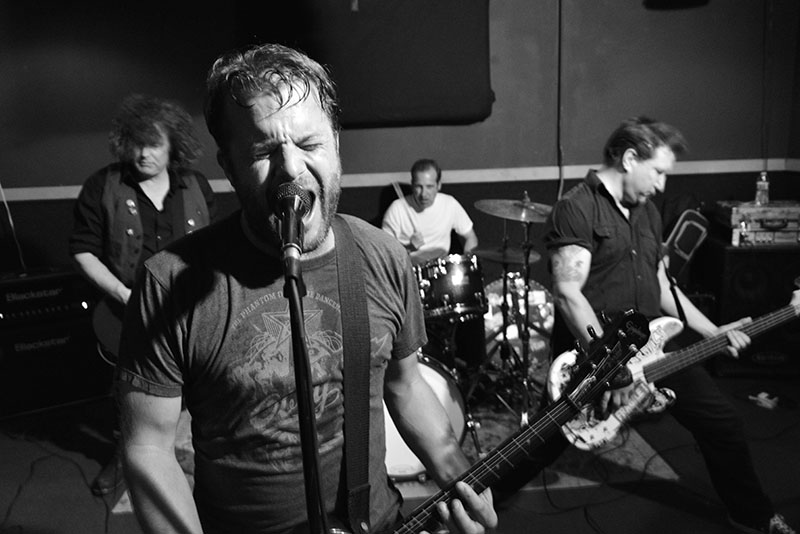 More Cheetahs in the studio. AP Murray photo.
Summarising the career of Frank Meyer to date is a challenge. The Cheetahs are only the tip of a very big iceberg that includes writing a string of books – notably, co-authoring "On the Road With The Ramones" with that band's road manager Monte Melnick. He's also documented the tribulations of the Stooges via Bomp Records liners, and played music with people like James Williamson, Cherie Curie, Cheetah Chrome, Wayne Kramer, Eddie Spaghetti, Deniz Tek and Syl Sylvain.
More immediately, Meyers is one of the parents of a spectacular new album, "One More Driink", from the Streetwalkin' Cheetahs, the reconstituted high-energy outfit that sprang up as a punk rock jukebox in the bars of L.A.in 1995.
It's the first Cheetahs record in 20 years and a stunning mix of punk rock energy, power-pop hooks and chugging riffa-rama-lama. It refuses to bow to any one genre and that doesn't dissipate its impact. To be blunt, "comeback": albums are not supposed to sound this good.
"We recorded it before COVID. Luckily, yeah," Meyer recounts. "Originally, there was a handful of more other songs that we were also going to include, but then COVID hit and we already had enough in the can, that we just went 'all right, let's just let's just finish what we got'.
"And so during COVID, we were able to just finish some vocals and overdubs because it didn't require having five guys or six guys in a room; we could do like one or two people.
"We'd recorded it in a bunch of sessions at Kitten Robot in Silverlake with Paul Roessler, who played with studio owner and popstar Josie Cotton ("Johnny Are You Queer?") 45 Grave and The Screamers.
"Paul is kind of like our guy. And he's also is a great keyboard player. So if there's anything that I can't handle on keyboards, I give Paul the thumbs up and he jumps in."
The Cheetahs started in the downtown LA dive bars and Sunset Strip clubs in 1995 and rode a post-grunge wave of punk and garage rock that took them all over the USA and the European festival circuit.
For a time, they were ex-MC5 guitar god Wayne Kramer's backing band, and their ridiculously physical shows spilt as much of the members' blood as sweat. They ground to a halt in the 2000s and did not exist for the best part of a decade.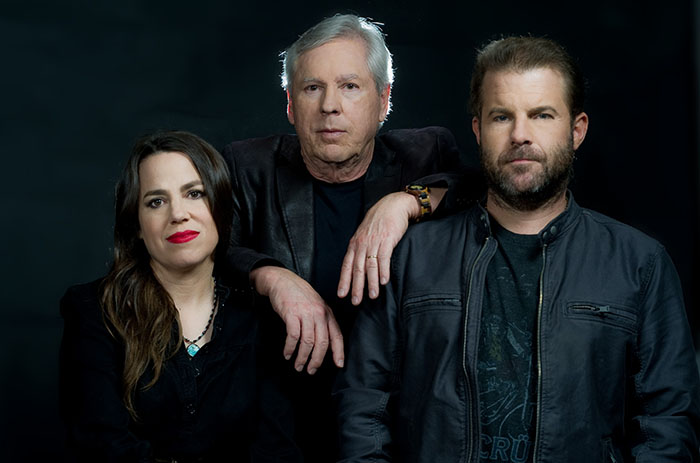 With Petra Haden and James Williamson in The Pink Hearts. Heather Harris photo.
"The Cheetahs had a weird ending where like, there was a bunch of drama at the end. And we got involved in like some lawsuits and we got involved in some, you know, band members freaking out and having major personal issues to where it just like it didn't make sense,
"This band that was not making a ton of money suddenly was just causing massive emotional damage in our lives. So we broke up but continued to work with each other."
Meyer went on to form Sweet Justice which morphed into the rude and heavy Angus Khan. The "bad mjojo" from the Cheetahs' break-up dissipated and Angus Khan morphed back into the Cheetahs "because we were all playing together anyways.
"We did a tour backing Cheetah Chrome in 2015 and we just never stopped after that. And the main thing was just that we didn't try to tour as hard as we used to. We used to do like six-to-eight-week long monster tours and live in a van, and I wanted it not to sink into that shit anymore, man.
"We do weekends now. We do gigs with the same energy, but I've got a real life now and can't afford to live like a homeless person, you know?"
Meyer was the driving force behind "One More Drink" but the Cheetahs are anything but a one-man band.
"After we did the first batch of shows, I was already recording stuff on GarageBand and making demos of my own stuff. Now that the band was reactivated, I was earmarking what could be a Cheetahs song.
"'Fast, Fucked and Furious' was probably the first one and then 'We Are The Ones (We've Been Waiting For)', which I didn't think was a Cheetahs song as it felt a little poppy for us. But poppy is good if it works. I'm a big Cheap Trick guy, so I'm fine with pop – it just has to work for your sound.
"(Bassist) Dino (Everett) came with a few songs like 'The Rejected' and 'Scorpio Rising and Bruce (Duff) came with 'Bad Vacation' and 'Switchblade Nights". And "Rumblin' Train' and 'Warzone' were written in rehearsal. So really, the whole band participated over the years."
The best bands are sums of their parts. So it goes with Streetwalkin' Cheetahs.
"Dino is sort of like the real true punk rocker in the band. And if you don't have that element, it kind of doesn't work. And I was always more of a hard rock guy.
"Don't get me wrong - I grew up on the Stooges and the Dolls and Radio Birdman, but I also love Cheap Trick and Van Halen and early Aerosmith. I never grew up with like a mohawk as a punk. I was more like a jean jacket kind of hard rock kid.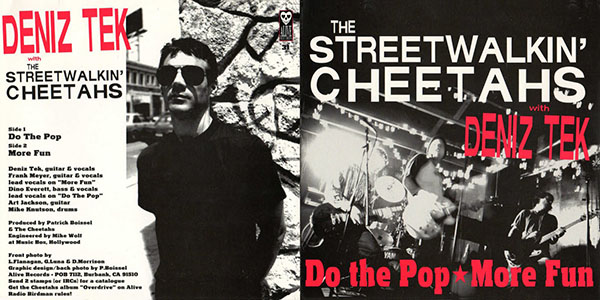 Cover art for the 1997 single with Deniz Tek.
"Bruce came from more of a Goth background - he was in 45 Grave and Jeff Doll. So we all come in with these different influences. (Drummer) Mike (Sessa) was playing with Rosie Flores and Cracker when we met him - and was in The Joneses. So like, everyone's got different influences. And that's kind of really what makes it all work."
Meyer reflects on the band's beginnings at a time when, at least in California, grunge had peaked and hair bands were still dominant.
"It was remarkably easy, but only because we lucked out in a few situations. When we started off the LA scene was what you call like shoe gazer. Seems it was all these kids sort of standing there looking down and playing really serious and being very mopey and emotional sort of the post-Kurt Cobain, Silverlake scene.
"And don't get me wrong, those bands, a lot of them were my friends. And I'm not saying that they weren't good bands. But it wasn't a very energetic live scene. And I was at that time just obsessed with the Stooges and the MC5 and Radio Birdman and the Dolls are just all that high energy rock.
"And this was before my awareness of the Swedish guys, or Electric Frankenstein, or even the Supersuckers. We were just in our own bubble into the Dead Boys and the old stuff. We didn't even know anyone else cared about this stuff till we kind of hit the road and went, 'Oh shit, there's other bands like us'.
"When we started, we were playing covers, We were doing 'Black to Comm' and 'Cherry Bomb'. We were doing '1970'. Then we had a few songs that we wrote that basically sounded like the songs that we were covering."
It was a chance meeting with Bomp Records founder Greg Shaw that started Meyer down another career trajectory. He and then Cheetahs bandmate Art Jackson were on a shopping expedition to the famed label's store in Burbank, buying hard-to-find vinyl by the Stooges, Dark Carnival, Destroy All Monsters and New Race, when they ran into the man himself, on his way in.
"I just recognized him and I was like, 'Hey, Greg, my name is Frank and I know that you that all the Stooges stuff' and he's like, 'Yeah, but it's all tapes. And none of its labelled. And it's just all in a closet'.
"I'm like, 'Well, I study this stuff like the fucking Koran man. And I will do all the research for you and figure out the dates and check and cross reference, blah, blah, blah, if you just like let me have access to that stuff and let me hear it'. And he was like, 'Yeah, man, Well, shit. If you'll do it, I'll make copies of you for everything. And I was just like, okay, so he made me - I don't actually told this whole story before to anyone - he made me his copy of his entire fucking collection. All the Stooges all the James Williamson, the Johnny Thunders, the Dolls, the Radio Birdman he had.
"And so then I wrote liner notes for the next four Stooges "Iguana Chronicles "releases and he started calling me the Stooges historian. So that was sort of my original connection to James and the Stooges.
"And I was interviewing Ron Asheton for the liner notes and so I actually have all these conversations with Ron - like hours and hours and hours of conversation, sort of like he had conversations with Moe from the Three Stooges."Wheels within wheels: The Cheetahs went on to sign with Bomp for two records and Meyer worked live with Williamson to promote his "Re-Licked" album of previously overlooked Stooges material, before singing and writing for the magnificent James Williamson and the Pink Hearts project and writing for last year's Tek and Williamson "Two For One" record.
While the touring circuit isn't about to open up in time for the Streetwalkin' Cheetahs to showcase their new album, Meyer isn't about to let the grass grew under his feet. Solo shows are his COVID era live staple - and there's a ton of new recording output out or about to be released.
"I have two bands out of Long Beach. One is called Blind House, and one is called The Antivirals. And they're both with Brian Coakley of the Cadillac Traps. Blind House also features Derek O'Brien from Social Distortion and is sort of a supergroup, if you will. of Orange County musicians and then little old me.
"The Antivirals is like a hardcore punk group that Brian and I did a one-off little project thing on.
Eddie Spaghetti from the Supersuckers and I have been friends since like the mid '90s and had recorded on a few things here and there, but when the Supersuckers were forced to go on hiatus due to not being able to tour, we started recording.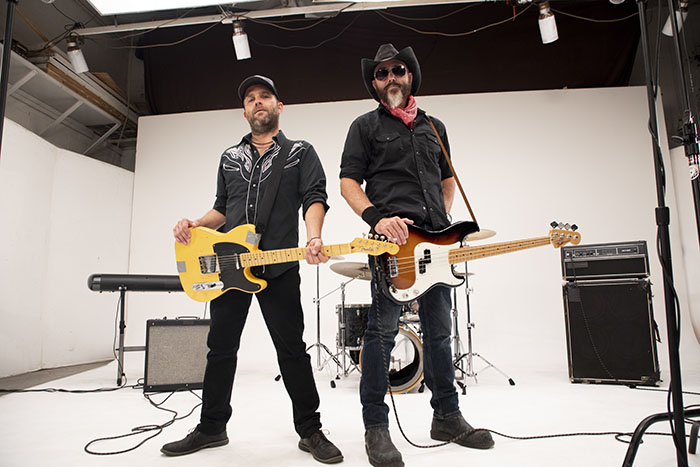 Frank and Eddie Spaghetti. Sarah Remetch photo.
"We've got a whole album called 'Spaghetti and Frank' that's done and gonna be out over the summer. It's got Brian Forsythe from Kicks and Rhino Bucket on lead guitar and Mike Sessa from the Cheetahs on drums, and a whole bunch of cool guests.
"I played on the last Warrior Soul record and I'm co writing the new new record with Kory Clark right now we've got about 11 songs demoed up for it that we're turning into album tracks.
"And through Kory I met this band called City Kids out of England. So I sang on and played on and played keyboards on their last record, "Rats". And hey have a new record called "Filth" that I'm on every track, I think playing something or other I'm doing a lot of backing vocals.
"And me and the guy from City Kids put together a side project band called Anti Fashion that's basically an all covers band, where each album is gonna be a tribute to other bands. So the first one is a tribute to Social Distortion.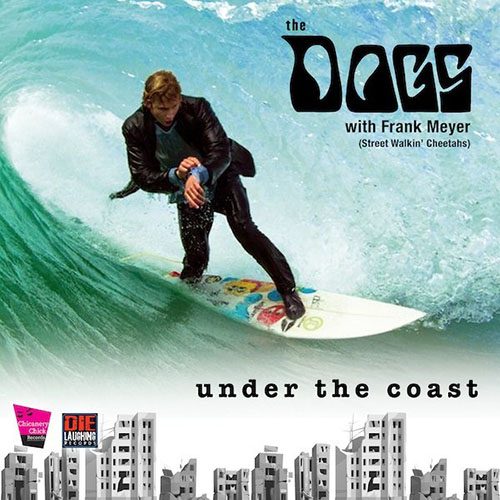 "I also just released or The Dogs, out of Detroit. They just put out a new single, 'Under the Coast', on Die Laughing Records that I co-wrote and play guitar and sing on.
"And then also there's a band out of England called Shameless that are an '80s glam band and I've been singing and playing keyboards on all their new stuff."
"One More Drink is out now on Dead Beat Records. Buy it here.