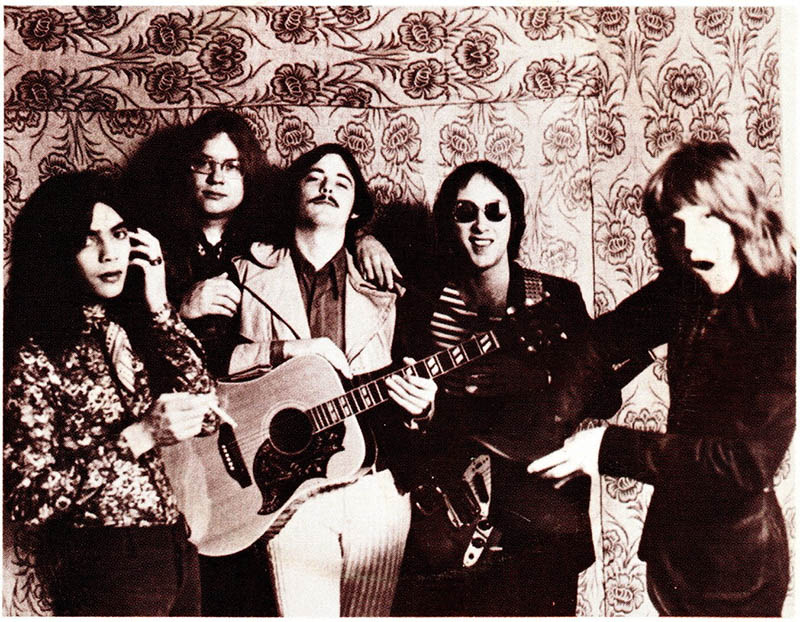 Feeling Flamin' Groovie: James on acoustic in an early band publicity shot.
James' killer slide playing is heard on the first three recorded versions of "Slow Death": the Fillmore West recording with Roy,; the definitive 1971 rehearsal recording (recorded just after Chris joined the band, issued on the incredible Skydog Records EP "Grease"); and the Rockfield recording with Chris. Together with Cyril Jordan, he formed the twin-guitar attack that so impressed English and French audiences in 1972 – Nick Kent described he band as "pure lethal third-generation mainline rock" - helping to lay the foundations of the high energy London pub rock scene (Ducks Deluxe, Eddie & The Hot Rods) and in turn the London punk scene.
Imports of the Groovies' UK and French 7"'s also influenced the early American punk scene (Dictators, Flesh Eaters, Hyptsrz), as well as the subsequent '80s roots rock revival (Charlie Pickett & The Eggs, Webb Wilder), and even a bit of '80s glam (Hanoi Rocks, Hangmen) as well as the '90s/'00s garage-punk scene that spewed up The White Stripes amongst others. The guitar tour de force that is the "Shake Some Action" album then laid the early '60s Beatles and Stones-inspired foundations of what is now known as power pop, as well as inspiring the garage rock revival, the Paisley Underground and other '60s-styled guitar scenes in the '80s - including the Australian one.
With Roy Loney & The Phantom Movers (and beyond into the Kingsnakes, also with Danny) he developed a pithy, hard R&B and rockabilly style that, in the minds of many fans, saw the Phantom Movers reclaim the raunch-rock crown back from Cyril for Roy.
A humble and gracious a man as he is a player, James Ferrell has rarely been interviewed and never at length. Here he spills the beans, giving us the Groovies' early '70s story from a fresh vantage point, with new detail. In part two of the interview we will look at James' post-Groovies career; for now though we focus on era that he's best known for.
This interview was conducted by email and began not long after the passing of Mike Wilhelm, the legendary San Francisco guitarist who introduced James to the Groovies, and then some years later replaced him in the band. Since then James has also lost old band mates and close friends Danny Mihm and Roy Loney – we will hear more from him about that next time. Thanks to James for his time and his memories.
- - - - -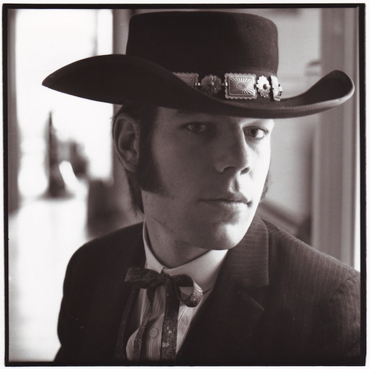 DL: Condolences James on the passing of your old friend and mentor Mike Wilhelm (pictured right). I know you met him in the late '60s. Could you tell us about that and your relationship with him over the years?
I moved to San Francisco in the summer of 1967 to go to college and with a stroke of phenomenal good fortune, and I've been blessed with quite a few, I found an apartment at 3rd Avenue and Lincoln Way. I made the acquaintance of the girl who lived next door and went over one day with a couple of joints. We were sitting there smoking in her living room when the doorbell rang and in came this fantastic gent, head to toe in cowboy gear and carrying a guitar case. In his characteristic booming voice he introduced himself as Mike Wilhelm of The Charlatans. I told him I was a student and a guitar player. He gave me a look and took out his guitar and proceeded to do a full set right there on the couch.
I was flabbergasted. I was not a great player but was a seasoned music fan and I knew this guy was as good a player as anyone in the world and could be a great inspiration and model for me. So I rolled joints and he played and I watched and that's how it went for some months. I watched his fingers and learned.
He never actually showed me how to do anything except by example. It was enough. He very kindly adopted me as his protegee. Some months, maybe a year and a half, later he came over to my place one evening and announced, "Let's go, it's time for you to play". I was taken aback but took my guitar and went with him to the Coffee Gallery in North Beach. There was Lynne Hughes, a real sweetheart, playing on stage and Wilhelm (told} me go up and play. Again, taken aback, I took out my guitar, went up and started playing. Lynne smiled, we played, and she welcomed me as her guitar player. I know Mike must have told her some outrageous lies about my abilities and I will be forever grateful...
The opportunity to watch Mike perform was an amazing treat. His deft playing, his gravel baritone and his appearance just screamed authenticity. He was so real that you just believed everything he was doing. I know he helped a lot of people with their playing, he was very generous in that respect, as well as others. Funny, while he considered me his protegee he never sat down and actually showed me how to play anything. I asked him once how some tune went and he said sarcastically, "Figure it out yourself". He knew I had to put the time and work in myself to become a quality player. We drifted apart over the years, as friends can do, but he reconnected with me over the past year or so, often calling me and chatting at length. I'm so pleased that he did so
I grew up in the country in northern California. My father had retired from the Marine Corps, I was born in San Diego, and we had a small farm. He was very musical, played the ukulele and sang and played the saxophone. As a young man he and his father and brothers played music together. His brother, my namesake, played trombone with Phil Harris. I spent a lot of time listening to my father's 78s; big band stuff, Bob Wills (Dad was from Texas), etc. but my favorites were Cab Calloway and Fats Waller. These two really spoke to me. I became an inveterate listener to AM radio but in the early 60s I found little that I really liked.
When I was 12 I asked my parents for music lessons and studied piano for several years. I enjoyed the classical and simple jazz I learned but maybe the most important thing was I learned that I could play. One day my teacher, Mrs. Sandburg, a lovely lady, took me aside after the lesson and told me that of all the hundreds of kids she had tutored I had the most talent she had seen and I should consider music as a career. I never forgot that, especially when I was struggling with the guitar.
DL: I know you're a bit of history buff – I'm guessing you read a lot as a kid?
I read a lot when I was young, devoured everything I could find at the tiny Los Molinos library. Early on history fascinated me, especially the Middle Ages, Crusades, knighthood and so forth. I also was a big fan of Sci- Fi and fantasy and remember when I was traveling with my folks in the early 60s and found the first reissues of Lovecraft's stories and Tolkein. A lifelong passion. I majored in history in college with the intention of going into teaching and had gravitated towards military history which was not really a popular subject at San Francisco State in the mid-60's. Though I left school to play music the interest never waned.
DL: So if you found little that you liked musicially in the early '60s, did that change with the Beatles? Did you have any bands when you were in your teens or was that too difficult out in the country?
I didn't care for much that was on the radio in the early '60s, Paul Anka etc, the Four Seasons and their ilk. Surf music came in and I enjoyed the instrumental stuff abut was never much of a Beach Boys fan, much less Jan and Dean and the rest. Soul music was good but just not quite up my alley. I was a serious fan of music though and I read about the Beatles in Newsweek and when I heard "I Saw Her Standing There", I flipped. The folk scene was happening too and I liked some of that. I got my parents to buy me a cheap nylon string guitar and off I went.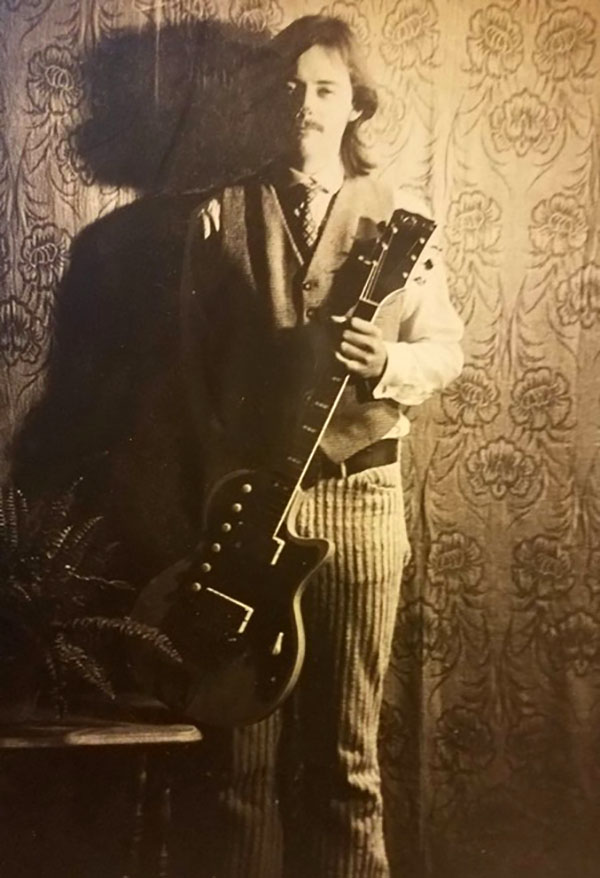 Young, impressionable and Groovies-bound.
DL: So you moved to SF because of the hippy thing? Can you tell me bout your early days there? Favourite bands, venues, experiences? Were you playing or did that just start with Wilhelm's encouragement?
As noted above, I moved to SF in '67 to go to San Francisco State College, but my friends and I had become aware of the scene some time before that. We lived in Sacramento and would come down on weekends to check things out. After moving here, I was at the Fillmore or Family Dog as often as possible.
My favorite band at the time was The Who. When they first played the Fillmore, I went all three nights. Quicksilver Mssenger Service was probably my favorite San Francisco band at the time but I lost interest in them when Gary Duncan left. I saw most of the other bands but really liked the English bands better as they seemed more rock'n'roll to me.
I was partial to the Lovin' Spoonful and saw them at the Sacramento Memorial Auditorium in, I believe, 1966 and I was knocked by the Butterfield Blues Band when I saw them in Davis. As for my own playing, I had taken up the guitar in 1965 and was quite enamoured with the folk scene where I discovered some of the acoustic blues guys, Leadbelly, etc. but I didn't really get serious until I met Mike. I had a Harmony Sovereign at the time and I played to all the time sitting in my apartment. College went out the window, needless to say.
DL: Were The Charlatans still around? Did you see them? Lynne Hughes was playing with them at some point too, yeah?
The original Charlatans had broken up by the time i got to know Mike. I know Lynne occasionally played with them but i never saw her with them.
DL: So before you joined the Groovies in '71, were you playing at all? Were you a Groovies fan? Impressions?
My only professional work before the Groovies was with Lynne Hughes. I backed her up for a few months, she was a real sweetheart. When she was invited to join the band Stoneground when it was formed, she told them she had a guitar player and I was part of the package. They were going to tour across the county living in tie-dyed teepees and then go toe England to be in a movie. I thanked her for the opportunity but told her it didn't sound right for me. I guess I wasn't that much of a hippie. I had seen the Groovies at the Family Dog in 1968 and really like their sound so I went out and bought "Sneakers". Loved it, "Golden Clouds" is fabulous.
DL: Did you play with Loose Gravel at all, given your Wilhelm connection? I'm assuming you saw them a bunch when Chris was still in band?
Naturally, I saw Loose Gravel plenty of times but never played with them as I was already in the Groovies.
DL: What were Loose Gravel like in the beginning? Did they exist before Chris Wilson joined?
I don't really remember which configuration they were before Chris. Michael had a number of players go through the band.
DL: So how did you come to join the Groovies? How did you fit in? Was Timmy on the scene still? How were the band relationships... I know you now consider Danny your best friend?
I was living in an apartment on 24th St and Mike and his girlfriend lived on the ground floor. One day I was down with him when in came Cyril with his new album "Teenage Head". Of course I knew who he was and was pleased to meet him. We listened to the album and then went upstairs and I showed him my Gibson SG, later stolen, and played a bit for him and we became friends.
My room mate and I were selling weed and Cyril started coming over and hanging out. A few months later he asked me if I wanted to join the band. Of course, I said yes. I went down the peninsula to their last gig with Timmy and met the rest of the band. Danny and I hit it off right away. We had so many things in common; snarky sense of humor, interest in military history (both our dads were career military) and an abiding love of blues.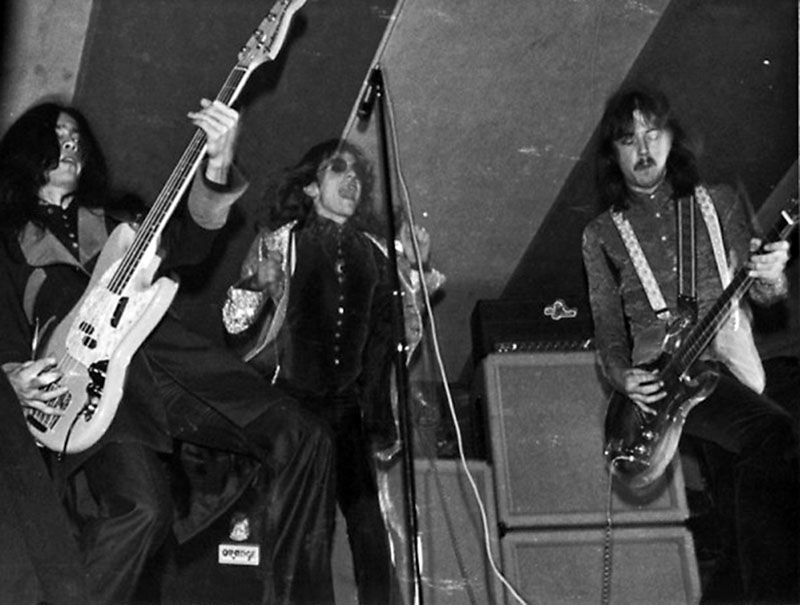 Paris 1972.
DL: How did you fit in with Cyril in terms of guitar playing? The Fillmore tape suggests you fit in seamlessly.
It was a little rocky at first. I had little band experience and was, in those days, rather shy. I remember the first rehearsal well. Cyril and I had gone over the songs so I knew everything in the set. The thing was they played everything so fast. When Danny and Cyril kicked in to "Something Else" by Eddie Cochran, they were playing at least twice the speed of the original. When I came in I couldn't play that fast and so the whole band just slowed down to my speed and that's how were played from then on. I'm sure it didn't please Roy but nobody said a thing to me about. Maybe it sounded better.
Cyril and I meshed right away. I wanted to play rhythm guitar and that just freed him to play whatever on top of it. I synched up with George and Danny and it worked great. I guess we patterned ourselves after those early Stones tracks where Brian and Keith were just locked in with these intertwining guitar parts.
DL: Funny you say that you slowed the band down: the live version of "Slow Death" on that Fillmore version is almost double time!
I didn't mean to say everything slowed to half-speed, things just were played a bit slower than before. By the time we played the last days of the Fillmore I had gotten a bit up to speed, besides I play the slide on that tune and so didn't really dictate the tempo.
DL: Were you there for the Detroit dates that inspired "Slow Death"? What are your memories of that? Any shows with Stooges and MC5? How were they?
JF: I remember the tour in Detroit but we played with Mitch Ryder, not the Stooges or the 5. I became aware of those bands a bit later. We were in the hotel one evening and Cyril asked me to bring my guitar over to his and Roy's room. He showed me "Slow Death" and suggested I play slide on it. So I tuned up and figured out my part rather quickly. It all came together very easily. My favorite version of "Slow Death" is actually the live version from French TV.
DL: Did you see Alice Cooper in Detroit? The Groovies had Alice Cooper and the Stooges both played with you at the Fillmore. Was that before your time? I think Cyril talks about seeing the Stooges and MC5 prior to "Flamingo", so I'm guessing yeah... Commander Cody played with the Groovies, Cooper and Stooges too, and Commander Cody plays on the "Teenage Head" album... were you aware of any connections with them?
I wasn't aware of any connection between them. I had seen the Stooges play when the Groovies were running the Old Fillmore. Quite liked them. Saw Alice Cooper there too but wasn't taken with that band. We played with Commander Cody a few times. Didn't get to know them but liked their guitar player and their song choices. (ED: Members of Nitty Gritty Dirt Band collaborated with the Groovies during the "Teenage Head" sessions. See the comment at the end of this aticle. Commander Cody mmbers contributed to the "Flamingo" sessions.)
DL: "Slow Death" was also the name of an underground comic that Last Gasp started up in SF in 1970. You guys were fans of the underground comics I guess?
Yeh, we were all fans of the underground comic scene; everybody was.
DL: So how many shows did you play with the Roy-fronted Groovies? And where else besides Detroit and locally?
Not totally sure I remember all the gigs I did when Roy was in the Groovies. The first one was at the Family Dog at the Beach. I remember that one pretty well, I threw up in the bathroom before the show as I was pretty nervous and Roy freaked me out a bit when he made funny faces at me while we were playing but i realized that was just him being him. We did the last week of the Fillmore and the Cleveland/Detroit tour. Can't remember if there were any others.
DL: Assumedly the band was the band dropped by Kama Sutra after "Teenage Head"? Were you aware of that?
No idea when and how that happened. They had been dropped by the label by the time I joined.
DL: What can you say about Roy leaving? Was it unexpended? Any memories of the circumstances and vibe? Was he really writing lame songs and wanting to change the direction?
Roy's departure was a combination of a number of things. He had become a bit disillusioned with the band. His oldest and best friend Timmy was gone and with me the sound and feeling of the band had changed. I know he was a bit unhappy that Cyril had brought me into the band without asking his opinion or having any tryout with the group. I don't remember any lame songs, I think that just came out of Cyril without much thought. At the same time I don't know what he and Roy were working on at the time. "Slow Death" was the only new original we worked up.
The other side of it is that Cyril, Danny and I had become very close. They hung out at my house and Roy never came over. We all shared a common aesthetic in clothing as well as music. While Roy, shall we say, walked his own path sartorially speaking.
One incident stands out, we were playing in Detroit at some theater and it was hot as hell. I even took my shirt to play, something I have never done again, and Roy was also performing without his shirt. He was wearing a pair of blue sparkly lurex pants that he loved and we all despised. Anyway, in one of those theatrical gestures that Roy is fond of, he had filled a toothpaste tube up with water and red food coloring. In the instrumental part of "Slow Death" he unzipped his pants and pulled the tube out like it was his dick, squeezed it and squirted 'blood' all over the front row.
People were freaking out, mainly in disgust and the rest of us looked at each other in disbelief. When we returned home the three of us, with Cyril speaking to George, decided that we needed a new frontman that fit our image better. We knew Chris well, liked him and had seen him perform with Loose Gravel so we asked him to join.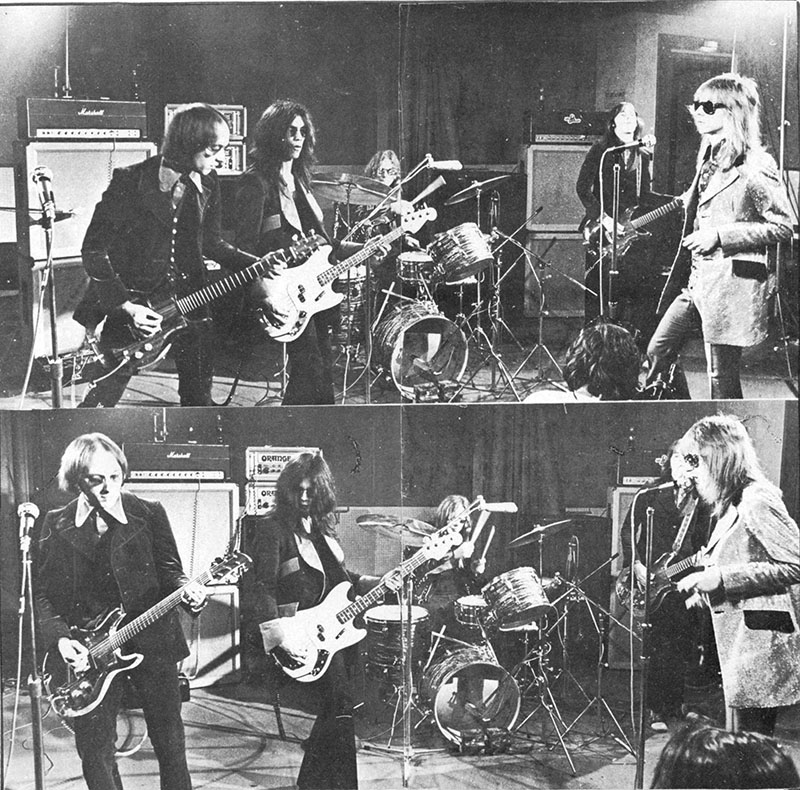 With Chris Wislon in the studio.
DL: You mention that with you "the sound and feeling of the band had changed". Can you explain how exactly?
I was no Timmy so when I came on board the sound certainly changed. He was an excellent lead player and I played rhythm pretty strictly. When any bands personnel changes the feel and relationships in the band are going to change. As I said Danny, Cyril and I hung out a lot and really developed a rapport that naturally changed the balance within the band.
DL: I'm fascinated by that short time after Chris joined and before you went to London the home recordings that Skydog put out, the new songs including "Let Me Rock" and "Dog Meat". Where there any other new originals at this point? Chris later did with the Fortunate Sons a song called "Cold Cold Night" that he said was one of the first they wrote, and Chris also later said that "All I Wanted" off "Now" was another very early one, and "All The Action" which was on one of his more recent solo albums... any recollections of those?? Was there a conscious new direction? The Skydog stuff suggests a less rootsy sound – harder rock. Was all the old stuff ditched other than Teenage Head?
That is one of my favorite periods with the band. We were really zeroed in on what we wanted to sound like, not that we really discussed it, it just came out. Cyril was playing really lights out, I think the best of his career.
"Dogmeat" is one of my all time favorites. We recorded this in Danny's front room on 48th Ave. down by the beach in San Francisco. As I recall we used an old reel to reel recorder and, I believe, only one track at that. The tunes on "Grease" were all the originals we had at the time, I don't remember any of the tunes Chris mentions but maybe they had different titles. Perhaps "early" is a relative term.

The turn away, if thats what it was, from rootsy stuff was just because that was the type of tune Cyril was writing. He made a conscious decision to refrain from playing the older Groovies material, except "Teenage Head", so we could separate ourselves from the earlier band. That's why we changed our name briefly to The Dogs. But when UA became interested it was clear they wanted us to be the Flamin' Groovies so we changed back.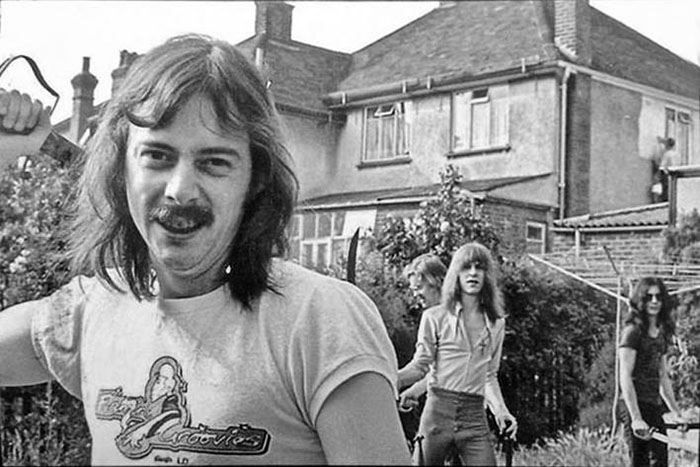 London days with the band.
DL: Did you actually play shows as The Dogs? And if they were the only originals, what other covers were you playing that weren't recorded. Can you remember?
We played a couple of gigs as The Dogs but I don't have a set list around to consult as to which covers we were doing. The originals we were playing are all on "Grease" as I recall.
DL: Did old fans respond okay to Chris and the new songs?
No idea what the older fans thought of us, I never got any feedback one way or the other.
DL: Was there much of a fanbase? Greg Shaw later wrote of seeing the band at a small club called the Longbranch and the crowd was very small. Can you remember playing at that club? Shaw makes it sound very exciting!!
Not any that I could see. We played the Longbranch and the other small clubs around the area and, as I remember, we would go over well but it wasn't a big scene, just another band playing a small club.
DL: So did it feel like you were back at square one?
We played all the small clubs around here and I was great fun. I had never been part of any band before so it didn't feel like square one to me. The others had been through several record labels and opportunities for big success but I don't know how they felt about it. They were vets and I think realized that is how the music business is.
DL: I believe Earthquake were also regulars at the Longbranch. Did you guys have a connection with them, or with any other bands on the scene?
We played with Earthquake, The Greg Kihn Band and a number of other groups around at the time but there was no particular connection.
DL: What was "Blues From Phyllis" actually written for? Some syphilis campaign?
No, it was just a tune Cyril and Chrissie wrote that we all liked.
DL: Was Kim Fowley around much – the title of "Dog Meat" suggests he was an influence!
Not at all. I didn't meet him until much later.
DL: The band's version of "Jumpin' Jack Flash" was fantastic. Do you know where the claim that Keith Richards thought the Groovies did the superior version came from?
No, I don't know where that came from. It is said that Mick Jagger thought "Teenage Head" was a great album but I don't know where that came from either. I never thought that much about those stories as they didn't appear to have any legitimate source.
DL: Loose Gravel was still going at this time and I think Groovies may have done as show or two with them? What were they like without Chris? What was the feeling between Wilhelm and the Groovies at this point?
Loose Gravel went through quite a few different combinations of musicians so that's not an easy question to answer. Michael was always the main vocalist and, of course, the musical leader and featured instrument. Actually, the Loose Gravel that I saw many times was a trio. We got on well with Michael. We had all been friends for a long time and he never said anything, at least to me, about being upset we nabbed Chris. I believe that before Chris left the Gravel to join the Groovies he had already decided to go back to Boston as there was little money to be had in SF playing with Michael. Whether Mike knew this or not I don't know.
DL: The United Artists deal – what are your memories of the circumstances of how this come about. Must've happened very quickly and must've been very exciting for you?
I believe that George and Cyril heard that Andrew Lauder was a fan of the band so George wrote him a letter to see if he had interest in signing us and when he replied in the affirmative Cyril went over to England to meet him and see if a deal was feasible. Everything went well and when he came back home the deal was set and we were off to London shortly after.
DL: First impressions of London? And how did you go about getting down to business? How quickly was it before you went to Rockfield?
That was a kind of surreal time. We landed in London and I had $35 in my pocket but all the optimism in the world. In a typical Danny moment, as we walked off the plane he grabbed my arm and told me "I got a really bad feeling about this". Knowing Danny well, I just ignored him and de-planed.
Loved London, I had always been somewhat of an Anglophile so I was thrilled. We were in the land of Sherlock Holmes, the Beatles, the changing of the Guard, Victoria our Queen and all the rest. Wow. Typically things started off with a foreshadowing of our difficulties with United Artists, mainly our fault. They didn't have a house ready for us so they put us up in a nice hotel on Primrose Hill. As none of us had any money we used the hotel restaurant, bar and room service without any thought of the cost and, some who will remain nameless, made lengthy transatlantic telephone calls. Needless to say, when the bill came in UA were something less than pleased. Oh well.
It was my first time out of the US and I loved England. The look of the architecture and the countryside really thrilled me and the English, by and large, were very nice. I can't remember what date we first went down to Rockfield.
DL: Was the first show Bickershaw?
Yes, Bickershaw was our first gig. I just remember the mud everywhere and the gigantic stage towering above the crowd. We hung around backstage with some of the other groups but I don't remember anything particular except that my heroes the Kinks were really bad, very disappointing.
JF: Cyril's dog collar at festival – he looks like an alien biker of something. You were still moustachioed with a bit of a Charlatans/Wyatt Earp look..? The band had already changed its look somewhat, with the studded leather jackets etc. What was the band trying to project visually?
I don't know that we were trying to project anything specifically except that we were Americans. I think the leather jackets came about in part because we used to go down to The Black Raven, in Threadneedle St. if I recall correctly, where the teddy boys hung out and they played great American '50s music on the juke box. They all were wearing leather jackets that were all studded up and so Tommy, our roadie, Cyril and Danny studded theirs. The black and baby blue jacket that I wore belonged to Cyril.
DL: Who was Tommy? What about Nick Garvey?
Thomas Burke Edwards was an old friend of the band, had known them for years when I joined. So was Johnny Seaton. We took them with us and Tommy was our roadie and John was our road manager. Great guys and a lot of fun. They helped keep things a bit normal on the road and living in Lonond. UA must have hired Nick to roadie. We liked him a lot and I think, as a very intelligent guy, he learned a lot watching us rehearse and gig.
DL: Speaking of Nick, did you ever see him or hear him in Ducks Deluxe, or did all that happen in between UK visits?
No, that all happened after we left at the end of 1972. Saw him with the Motors in SF years later.
DL: When did "Sweet Jane" enter the set and what did that suggest about any new directions do you think? Was the Velvet's Loaded a band favourite?
The Velvet Underground was popular with everyone in the band. I saw them earlier during the Exploding Plastic Inevitable tour. "Sweet Jane" was worked up later when we were living in England. One of my favorite covers, a shame there are no recordings.
DL: Can you remember anything distinctive about your version of it?
As I recall Cyril played a very basic rhythm part, really solid as he could do, and then I played the chords with a bit of flourish during the verses and then picked the chords and did a simple base string walkup when it went from D to G. Our version of Keith and Brian I guess. Chris did a good job with the vocals on that one.
DL: The first Rockfield recordings have a really weird sound – the guitars are clean but heavy and there is a lot of compression and phasing or something. That version of "Slow Death" is very different to the earlier ones. What can you tell me about working with Edmunds and where this sound came from? Were you guys aware of Edmunds' first solo album "Rockpile" which was still very new?
You will have to forgive my foggy memory here. During '72 we recorded with Mr. Edmunds in Rockfield but we also recorded in London at De lane Lea studio with Cyril pretty much handling the production.
"Slow Death" was done at Rockfield with Edmunds. I never cared all that much for this version. Cyril decided to run his guitar through a Leslie and his part lost a bit of the punch it normally had. As I said, my favorite version is the live one from French TV. Even though my guitar is a bit too loud in that one, it captures the song at its best in my opinion.
Working with Edmunds was fun. He is a great guy and a great musician and producer. We were all big fans so it was easy for us to listen to his ideas in the studio. He had his own ideas of what the sound should be like and we let him do what he wanted. I know that he also worked on the tracks after we had gone.
For instance, one day when we were out of ideas as to what to record I suggested "Married Woman" by Frankie Lee Sims. I had purchased the album in London and loved that guitar sound. I showed it to the guys and we laid down the track. It is one of my proudest moments. It was quite basic and very rootsy. I guess Dave liked it and after we left he spent quite a while putting on his pedal steel and whatever else he did. I was quite surprised when I heard the finished product. We were quite familiar with "Rockpile", it was probably impetus for us to ask that he produce us.
DL: You had Dan Armstrong plexi- glass guitar like Cyril's yeah? How did that effect the band's sound? When did you guys first start playing those?
I was playing a cheap National electric in the early days with the band as my Gibson SG was stolen a few months before I joined. When we went to the UK the airline managed to drop something on the National's case and damaged it. I needed a new guitar and UA sent us down to Denmark St. to buy something. I had always admired the sound of Cyril's Armstrong and when we found one there we all thought it would be great if we both had one. Naturally it really affected our sound, gave us a sort of unified sound that worked well especially in the tunes where we were both playing rhythm parts. Plus it really looked fab.
DL: You had Orange amps in the UK too, yeah? How did that influence your sound?
Not sure how to answer here. We had heard of Orange Amps and when we tried them out we really loved the sound. Again, they also looked fab.
DL: "Tallahassie Lassie", which I believe Cyril produced, was distorted and raunchy and much more punk sounding. Which was closer to a more honest replication of your sound?
Yes, that was a very straightforward recording and was a good example of our live sound.
DL: "Tallahassie Lassie" was a favourite with some of the Rock'n' Roll Revival bands, including Shakin Stevens & The Sunsets who also worked with Edmunds. Did you guys cross pass with any of those bands? Ay of them any good? Chris by now was wearing his drape coat I think? You did a show backing Screaming Lord Sutch in London didn't you? and you'd backed him in LA at some point?
I don't remember that we ever played with Shakin' Stevens or even got to see them perform. Most of our gigs were with one or another of our UA stablemates. It seems we played innumerable gigs with Mister Moses, not someone we were really fond of. We played a gig with Sutch, and Heinz, in Southend for all the teddy boys. We didn't back him up though. I believe it was the future Dr. Feelgood. I don't remember seeing him in LA, perhaps that was after I left the band.
DL: Did you have any contact with the Feelgood guys? They obviously came along and started appealing to a lot of people who'd been into the Groovies?
No, never met any of them. I became a big fan when I heard that first album and went to see them in London at some theater and also here when they toured the States. I went backstage to meet Wilko but after their set he was absolutely exhausted and didn't want to talk to anyone.
I believe they backed up Heinz when we played with him and Screaming Lord Sutch at Landsend but we didn't meet them.
DL: I've often wondered - was the '60s British vibe that started in '72 with covers of beat era fave "Get A Shot of Rhythm & Blues" - and of course "You Tore Me Down" - inspired by being in England? And were the amount of covers that the band was recording inspired at all by Edmund's love of recording covers? He's already released a bunch of Chuck Berry covers amongst others? And did Dave get inspired by your version of "Get A Shot...", which he recorded himself for the soundtrack of the great English rock movie Stardust a year or so later?
Not really sure about this. Lots of people covered "Shot of Rhythm and Blues" so I doubt we can take credit for inspiring Dave to record it. I didn't write "You Tore Me Down" so can't really comment on the inspiration.
DL: Edmunds released a version of "Baby I Love You" in December '72 that was a big hit for him. Can you remember hearing any of the Phil Spector type stuff he was assumedly working on when you guys were around? And did that have an influence on the Groovies?
I'm sure he must have played some of it but I don't remember. Not really my cup of tea but I'm sure Cyril and Chris, as well and Danny and George, dug it. I would presume it did have some influence on the boys, considering our subsequent direction.
DL: The band was playing "Shake Some Action" live at this point I believe. Can you remember if it had a similar feel to the recorded version of was it perhaps harder? "You Tore Me Down" wasn't being played was it?
We were playing "Shake" and we recorded it too. The '72 version is what is on the album. Same for "You Tore Me Down".
DL: Can you remember if "Shake Some Action" was written in the UK, or before? Can you remember what it sounded like live in '72? The recording is very controlled – I imagine it was harder rocking?
Chris and Cyril wrote in the UK. Naturally the sound was grittier when we played it live.
DL: The English glam bands did a lot of '50s material too. Slade did a bunch of it (they also did Moby Grape's "Omaha" – shame you guys didn't go on tour with them), and a couple of bands (including Mud I think) covered "Tallahassee Lassie" too. What did you guys think of the glam stuff – Bolan is another one, and Roy Wood/Wizzard, who had a Spector/Brian Wilson thing at times – and was it an influence?
I don't believe we were really into the glam stuff at the time. I liked some of Slade's music but the whole image thing appeared a bit too contrived and teenybopper to me. Not sure what the other guys thought. Not really an influence on us though.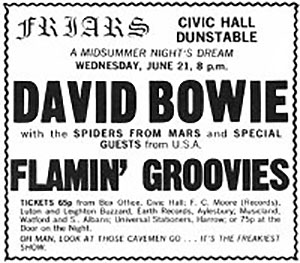 DL: Speaking of glam , you played a show or two with Bowie I think. Did he hand-pick you? He obviously dug the Stooges and the Velvet Underground so wouldn't surprise me. What can you remember about those shows?
We played one show with Bowie, in Reading his hometown I believe. I doubt he chose us and maybe did not even know who we were. We played our set and then intended to go back stage to watch his set as we had heard a lot about him. When we tried to go out our stage door they had piled a bunch of chairs in front of it so we had to go out front to watch. Whether it was intentional or not, we were irked and didn't really care that much for his performance.
DL: I know you can't remember whether or not you guys actually played that famed show with Iggy & The Stooges – their only UK show back then – but did you have any content with them?
I don't remember playing that show at all but I do remember attending it and sitting out front. Even though the boys knew Iggy pretty well from past gigs and from when they had brought him out to play the Old Fillmore, I don't remember getting to see them backstage that night.
DL: Being on UA, I imagine you had contact with Hawkwind (I've read Lemmy was a fan – of "Teenage Head" at least) and Brinsley Schwarz ? You were advertised to play a benefit gig with the Pink Fairies at one point... You were partly embraced by the counter-culure in the UK – Nick Kent/Frendz magazine etc. Did that relate to the whole San Francisco counter-culture thing and did you guys embrace it?
Of course we knew all these guys but didn't socialize all that much. I went over to Lemmy's house once and we listened to music and got high. He was very pleasant but we didn't get together again, I guess I just wasn't into Mandrax. Don't know much about the UK counter culture. Nick liked us, I think, because we sounded good and we weren't like anyone else around at the time. It was, after all, the days of Yes etc.
DL: The MC5 benefited from those connections too. Cyril claimed the MC5 split up at the Groovies house – any recollection of that?
I don't remember this at all. We played with the 5 once in '72, somewhere in the north of England as I recall. I have no personal memory of them coming over to our house in London.
DL: What did you think of contemporary English culture in '72? Carry On movies, Benny Hill, Steptoe and Son? Did you get your fill of Hammer horror films?
We loved the comedy on tv, the Two Ronnies, Monty Python and all the rest. We were quite familiar with English comedy, the Goons, those black and white comedies with Sellers, Benny Hill and the "Carry On: movies. Absolutely loved the stuff. Not really ardent television watchers, we were busy, so didn't watch Steptoe. Horror films, Hammer and otherwise, were popular with all of us as well. We would see "Dracula", with Lugosi, and walk around quoting the film for weeks. The same with Robert Newton in Treasure island, couldn't get enough.
DL: Do you know where the inspiration for the more melodic '60s sounding tracks like "You Tore Me down" and of course "Shake Some Action" came from? Was there an awareness of bands like Badfinger keeping the Beatles thing alive at the time?
I think basically it was Cyril and Chrissie's love of the Beatles and the Beach Boys and that type of sound. Loved the Beatles, the Beach Boys leave me a little cold.
DL: Any memories of playing at the Cavern in Liverpool?
That was a tremendous honor and pleasure for us. Being in Liverpool and playing there was fantastic. The only thing I remember is those curved brick walls that you see in the early Beatles films. We were all pretty wowed by being there. The only thing I remember about the gig was that American Spring came to see us. I was having a bit of an affair with Diane and they came up to cheer us on.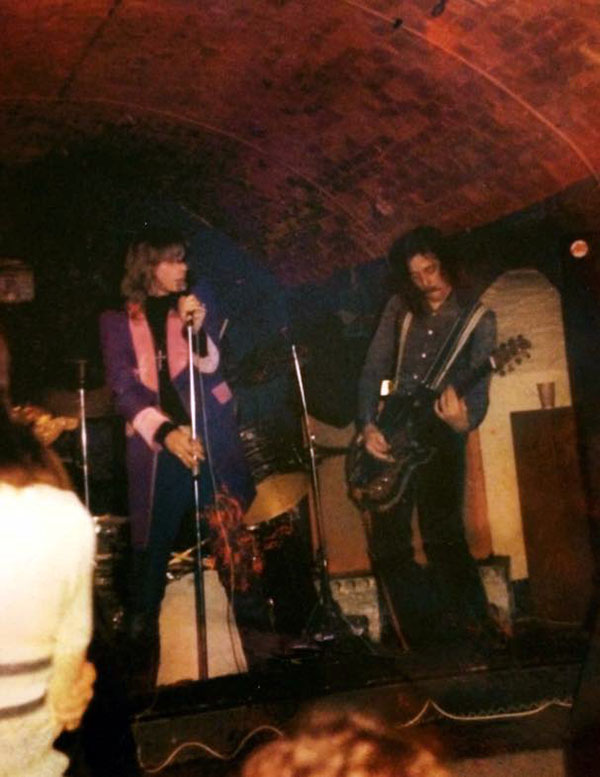 Groovies grooving at The Cavern in Liverpool.
DL: Chris apparently told future Barracudas/Fortunate Sons band mate Robin Wills that Exile on Main Street was a big Groovies favourite at the time, especially the track "Rocks Off". any memories of that?
Yeh, we played that album to death when it came out.
DL: The classic photos of you guys with old swords suggest you were into a bit of ye olde English culture. Was that you mainly? Can you tell us a bit about your historical interests?
I was a history buff from a young age and had planned at one time to be a history professor in college. My interests were heavily in the Middle Ages and, perhaps because my father had been in the Marine Corps, in military history. It was one thing that Danny and I had in common. In our spare time we would go off the Victoria and Albert Musuem, the British Museum, the British Army Museum in Chelsea or the Wallace Collection.
We found this antique shop near our place in London run by an old geezer with the unlikely name of Verdun Cooke and I bought my first swords there, a pair of 1796 pattern light cavalry sabers for 10 pounds. Over the time we spent in London we collected a few swords and while the other guys didn't share our interest to the same degree they all liked the swords and so we took those pictures.
DL: Your shows in France around this time set the band up for legendary status there. What can you remember about those shows?
JF: Yes, France seemed kind of magical. The first gig was the circus tent gig in Creteil. That was fabulous. The audience were a mixture of every age group and they really dug us. Then we did the tv show and that was a lot of fun and really highlighted us at our best. I remember we had a lot of fun backstage and I shaved off my moustache. I also remember Chris flouncing out is a satin gown, much to everyone's amusement. Good times and a great document of the band at that time. Too bad there's not more of it.
DL: Were you aware of the success of "Slow Death" in places like Switzerland at the time? Also UA did seem to do a reasonable job promoting the band – there was a decent amount of press when you got there and you even got a color spread and cover of glossy colour boys magazine Target, which was pretty crazy?
Had no idea what success "Slow Death" had outside of the UK. As it was banned there it was kind of a dead end. UA did a good job for us. Andrew Lauder was a lovely guy and very sympathetic to our needs.
DL: So why did it all go pear-shaped with UA? Was it simply that the singles didn't really do what UA expected or was there more to it?
A lot of what went wrong was our fault. We did not really play nice with company. When they did the video of "Slow Death" we didn't bother to show up to the premiere showing, which must have really ticked them off. Then when "Slow Death" was banned the wind kind of went out of everyone's sails. Then again we had never signed a contract with them and our lawyer from SF advised us to hold out for more money.
Cyril was pretty much handing those negotiations so I'm not sure what exactly was going on. At the end of the year I think they decided that they had spent enough money so they invited us to go home for Christmas. We understood what they really meant so we packed up and went home.
DL: Had there ever been a thought that the recordings you were doing were going to end up as an LP?
We all hoped so but it never materialized.
DL: And when you got home Danny quit?
Living together for almost a year took it toll on our interpersonal relationships. When we got back Cyril didn't want to gig and so we went back to our individual lives. Perhaps he and Chris and already decided on the new direction, they never discussed it with me. If they had done so they would have certainly realized that Danny would not go along with it.
Also, Danny brought along his own not inconsiderable baggage. A lovely, charming and very intelligent gentleman, he could also be very difficult if he wasn't in a good mood. I know that he and Chris and had some run ins also and they didn't help his status in the band. Finally, he realized the Cyril and Chris didn't want him around anymore and he called them on it one evening at my house and they admitted it so he left the band. I was pretty upset as he had become my best friend but I certainly understood part the reasoning.
DL: It was after you got back to the States that Cyril cut a deal with Marc Zermati and Skydog for those '71 home recordings. Were you all aware of that? and aware of the interest those releases generated?
Marc had been good to us and an enthusiastic fan when we played in France and so Cyril gave, or sold, him the tape. We know it went over well but I had no really knowledge about the extant.
DL: I believe around this time that UA released the EP compiling the two singles, and that the singles themselves were reissued in certain European territories. Assumedly there was demand for it. Back in the States, were you guys aware of growing interest in Europe?
No, not really. I presumed our year of playing and recording in the UK had earned us some fans but had no idea how many.
DL: Were you aware of any interest at home in the US at this point too?
No, not at all. We were not doing much playing so I wouldn't have thought so.
DL: Robin Wills of the Barracudas who was a big fan in those pre-Sire days has described the sense among the band's fans that the Groovies were 'their' band. It seemed that the Groovies in the mid-70s, along only a handful of others, like the MC5, were seen as the last of the rock'n'roll true believers. Were you conscious of this at the time? Do you have any feelings about it now?
Well, we know what we were about and we knew that there weren't many other bands playing that type of rock'n'roll. We knew we were quite out of step with what was going on at the time, I.e. Yes, Status Quo, etc., and we revelled in it. It just deepened the 'us against the world' feeling that you have when you are in a band with your mates. Can't say I give it a lot of deep thought now. I'm proud of what we did, that's about it.
DL: Of course later on the Groovies were also seen as an early influence on the punk scene – indeed some writers called the Groovies 'punk' at the time in the early '70s, along with all these bands on Lenny Kaye's 'Nuggets' compilation, like the Seeds and the Remains. Any thoughts on that, then or now?
We certainly enjoyed power chords, straight from Townsend, as did the punk bands. We weren't a punk band though, they came later. We influenced them I guess because we played good tough rock'n'roll so when those later bands like the Pistols and the Clash started up I'm sure they were rehearsing some of our tunes. I know Mick Jones, to name one, came to some of our gigs in the UK. I'm happy if we can have been an influence but we are only one of many influences on that scene. Music is too big to put in a little box that says Influences on it. Everything you hear influences your playing, one way or another.
DL: In '73 the band recorded the couple of tracks for Capitol, assumedly thanks to Cyril's hustling? Was there any other interest happening at the time? The band wasn't playing at all at this point was it?
We did go down to LA and did a little recording but the interest there seemed a bit tepid. We weren't really out playing and that is the only real way to perk interest.
DL: Cyril is on record saying that version of "Shake Some Action" is the best the band ever did. How do you feel about it? And was the introduction of the mellotron on "When I Heard Your Name" to your taste?
Honestly, I prefer the original done in '72. To me its fresher and I prefer Danny's drums. The mellotron doesn't bother me, I like it.
DL: Assumedly it was not long after the Capitol deal failed to materialise that Cyril worked his hustle on Greg Shaw. Were you aware of Greg had this point? Had he been around much prior ?
I didn't meet Greg until he got involved with the band. A great guy and a real music fan. Cyril was probably aware of him and probably knew him.
DL: There was a small pic and piece in "Creem" by Ed Ward around the time this time- it reads like Ed has seen you rehearse and record the track. There was obviously still a lot of respect for the band amongst rock critics and the like... were you conscious of this??
No, not really. I suppose the critics had been on board from the earlier recordings with Roy and had heard the UA stuff and were possibly intrigued as we were still unknown to most of the public, just like today.
DL: "Him Or Me" was an inspired choice for the b-side of the Bomp! single and the first of a few Paul Revere & The Raiders the band would cut over the years. Thoughts on the song, and the recording? Was it fairly representative of how the band had sounded live?
Again, we weren't really playing out so representative might be a stretch. I enjoyed that recording and I thought we did a creditable job on it.
DL: Photos from around this time, including in Creem, showed the beginnings of the '60s-ish look, and there are also those crazy shots that I believe Marc Zermati took in San Francisco – Chris with his walking cane and you all looking dandyish.. There was only the 4 of you in those pix -no drummer... were these clothes that you'd brought home from the UK?
We were wearing the stuff we had purchased at "Granny Takes a Trip". You might be right about Zermati taking those pics, I don't remember though. These were the first photos we took after Danny left.
DL: "You Tore Down" when it was finally released, was a shock to a lot of people. Even though the recording was a couple of years old, it was the first released evidence of the Beatles influence on the band. What are your memories of the records release and the reception it received. It was on the back of this too that Greg Shaw featured the band on the cover of Bomp! magazine with the big "Will 1975 be the Groovies' year?"
When we recorded it it was just one more aspect of the band. We had a lot of influences and they came out, sometime unexpectedly. Of course, we were all Beatles fans, who isn't? In '72 though, as one can clearly see, the Stones were our direct inspiration. 1975 came and went, oh well.
DL: The live photo that was featured as a two-age spread in "Bomp!", and also sold as a poster – do you know where/when that was taken?? You've still got your moustache...
That live shot on stage was taken at a local TV show in the Bay Area before we went to London for UA. No idea how it kept being used. I guess it was one of the only live images we had to give to UA for promo at the time.
DL: Wow, no idea what station or if footage is kicking around?
Sorry, no idea which channel or what we played. I doubt any footage remains.
DL: The upshot of the Bomp! single was the Groovies were signed by Sire and Greg Shaw was ensconced as your manager. Were you aware of this process as it unfolded??
Not really, I never paid that much attention to the business end of things. Stupid I suppose but I just wanted to play guitar.
DL: So next you packed your bags for Rockfield. You arrived with a much more overt '60s-style sound than when you were there last time. How did you feel about the new directions?
It wasn't really my cup of tea. We still did some rockers and I certainly didn't dislike the new songs it just didn't seem to me that there was much room in some of them for my style of playing. It was really Cyril and Chris's show, which was fine. They never really discussed the whole thing with me they just asked if I wanted to stay on after Danny left. They were my friends, it was my band, so of course I stayed on. I did my best to be enthused and fully involved.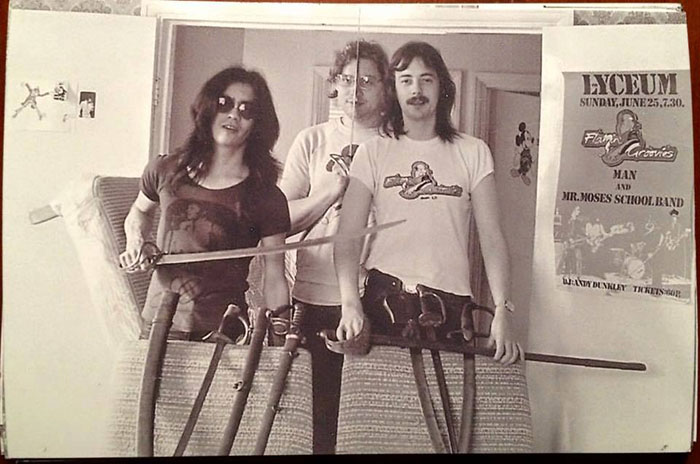 DL: Was the Rockfield "Shake Some Action" always intended as the title track do you know?
I don't know but it was clearly the best song and the title sounded like an album title.
DL: You utilized a bunch of different instruments – there's harpsichord on the record and more – and utilized a lot of different guitar sounds as well. Cyril has spoken a lot over the years of the recording process for the album. What are your memories of it, and about the role that you played in particular?
As I said, I tried to remain enthused and involved but I did feel a little disenfranchised. We clearly weren't the same band that was there in 1972 and I missed Danny's presence and the heavier sound. I had a good time in Rockfield though and it is a pretty decent album.
DL: What are your thoughts and feelings about the record now?
Haven't listened to it lately. I don't usually listen to my own stuff. I'm glad it has garnered such a good reputation but I don't take that fan stuff too seriously.
DL: Was the album completed while you were all there, or did Cyril stay on?
The recording was done when I was there but Chris and Cyril went back to mix it with Dave. That's another story.
DL: Tell me more...
It's kind of a long story but a pivotal one in my life. After Rockfield we were heading to Paris for our Olympia gig that Marc Zermati had arranged. Cyril knew I was somewhat disengaged from the new direction of the band but tried to keep me interested. He gave me some lead work to do on the album and encouraged me. He asked if I would like to go with him and Chris back to Rockfield to mix the record with Dave Edmunds. George and David Wright were heading back to the states after the Paris gig.
I told him yes I would be pleased to be included. We took the boat train to Paris and came into the Gare du Nord (I think). Our manager, Jeff Richardson, was a good friend and extremely knowledgeable about old records. There was nobody to meet us at the station so we called to "Open Market" to see what happened. They told us that Jeff had told them the Gare de l'Est and everyone was there waiting. No cell phones then so he said he would send a couple of cars to collect us.
They soon drove up and a guy got out of one car and a slender brunette got out of the other. I was immediately attracted to her and when he asked who was going with Marie I jumped forward and said I was with Marie. She smiled and we flirted heavily on the way back to the hotel. That night Marc laid on a big meal at a restaurant and I was sitting with a French bloke when Marie came in. I asked who she was and he informed me she was Marc's partner's girlfriend but they werent getting along. I called out and asked her to sit with me. We chatted through the meal and I told her the next day (November 2) was my birthday and would she go out with me. She said sure, where will we go?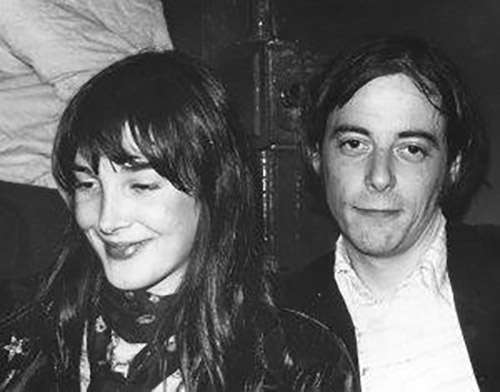 James and Marie on the night they met.
I had never been to Paris and only knew one place, L'Invalides (the French army museum). She laughed and said no but we can go to the Tuilieres gardens. We spent the afternoon talking and holding hands, etc. and I told her we were going back to Rockfield and would she like to come. Of course she would but when I spoke to Cyril about it he said absolutely not, no women in the studio. As I was already pretty smitten I got a bit angry and told him that they could mix the record without me and I would stay with her in London. You can imagine how badly this was received.
Anyway, she came to London and we stayed a few days at the home of her friend Larry Dubay, known as Larry Greenbeard. By the end we were deeply in love and promised to somehow spend our lives together. When the boys returned from Wales, Dave and his girlfriend took my weeping girlfriend to the train station and we headed home. I wrote her after I got home and asked her to visit. She talked her father into giving her money to do so (another story) and came just before Christmas.
When the government wouldn't renew her visa I asked her to marry me and we got married, much to the amusement and/or disgust of my friends. Cyril even had the gall to call me the night before our wedding and tell me he was upset with me, I believe I told him to fuck off if he couldn't be happy for me. Marie and I spent 36 lovely years together. Don't know that this is of real interest to anyone but you asked.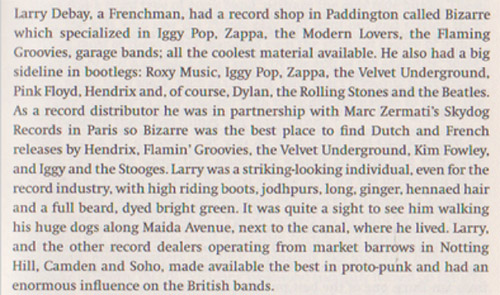 From London Calling: A Countercultural History of London Since 1945 by Barry Miles
DL: In Paris you played the legendary show at the Olympia at Paris. You were feted as returning heroes.
A very special time for me. A great theater and we were really well received. Chrissie Hynde and her band The Frenchies opened. Don't remember them but she was very friendly.
DL: Was the crowd response a surprise, and can you talk a bit about the show itself? There are recordings in circulation... You do a lot of the album you'd just recorded and "Teenage Head" and I think "Jumpin' Jack Flash" and "Married Woman", but no "Slow Death". This was the first time on stage in the '60s suits... were people surprised??
Not sure if they were surprised or not. We went played pretty well as I remember, and we went over well. Honestly, I don't remember a lot of detail about the gig.
DL: Can you remember meeting Elton John? (Contemporary review says he was at the Olympia and was going to intro the band on stage but got scared because the crowd was getting rowdy.)
No, I don't remember meeting him. I knew he was there. Funny, when we were at Rockfield, it seems to me there was a picture of him on the wall next to a dartboard and we threw darts at him. He wasn't really up our alley I guess. I know when Cyril went to the UK to meet Andrew Lauder they went to see Elton at a small club and he was quite impressed, if memory serves.
DL: Did you play any other shows in France or in the UK at this time? (I have a memory of reading about London group the Gorillas opening for you in France – maybe that was '76?)
No, no other shows.
DL: I assume those oft used photos of you guys hanging around in Soho were from this time as they were used in the lead up for the album release?
\Yeh, we went down and did a photo shoot so we would have some current pics.
DL: So then it was back home to wait for the album's release? No gigs assumedly?
Quite right.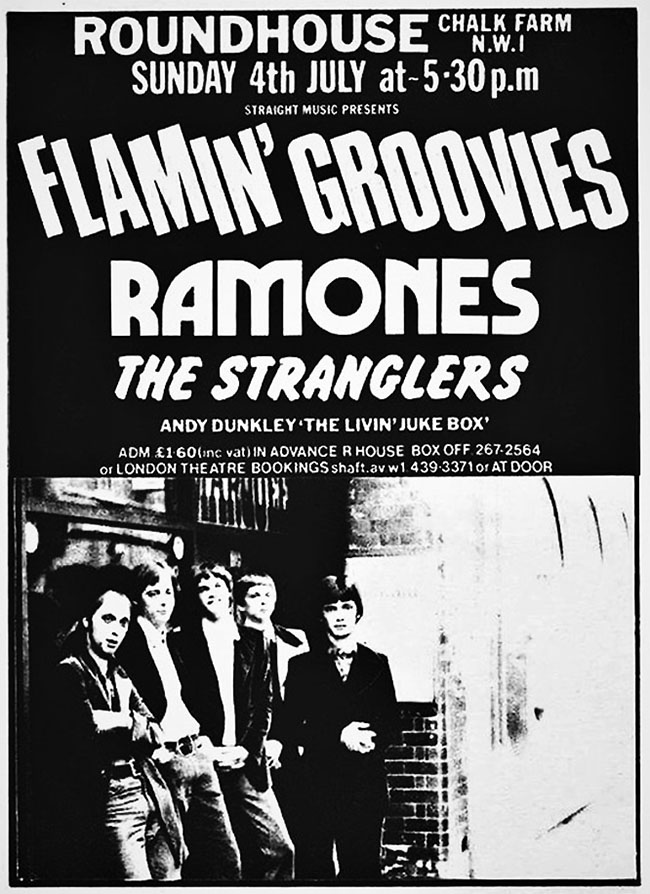 DL: And then, once the LP you returned to the UK for the July 4 show with the Ramones and more yeah? The July 4 show has gone down in history – how aware were you at the time of the Ramones and the impact they would have? Was there a sense at all on the night that they had overshadowed the Groovies? (It's interesting to read contemporary reviews of the night – some are definitely in the Groovies corner, others are more excited about the Ramones)
JF: I had no idea who the Ramones were but we chatted at the soundcheck. Dee Dee and Joey were quite friendly and we got on well, the guitarist was a bit distant; his competitive spirit no doubt. Can't say I saw in any historical context at the time. Punk was just stearting and there was little news about it on the West Coast. I didn't see their set but I believe that they had been gigging constantly for some time and so were really sharp.
We were well rehearsed but had not played live at all and so were perhaps somewhat tentative. You can't replace the experience of playing live, it sharpens you up and gives you that real Fuck You attitude. Nonetheless, after the show it would appear we had done very well and were deluged with people congratulating us ad nauseum.
DL: You played a bunch more shows around the UK and Europe on this visit. Can you remember how many shows and how widely you ranged? There was obviously a lot of press and media interest still, but I've read that some of the shows – in Holland for instance – were poorly attended?
I think that is incorrect and you have this confused with the later tour after I left.
DL: it was after you got home that you plated the also legendary show at the Roxy in LA with the Ramones yeah? How did that go?
It was ok, as I remember, though I have to say that the bootleg from that show stinks.
DL: And did you do other shows or was that it?
That was it, to the best of my memory.
TO BE CONTINUED.