PH: Hi Marky, the first question I'd like to ask is do you ever get sick of talking about the Ramones in interviews. Do you have to brace yourself every time thinking "I've already answered this shit a zillion times… I'll kill this interviewer!!!" How do you keep it fresh and stop yourself from screaming?
MR: To be honest yes. But I do understand why the journalists they ask me about the Ramones, Phil Spector, Hall of Fame... I cannot explain things about the weather or wild life, I'm known to be one of the Ramones.
PH: Last time you were here the band was on fire! Is this a different line up to the last time you were in Australia? What has changed and why? Give us all the dirty gossip!!
MR: I like new people. Michael decided to start his solo career and Alex and Clare did their thing. They did a great job, like the band will see you now. Have a big respect for all band members.
PH: In 2001 You were given a MTV lifetime achievement award presented to you by Bono. How did you restrain yourself from punching him in the nose for unleashing U2 onto the world ?
MR: Well... U2 always have been big Ramones fans, not fake fans, real ones, we did some shows together, so...
PH: Most Ramones fans are biased, obsessive and completely loyal. Like Trekkies. They'd eat their own shit if you told them to. How does it feel to be part of something so huge? How do you take that all in?
MR: I would never say that to our fans, they are loyal because we were loyal to them. We were real, natural...we didn't need all that rock star bullshit like the big headliners... we just jumped on stage and boom! Then after the show we all signed autographs and talked to the fans...
PH: One of my favourite releases of yours is the fantastic collaboration with the grossly underrated Canadian band Teenage Head. Obviously, they are the biggest Ramones fans. Were you aware of them before when they appeared in CLASS OF 1984? The versions are fantastic. How did this project occur?
MR: I liked them, they came up with the collaboration idea and we did it. I must say we ended up with a great job. Yes, I was aware of them.
PH: You played with a lot of amazing gifted musicians. Who was the biggest nut and why? You don't have to say a name. Just a crazy story!!!
MR: The biggest nut was Dee Dee. He was a genius and my best friend in the band. I love him. There are thousands of Dee Dee stories. Once in Japan he was drunk on sake and started yelling in the middle of Tokyo and ended up being picked up by the police... But for some reason or other they liked us and got us to the hotel instead of the police station.
PH: Do you have a favourite Australian band and album (besides my band The Pro Tools of course)?
MR: Not favorite, but obviously I like Radio Birdman... Your band of course is on the top of the list. The Beatles and then yours :-)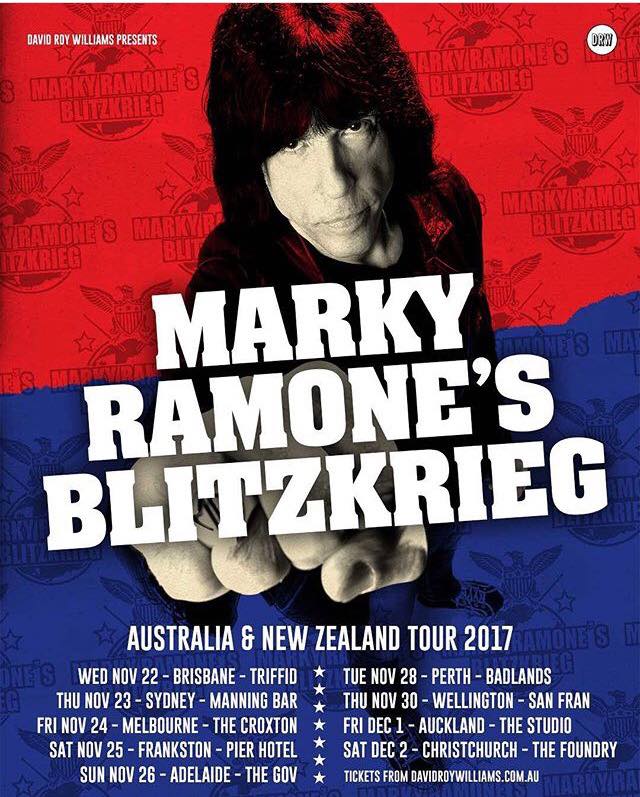 PH: What's the best and worst thing you have found regarding Ramones inspired punk bands ? Do you hate them???
MR: I do not hate anything, life is too short to waste time on hate. Some things I like some I don't. But I cannot say anything in concrete.
PH: On behalf of Australia I'd like to thank you, the band and promoter for coming here, especially for coming to Adelaide. Let's end on a cliché : Any final words to say to your Australian fans?
MR: Yes from a cliché to a cliché I like to say "HEY HO LET'S GO". :-)... Seriously... come to the shows. It's gonna be a great night - all the hits by a real Ramone. Has taken me 8 years to come back to Australia so I cannot guarantee I will be back again and I want this to be a big party.
Wednesday, 22nd November
The Triffid, Brisbane
Tickets: DRW Entertainment
Thursday, 23rd November
Manning Bar, Sydney
Tickets: DRW Entertainment
Friday, 24th November
The Croxton, Melbourne
Tickets: DRW Entertainment
Saturday, 25th November
The Pier Hotel, Frankston
Tickets: DRW Entertainment
Sunday, 26th November
The Gov, Adelaide
Tickets: DRW Entertainment
Tuesday, 28th November
Badlands, Perth
Tickets: DRW Entertainment