Lax Charisma of The Nice Folk on life as a musical underground outlaw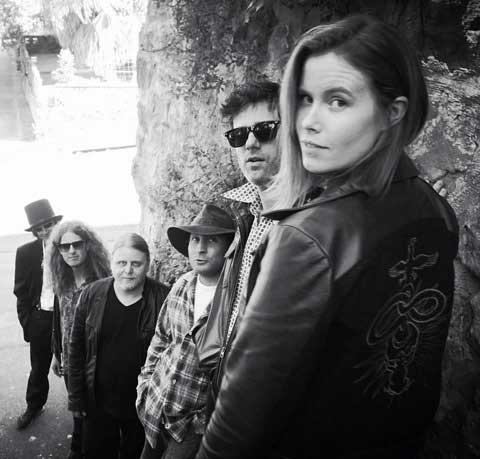 A few weeks ago at the Factory Floor in Sydney, I caught The Nice Folk supporting Harry Howard and The NDE and The Holy Soul.
The Nice Folk (for me) were a cross beyween early Captain Beefheart Magic Band and Pere Ubu. I wrote that they could "pull out a slow, sleazy blues song and switch to early Beasts of Bourbon-like sloppy and swampy excursions". What really struck me that night, however, was that they captured a spirit of an Australian music scene from a long time ago.
In the '80s, pre-Nirvana, pre-Ratcat. pre-corporate festivals - and the boozed up smashed bogans with Southern Cross tatts thinking they are cool one day of the year going to the Big Day Out - there were bands like The Nice Folk. These bands knew they were never going to capture a place in the commercial charts. They were truly underground.
This let to music that was free from attempting to be accessible. It was about the band and music first and not getting them "Suck-cess". Bands like the Laughing Clowns, Lubricated Goat, Box The Jesuit and the early Wet Taxis. Which is why I really liked The Nice Folk. They had a similar attitude and devotion to their music.
The band is from Wollongong and that's another virtue. Wollongong is to Sydney, in many ways, what Geelong is to Melbourne. It's an oupost, geographically spoeaking, always producing the occasional gem of a band with a sense of the outlaw about it that comes from being part of a small and hardcore underground music scene.
The Nice Folk's prime guitarist Lax Charisma is a complete music geek, and like many good folk (no pun intended) in the underground scene, he's a walking encyclopedia about music and bands. A true music fan and advocate of the local scene. I sat down with him and he gave some very comprehensive answers of the ten year history of his band, their new album and upcoming launches in Sydney and Wollongong.
Edwin: How did the band get together?
Lax: We've just finished celebrating 2014 as our 10th year together. We played some great shows and we got our second LP "Touched" back from the pressing plant.
Over 10-years we've had many line-ups. Dave Mutton and Lax Charisma are the longest serving members. Angry A. Lot came in on bass quite early on. Then Stu-Bob Slackjaw replaced our drum machine we use to use, Captain Special K has been with us over eight years. We've had different guest musicians and keyboardists come and go.
OK in relation to now and this line-up this is what significantly happened to form this line-up. Firstly Dave Mutton went from being our acoustic guitarist/singer into being our principle songwriter and frontman. This happened at a gig where his guitar was fucking up and we just went fuck it just sing.
Now, Paisley Nightmare had been floating around the band for awhile at this point predominantly playing melodica and mandolin...a little guitar. When Dave started just singing he stepped up to being our other guitarist and him and I started forging more of an entwined two guitar approach to our sound.
The band has a vast amount of influences. I pick a lot underground Sydney bands from the '80s, particularly Black Eye and more subversive music. Would I be correct?
Lax. Not entirely. No...Look I can speak for myself here when I say yeah sure I listen to and love that stuff. You mean like Lubricated Goat, Thug that kind of thing right? Yep. I'm a fan...pretty sure Dave is too. As for our actual sound and influences, I truly believe it's each other.
It goes this way. We all pretty much revolve around Dave Mutton. The process has changed slightly over the years. He had more access to recording equipment which he doesn't now, but he'll periodically pop up to my place in Sydney, grab my acoustic and show me 6-7 new songs he has written. It's important to understand that this is almost weekly at times. I have over 80 demos for songs on my iTunes of songs Dave has written that we DON'T currently play.
He's prolific. He writes in a style that I think is very Ramones/Lou Reed....his stuff is basic and uses different combinations of the same chords. Occasionally he'll have a bit more of a riff in there but it's generally great words and simple chords.

When Kaylene joined, she was quite young, still in high school. Her and I talked about American punk Big Black, Mission of Burma, Gun Club...and with her playing trumpet stuff like Miles Davis & Captain Beefheart & His Magic Band. I can't remember what I said about our band but it interested her enough to come and see us once she turned 18.
She dug it and started coming to our Tuesday night jams. It was a bit strange she was so straight and sensible compared to our beer swilling drug taking selves but she got the music quickly and instantly added something really cool to it. I think like everyone who joins they can hear the potential in the songs Dave writes. Good lyrics, catchy hooks/riffs and an infectious sense of humour.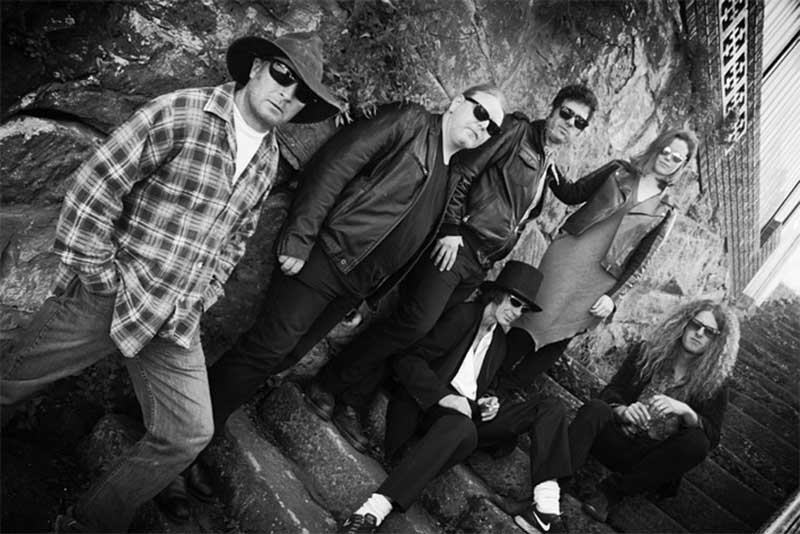 The Nice Folk in landscape mode. That's Lax Charisma standing third from the left.
What is the background of the other band members?
Lax: Dave and Stu have the longest association. I don't even think that they've played in bands without each other so it was probably inevitable that Stu ended up in this band but its all punk rock with those two. Wotstinx, Psychotic Numbskulls, The Carcinogenics, Muttton.
Angry A. Lot....a series of I guess more garage bands The Things, Rum Junkies....ohhh yeah and the goth band September. Angry & I are a the secret ex-goths in the band. hahaha.....
Paisley Nightmare....maaaaaan that guy can play just about anything and I can't even recall all of the bands he has played with. I'll go with two recent and I think significant ones. His own band Ye Ludittes is I guess a psychedelic garage pop kind of band. They still play on the odd occasion. Really cool. I love those guys....ohhh there is another current band called Electric Waiste Band with members of Baby Machine and Evol. I've only seen them once but they are a lot of fun, theatrical and yeah a really great party band.
Paisley also played in my favourite line-up of Adam Buckland's band Dodgy World on guitar. Dodgy World is one of the great unknown bands to come out of Wollongong. I could rap about them for hours. One of my favourite bands. Period.
Captain Special K....The Nice Folk is her first rock band I guess. She is a classically trained trumpet/flugelhorn player, dabbler in banjo. I love telling people that when she was in high school she toured Japan as part of James Morrison's band. That's pretty cool right? Fuck...like we'll ever get to do that. But yeah for some reason for such a sensible girl she likes playing with us degenerates, hanging out with us. Lucky us huh. She's actually into a lot of the same music as us you know in terms of rock n' roll and punk stuff so in that regard she fits right in.
With me, I was in a series of teenage death metal bands Charred Remains, Galgotha. A few 90's influenced grungy punk bands Puffaluffica which evolved into 47. The goth inspired 80's sounding Hee Haw. Then I was in Richie & The Creeps. Richie Lewis from Tumbleweed started that one before Tumbleweed reformed. Dave and I started The Nice Folk towards the end of me playing with those guys.
Tell me about the collection of songs on the album.

Lax: Well we got these together pretty quickly. By quickly I mean around 6 months. Some had been kicking around for sometime in different versions and styles. As I mentioned earlier after that X gig in April 2013 we regrouped, re-thought what we were doing and dumped the ballads we were working on and got into good old twin guitar rock n' roll.
I think we early on decided that we were going to make this a vinyl release. I was disappointed our previous album "Devil At My Door" never made it to vinyl so I was pretty determined that this one would. To that end it was designed for vinyl. Four-songs either side...I think that six is your maximum either side and that depends how long the songs are but it felt right for us.
As we demo-ed and worked on these I was enthusiastic, astonished and amazed that after playing for a while these rambling and jammy kind of songs that went for five or six minutes we had several that clocked in under three minutes! I was so impressed with this. I'd long listened to people like Eddie Cochran or The Minutemen and admired how they'd written something so complete with verses and choruses and little solos and riffs in less than three minutes.
Once I realised what we had I became a real dictator about editing any unwanted fat from the songs. No extra bars for solos make em' quick, repeats cut down to twice where we could get away with it, less intros...things like that I s'pose.
I think we managed to get a good spread stylistically over the album too. Quick punk songs, mid paced garage sounding ones, loose noisy psychedelic stuff. The one song I'm most proud of and also the one getting good feedback from those who've heard it is "Pink n' Blue". That was something I wanted to be a nice surprise for people when they got the album. We don't really play it live.
Tell me about the recording and the approach you took?
Lax: I pretty much knew after how we did our previous album "Devil At My Door" that I didn't want to take the same approach again. It wouldn't work for us. I think all involved Ita great job but....look what happened was that we were excited to do something analogue to tape. We started that and had a problem with the machines.
A year later we finished the album digitally but my point is that we did it in layers which I think is pretty normal for a lot of people to record. Not long after the album was done we did a gig at the Vanguard in Newtown and we got a desk tape of that. I liked it better than the album.
Sure it was raw and there were fuck ups and things on it but it had the live energy of the band on it, it had Dave drunk and being a mouthy fuckwit which he is good at. It just worked better for me. So I was pretty determined that I wanted our next album to be live.

We looked into finding a venue and eventually funnily at the Beasts of Bourbon gig for the Low Road line-up a mate suggested looking into Disgraceland. Disgraceland is our mates house in Wollongong. So in December 2013 we went in, Jon brought all his portable recording gear and we played the album. A few takes, a few hours and we had it done. We had to do another session at Jon's studio in Sydney for the trumpets because we'd work out it would be near impossible to do those live as well and we had to redo a few vocals.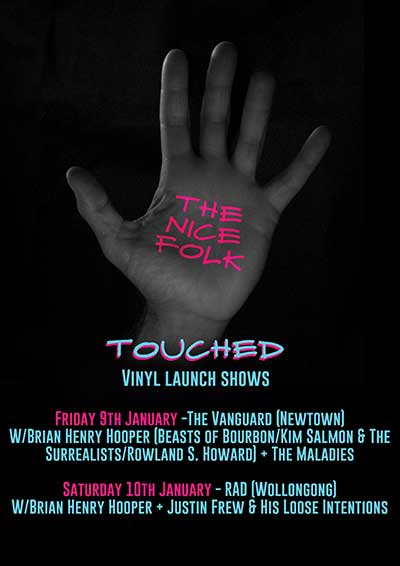 The upcoming album launch at the Vanguard in Sydney on January 9 - can you tell me about it and how you're being joined by Brian Henry Hooper from Beasts of Bourbon and Kim Salmon and the Surrealists?
Lax: So last year was our 10th anniversary as a band. We wanted to play our guts out...well as much as an older band with jobs and commitments who can't easily tour can.. We've played the Vanguard twice before and I dig the place as a venue, nice stage, good sound.
In 2005 we played with Brian Henry Hooper at the Excelsior in Surry Hills. Brian is tops I really like him as a person and his music.. Funnily, the last time I saw Brian was in New York. That was funny. I go overseas and end up at the Cake Shop seeing a gig of all-Australian acts. Degreaser, MJ Halloran and Brian Henry Hooper....to top it off Stu Spasm showed up and I got to meet him which was pretty cool because I love Stu's music.
So Brian is doing the launch shows with us. In Sydney we've also got The Maladies...now I'm...I've lived up here for a few years and I've been trying to get out and see stuff more but I'm from Wollongong. I'm not from around here so I don't really know what's what. I asked around my mates and they all kept saying you gotta get The Maladies. Now from what I understand they took a bit of a break and just the last few months have gotten back into it. I had a listen to what they are doing, saw em' a few weeks ago and it's really great. What a band!

Also we have held onto the vinyl that we've recorded and we all have copies and we are really happy with it but yeah pretty much you want a copy then get to our launch shows. We'll give people who get to the shows the first bite of the cherry before we put them online and in-stores. They are coloured vinyl on pink 'n' blue splattered vinyl and are limited to 250 copies so I figure we won't have em' for too long if the stack of online messages I've been getting are anything to go by...
The Nice Folk with Special Guest Brian Henry Hooper launch "Touched" at The Vanguard in Newtown on January 9 and Rad in Wollongong on January 10. They'll be joined by The Maladies in Sydney and Justin Frew & His Loose Intentions in Wollongong. Sydney tickets here.
Tags: nice folk, lax charisma, dave mutton, brian-henry-hooper, touched, launch, vanguard