Details

By

The Barman

The Barman
Bookie's reunion celebrates groundbreaking Detroit club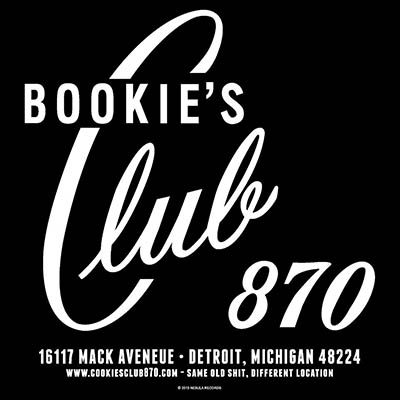 On March 17, 1978, Bookie's Club 870 became Detroit's answer to New York's C.B.G.B., The Whisky A-Go-Go in L.A., and London's Marquee Club.
Bookie's hosted shows by The Police, Iggy Pop, J. Geils, The Damned, Ultravox, The Dead Boys and many other international punk and new wave performers.
It also served as a home base for Detroit area bands like The Sillies, The Romantics, Gang War and former MC5 and Stooges members like Ron Asheton, Michael Davis, Fred Smith and their then-current bands, Destroy All Monsters and Sonic's Rendezvous Band.
At least three live albums have been released of Bookie's concerts and a new two-record set of Iggy Pop's six-day residency is now being released on Easy Action in the UK. The book "Detroit Rock City" chronicles the Bookie's days through the eyes of people who were there.
The Bookie's 40th Anniversary Reunion will be held on Saturday, March 17 (St. Patrick's Day) at the New Way Bar on Woodward, Detroit, roughly three miles north of the original Bookie's. Admission is FREE. There will be posters and photos on display that night as well as live performances from The Sillies (who started the club) and members of R.U.R., Coldcock and other surprise guests.