Dead Boy Not Running Scared: Cheetah Chrome to tour Europe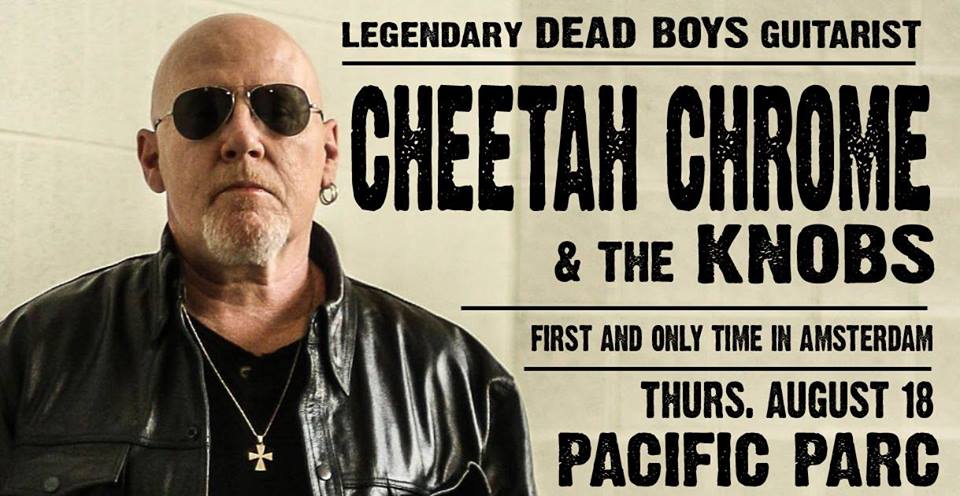 Punk rock guitar legend Cheetah Chrome is hitting the live music bolt-holes of Europe for the first time ever, backed by a hand-picked Dutch band called The Knobs.
The new millennium has brought new opportunities for the ex-Dead Boy, including his first release under his own name, a critically-acclaimed book and multiple tours in the United States alongside the likes of Sylvain Sylvain (New York Dolls), Ronnie Spector, the Streetwalkin' Cheetahs, James Williamson (The Stooges) and The Blackhearts.
In Fall 2016, he will be returning to Europe to embark on a tour across mainland Europe and through Scandinavia. Cheetah has recruited a quality cast of bandmates who have aligned themselves with his style and have brought his influence to their country.
The Knobs are world-traveled punk-hardcore specialists in Tony Leewenburgh aka "Tony Slug" (BGK, Nitwitz, The Hydromatics, Loveslug, The Spades), Theo Brouwer (Lords Of Altamont, The Nitwitz, The Hydromatics) and Ries Doms (The Hydromatics, Power Vice, The Spades, De Kik).
Cheetah Chrome's explosive songwriting and raw tone influenced an entire generation of players and has been reflected in some of hard rock's most revered and popular bands, including The Hellacopters (Stockholm, Sweden), The Darkness (Suffolk, England), Powder Monkeys (Melbourne, Australia), Supersuckers (Seattle, Washington) and Guns n' Roses (Los Angeles, CA) to name just a few.
Expect a set heavy on Dead Boys and Rocket From The Tombs songs. Dates so far:
Aug. 18 - Amsterdam, Pacific Parc
Aug 19 - Hamburg, Germany (venue tbc)
Aug 20 - Gutter Island Festival, Vordingborg, Denmark (with Dictators NYC)
Aug 21 - Cologne, Sonic Ballroom
Tags: tour, dead boys, cheetah chrome, tony slug, european