Ex-Stooge James Williamson's new album looms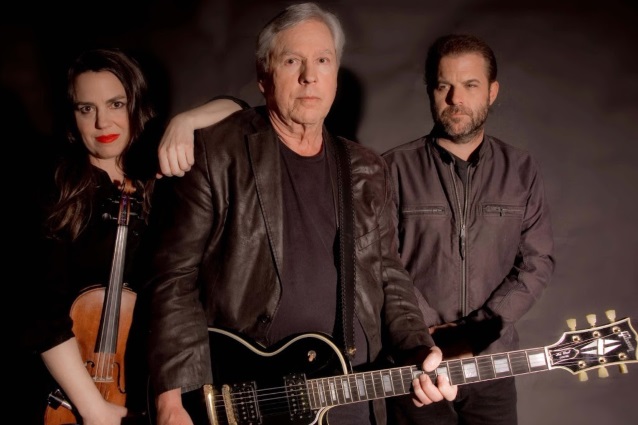 The debut album from ex-Iggy and the Stooges guitarist James Williamson and his new band, The Pink Hearts, comes out on June 22 and we'll have a review live in about a week.
"Behind the Shade" by James Williamson and The Pink Hearts will be on Williamson's own Leopard Lady Records and is a diverse but powerful effort, with Frank Meyer (Streetwalkin' Cheetahs) and Petra Haden (That Dog) sharing lead vocals.
Haden was one of the feature vocalists on Williamson's album of previously unreleased studio versions of Stooges songs, "Re-Licked". She also contributed violin to "The Departed" on the final Stooges album. "Ready To Die".
On "Behind The Shade", Williamson supplies all of the riffs, guitar parts and most of the bass. The album also includes a host of accompanists.
They include Michael Urbano (Smash Mouth, Bourgeois Tagg, Todd Rundgren, John Hiatt) on percussion, Gregg Foreman, Hervé Salters, Paul Roessler, Nick Hart, and Audrey Vera on keyboards and piano, Jason Carmer on bass, Don Rooke on lap steel, Geoff Yeaton and Tony Peebles on saxophone and Steffen Kuehn on trumpet.
Click Read More for a video teaser and the tracklist.
Tracklist
1. Riot on the Strip
2. Judith Christ
3. Pink Hearts Across the Sky
4. You Send Me Down
5. Destiny Now
6. This Garden Lies
7. Purple Moon
8. Miss Misery
9. The Revolution Stomp
10. Behind The Shade
CD BONUS TRACK:
11. Died a Little Today (Alejandro Escovedo)
Tags: iggy pop, james williamson, the pink hearts, leopard lady records, behind the shade, iggy and the stooges, the stooges, frank meyer, petra haden