Details

By

The Barman

The Barman
If you're hard of hearing, don't show up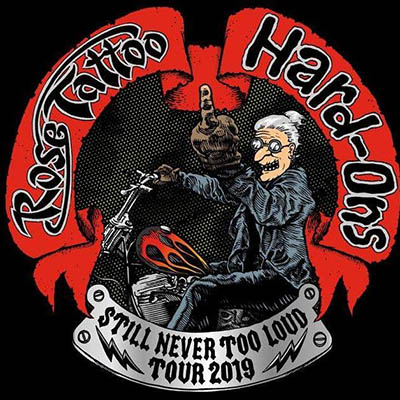 Rose Tattoo's "Never Too Loud", released in 1997 through Repertoire Records in Germany, was a compilation spanning the band's career at the time. Now, 22 years on, the Hard-Ons join Rose Tattoo on their "Still Never Too Loud" tour heading out across Australia in March, April and May.
Thirty-five years since their formation, the Hard-Ons have amassed an unprecedented and never-to-be-paralleled 17 consecutive number-one releases on the Australian alternative charts, making them one of Australia's most commercially successful independent bands. Their cult following extends into Europe and the UK, and as of 2019, their brand of unapologetic punk rock has never sounded better.
The band are fresh out of the studio having just finished recording their 12th studio album due to be released later this year.
Angry Anderson's Rose Tattoo recruits, considered some of the best in the business, comprise legendary bass player extraordinaire Mark Evans of AC/DC fame, iconic guitarist Bob Spencer of The Angels & Skyhooks, as well as unbelievably talented maestro of rock mayhem, Dai Pritchard.
Rose Tattoo hit the high seas on the Monsters Of Rock Cruise out of Miami in late February and headed straight into the recording studios in March.
STILL NEVER TOO LOUD
Friday 29th March 2019 - Metro Theatre, Sydney NSW
Saturday 30th March 2019 - Waves, Wollongong NSW
Friday 5th April 2019 - Shoppingtown Hotel, Doncaster VIC
Saturday 6th April 2019 - Chelsea Heights Hotel, Chelsea Heights VIC
Friday 12th April 2019 - The Gov, Adelaide SA
Saturday 13th April 2019 - Capitol, Perth WA
Friday 26th April 2019 - The Triffid, Brisbane QLD
Saturday 27th April 2019 - Coolangatta Hotel, Coolangatta QLD
Friday 3rd May 2019 - Diggers, Ettalong NSW
Saturday 4th May 2019 - Cambridge Hotel, Newcastle NSW
Tickets from rosetattoo.com.au