Mick Medew solo album looms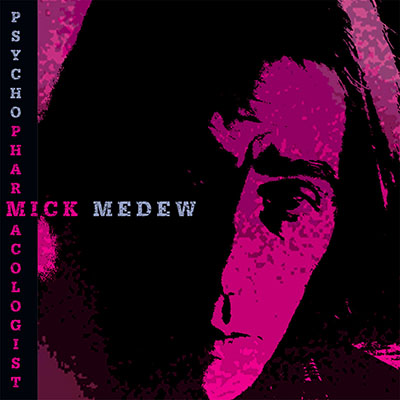 I-94 Bar Records is proud to announce the impending arrival of "Psychopharmacologist", Brisbane musician Mick Medew's first true solo album and his most surprising musical adventure yet.
It will be out on CD and digital on October 2 and pre-orders here will receive an early release track, "When The Wood Is Brown (Full Return)", via download.
Medew has shown with his current band, Mick Medew and the Mesmerisers, and past units, the Screaming Tribesmen and Mick Medew and the Rumours, that he's a master of guitar pop-rock. "Psychopharmacologist" puts him in a different place with nine songs that make optimum use of the studio and bring wildly varied influences to bear.
With a broad stylistic sweep and kaleidoscopic use of sound, there are hints of Jimi Hendrix, Berlin period Bowie and The Byrds all vying for attention on "Psychopharmacologist", but the way they're interpreted and woven through the songs is uniquely Mick Medew.
From the opening sweep of "Sea of Souls" - an artful reflection on family holidays spent on a then-rustic Queensland Gold Coast - to the refreshing guitar cool of "Where The Crows Fly Backwards", "Psychopharmacologist" evokes a myriad of moods and scenes.
It also reprises "Igloo", the song that put the Screaming Tribesmen on the Australian independent music map in the 1980s, and gives it a wordless makeover.
The songs for "Psychopharmacologist" were worked up over five years of solo shows in Brisbane and Melbourne and further arranged in a Brisbane studio when COVID-19 madness made live shows impossible for Mick Medew and the Mesmerisers.
Mick was joined in the studio by Mesmerisers bassist Lois Andrews and keyboardist Ursula Collie. Mesmerisers guitarist Brian Mann masterfully produced "Pharmacologist" in his Brisbane studio, and Lois Andrews produced "When The Wood Is Brown (Full Return)".
Tags: mesmerisers, brisbane, i-94 bar records, mick medew, psychopharmacologist, screaming trbesmen