Details

By

The Barman

The Barman
Sydney going Green over Spiders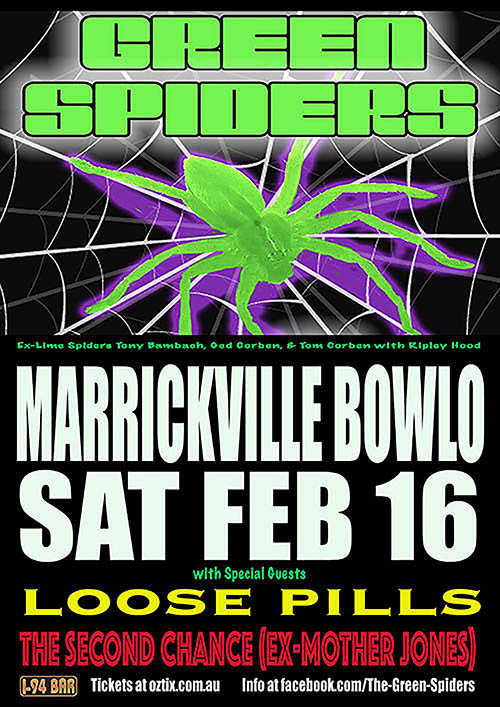 For 20 years, Sydney's Lime Spiders cut a swathe through audiences in Australia - and for that matter, right around the world.
Beginning as acolytes of the '60s acid punk sound, the band developed its own hard rock style, signed to a major label and toured extensively, attracting praise from the likes of Jello Biafra, Iggy Pop and Joey Ramone. Three studio albums and a live record attest to the band's power.
The Green Spiders could be called the "sequel" to the Lime Spiders. Featuring three-quarters of the Spiders' most prolific line-up,
The Green Spiders were born in 2018, out of a desire by the members to play together again. Their originals are written or co-written by Ged Corben, Tony Bambach and Tom Corben and naturally include a generous portion of Lime Spiders material.
There's also a serving of obscure 60's guitar rock/pop and a dash of 70's punk.
Ripley Hood (Mushroom Planet, Funhouse, Gun Control, Brando Rising and the Four Stooges) fills out the Green Spiders line-up as lead vocalist.
Their February 16 show at Marrickville Bowling Club will be their debut Sydney gig.
They'll be joined by power pop supremos The Loose Pills, now in the throes of completing their second album and deservedly one of Sydney's best live bands.
Making its debut will be The Second Chance, a collection of Detroit rock veterans gathered around vocalist Pete Patterson (ex-Mother Jones, Melting Skyscrapers and Rattlesnake Shake.)
Tickets are selling here.