Vale Hummingbirds vocalist-guitarist Simon Holmes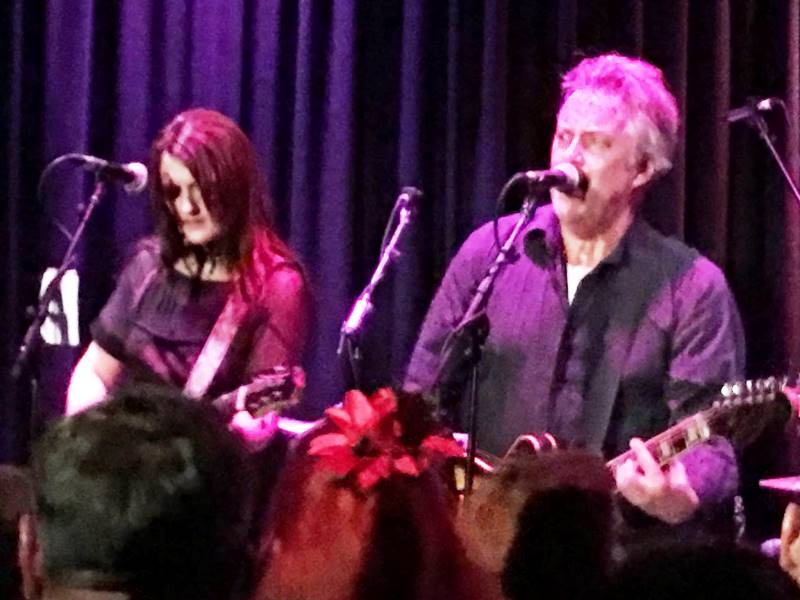 Simon Holmes with the reformed Hummingbirds at their sold-out Sydney show in 2016. Murray Bennett photo
Simon Holmes, member of influential Sydney fuzz-pop band The Hummingbirds, has passed away suddenly. His son, Milo C. St Clare-Holmes, made the announcement on his father's Facebook page yesterday.
His passing was marked by another brief message on The Hummingbirds' Facebook page: "Simon Holmes, beloved father, friend to countless and our band mate, passed away last week. Our hearts are broken." It prompted a massive outpouring of grief across social media.
The Hummingbirds formed in 1986 and made an immediate impact on the Sydney scene with their crafty, catchy pop, releasing the "Alimony" single on Phantom, before signing to the rooArt label. Their single, "Blush", peaked at No.19 on the ARIA singles charts in 1989.
Holmes was guitarist and vocalist with the band who released two albums ("loveBUZZ" and "Va Va Voom") before breaking up in 1993. They reformed for the Big Day Out in Sydney in 2011 and a couple of more times recently. In April, Simon and The Hummingbirds played on a bill in Sydney in tribute to The Cure.
In the 1990s, Simon was involved in running the Half a Cow bookshop and his own "Enthusiasms" music retail shop. More recently, he'd recorded with a number of bands, including Her Name In Lights, and had a radio program on Sydney community station 2SER-FM.
The I-94 Bar's Edwin Garland writes:
I am very sad.. one of the true gentleman of the Sydney music scene has passed on. Simon Holmes ...I have known Simon since 1982. I even borrowed a pedal for some the first home recordings I made. I remember (Simon) when he played in bands down at Sussex hotel and eventually forming The Hummingbirds. Long conversations about Bukowski and Kerourac, down at Half a Cow bookshop, which he managed.
Simon was a sort of bloke who found time for a conversation: and was deeply committed not only to his music, the local scene and his love of alternative writers Everyone loved Simon Holmes; he was so humble and everyone always spoke highly of the man. He is greatly missed already and all my love goes to his family.
A Rememberance Blog has been opened here for condolence messages.

Tags: hummingbirds, simon holmes, half a cow