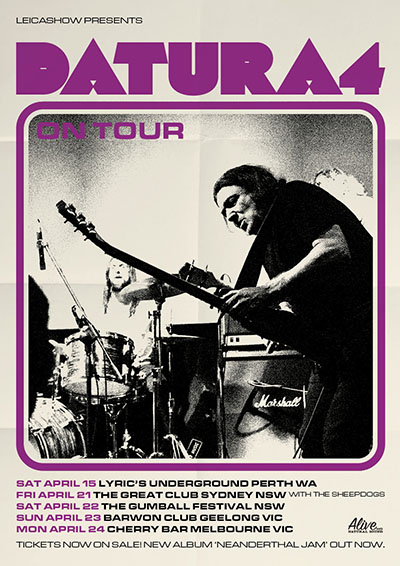 Internationally acclaimed West Australian boogie masters Datura4 are set to tour the east coast of Australia for the first time in six years on the success of their fifth album, "Neanderthal Jam".
Datura4 is fronted by Dom Mariani of legendary Oz garage rockers The Stems, With plans to tour Europe in the latter part of 2023, the April tour will be their first time back since 2017.
The band will play four shows across New South Wales and Victoria, including an appearance at the prestigious Gum Ball Festival in the Hunter Valley and a Sydney show with returning platinum-selling Canadian act The Sheepdogs.

Datura4 finds Dom Mariani rediscovering the heavy and progressive blues sounds he loved as a teenager - bands like Led Zeppelin, Ten Years After andt he Groundhogs, Aus bands like Carson, Masters Apprentices, Chain, Billy Thorpe & The Aztecs and Perth locals Bakery.
Dom has even added an authentic '70s blues-rocker to his band – keyboard player Bob Patient is a one-time member of heavy prog rockers Fatty Lumpkin, a later day member of Matt Taylor's Chain and more recently a sideman of Perth's internationally revered slide guitarist Dave Hole.
APRIL
Friday 21- Great Club Sydney (w/ The Sheepdogs) - Tix
Saturday 22 -, Gumball Festival - Tix
Sunday 23- Barwon Club Geelong - Tix
Monday 24- Cherry Melbourne (special guests - The Gas Babies) - Tix
Details

By

The Barman

The Barman