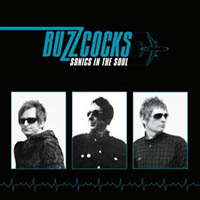 Sonics in the Soul - Buzzcocks (Cherry Red)
I'm gonna be as objective as I can. I loved the Buzzcocks. I mean, I'm not alone. Everyone loved them, didn't they?
Okay. I came in at the beginning, heard their journey, was delighted by their first two LPs, their singles, then ... that third LP which initially bewildered me, but I grew to love better than the other two. Except, of course, the compilation, "Singles Going Steady".
Then, 42 years ago and five years after it all started (particularly with the "Spiral Scratch" EP, which unleashed the DIY independent music scene in the UK), came those three singles which sort of worked, but didn't quite. Something had changed. Because, you know, change happens.