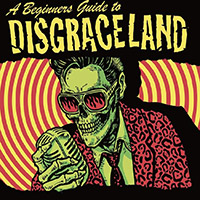 A Beginners Guide to DISGRACEland – DISGRACEland (Vi-Nil Records)
DISGRACELand are the remnants of Sydney Northern Beaches band from the '90s, Orange County, MERGATROID and the group fronted by infamous '80s wastrel Johnny Teen, and have hooked up with re-animated label Vi-Nil to release a debut album. Sounds just what's needed in these fraught times where live music is still staggering under the weight of a COVID hangover.
With pandemics being what they are, DISGRACELand hasn't appeared live much, but the shows they have under their collective belt have attracted attention. One animated affair at the Link and Pin Café in Woy Woy, north of Sydney, impressed part-owner and Vi-Nil honcho Mark Fraser so much that he decided to put out the band's CD.