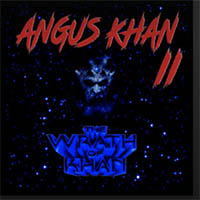 Angus Khan II: Wrath of Khan – Angus Khan (self released)
Angus Khan is one helluva biker heavy metal band and "Angus Khan II: Wrath of Khan" is one helluva album, a wonderful 2020 follow up to the most underrated and fabulous "Black Leather Soul".The Los Angeles-based band's music has been described as: "Where Angus Young meets Genghis Khan in a back alley fight" and that'll do me. Both these albums need to be played loud.
Angus Khan was a collaboration band between punk and rock 'n' roll acts The Streetwalkin' Cheetahs and B-Movie Rats that spawned "Black Leather Soul" in 2009 and broke up in 2012. "Angus Khan II: The Wrath of Khan" sat on a hard drive for years before being released in digital format.
Mainman Frank Myer (Streetwalkin' Cheetahs, James Williamson and Eddie Spaghetti & Frank Meyer) dropped by the I-94 Bar to give us a track-by-track on the sophomore album. Here's the download.