Details

By

The Barman

The Barman
Braindead (Resuscitated) b/w SurvivalsKills - The Scientists (In The Red)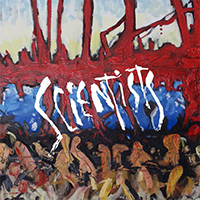 This double A-sided single of new recordings from the reconstituted Scientists, released in time for their recent US tour, is all kinds of wonderful. You could spend hours ruminating about what lineup of the band was/is definitive but you'll be hard to please if the current configuration of Salmon-Thewlis-Sujdovic-Cowie (nee Chock) doesn't please.
"Braindead" is an old song re-done and although it dates from a later period, it recalls the sound of the earlier "Blood Red River" with a steak of sustained feedback and fuzzy guitar counterpoint. Kim Salmon and Tony Thewlis sound like they're having five kinds of fun and the relentless engine room lays down a simple but effective feel. Handclaps add a touch of groove that past productions sometimes sacrificed in pursuit of volume.
"SurvivalSkills" lands the band squarely back into the swamp as Salmon intones grimly over a cauldron of barely muted guitar. It's more abstract and reminiscent of the 1980s band's later explorations while in Europe, sans drum machine. "There's always a cost," Kim reminds us. In this instance, it's well worth you putting down your heard-earned and making a beeline for the In The Red website. There's a 12" single with another 7" in the wings, both on the same label.
Kim will be launching that one, a new split solo/Scientists single and his biography, "Nine Parts Water One Part Sand. Kim Salmon And The Formula For Grunge", at Memo Music Hall in St Kilda, Melbourne, on November 9.




1/2