Details

By

The Barman

The Barman
Miles of Love - Powerline Sneakers b/w Star - Some Jerks (Buttercup)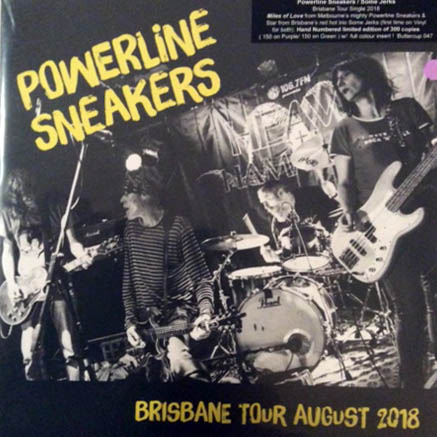 It's double A-sided goodness from two of Australia's best rock and roll bands, issued as a split-single to mark their shows together in Brisbane this weekend.
Melbourne's Powerline Sneakers contribute "Miles of Love", a harder-than-diamonds snarler from their "disasterpiece" long-player. Sly Faulkner's soulful plea for his other half to come back is pitched against a background of his and John Nolan's muscular guitars snaking in and out of each other's pathways. Its lingering feedback outro is a signal to play it again.
Some Jerks have won a rep as Brisbane's premier "surf garage rock" trio to see and "Star" is what you'd expect on the back of their "Strange Ways" LP. It sounds very '90s college radio (in a good way) without any false production veneer. It has an ethereal vocal and slinky bass-line from band-leader Vicki Watson and enough collective energy to light up the old Lang Park.
It's the usual Buttercup deal (colour inserts, limited hand-numbered edition, this time just 300 copies.) Get it at the shows or drop the label a line.
Powerline Sneakers and Some Jerks play the Bearded Lady in Brisbane with Slumlawwd on Friday, August 31. Buy tickets here because Some Jerks shows there always sell out. Powerline Sneakers play an in-store at Sherpa Records in Brisbane on September 1.