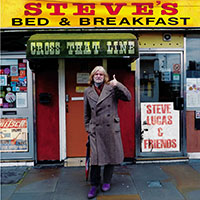 Cross That Line – Steve Lucas and The Rising Tide (Aztec Music)
The global lockdowns were responsible for la deluge of music – good, bad and indifferent. There was something about being cooped up that frustrated anyone with an artistic bone in their body. It prompted Steve Lucas to do a long run of streamed shows from his Melbourne home, and it birthed the idea for "Cross That Line", which was committed to hard drive in a studio as soon as restrictions lifted.
Lucas is best-known for his role as frontman for X, the punk rock and roll vehicle for him, the late Ian Rilen, Steve Cafeiro and Ian Krahe as well as a long line of subsequent bandmates. As sole surviving original member, Lucas still revels in the occasional X show. This solo album sounds nothing remotely like that.