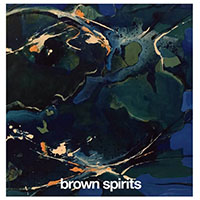 Pigeons don't belong in holes.
In other words, just as soon as you peg Off The Hip as Australia's home for "Thee Garage Rock Sound" exclusively, they throw another curve ball like this here Brown Spirits CD.
Brown Spirits are from Melbourne and are an instrumental trio made-up of Tim Wold, Agostino Soldati and Andre Fazio, whose collective curriculum vitae includes bands like Mod Vigil, Kids of Zoo, Deep Street Soul, Russian Roulettes, Go-Set and Legends of Motorsport.
To the best of my knowledge (and I've heard most of them), Brown Spirits sound nothing like any of the above.