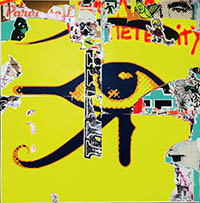 Dishee! - Hugo Race (Helixed Recordings & Films)
"Dishee!" is Hugo Race's umpteenth studio LP - I think the veteran guitarist has stopped counting (if he ever did). Race came up to considerable notoriety in The Wreckery in the 1980s in Melbourne (and Sydney).
On the Allmusic website, Mark Deming describes The Wreckery as "One of the more important bands on the Australian post-punk scene of the 1980s, Melbourne's The Wreckery played dark, atmospheric music informed by the blues and the same sort of chemical and cultural obsessions as their contemporaries Nick Cave and the Bad Seeds".
There's a lot more to Hugo Race; he's been involved in many recording projects; Dirt Music and The True Spirit spring to mind. Also, by dint of relentless touring and recording all over the world, he has built up a considerable overseas following. He also cannot keep himself still, creatively speaking; just recently he's played sizable gigs with The True Spirit, and a Doors' "LA Woman" tribute show. And there's a new one on the horizon...