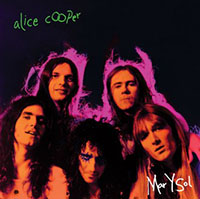 This one's an undiluted broadcast of a red-hot show by the Coop and the boys at the Mar Y Sol Pop Festival in Puerto Rico in 1972. That's to say, the original Alice Cooper Band, and not the crack session players and paid employees who followed.
Crank it. What you're hearing is the Alice Cooper Band at the peak of their powers. They're band in all senses of the word and a gnat's dick away from world domination with the release of their "School's Out" album.
The back story is the band was on a festival bill in Puerto Rico with the likes of Al Kooper, the Allman Bros, Emerson. Lake and Palmer, the Faces and David Peel and went on at 5am. You can't tell from the energy levels. A review at the time describes a festival beset by chaos, numbing humidity and massive financial losses. They would say that, wouldn't they. Let's hope the bands got paid.