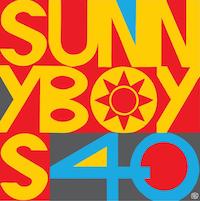 40 - Sunnyboys (Rocket)
New Sunnyboys studio recordings: They were long rumoured, but what they constituted and whether they'd see the light of day remained well-kept secrets. Now they're here, they prove to have been worth the wait.
There's no need to recount the rise, fall and reincarnation of the Sunnyboys here. Let's make the point that their second career is on a vastly different trajectory to their first. The pressure of being a major label money-maker on an endless treadmill is gone. Jeremy Oxley's health is good but he still needs to manage himself. It's a measured gait for these Sunnies in 2019 - at least until they walk onto a stage - as befits four gentlemen of, ahem, enduring existence.
Just like riugby league, the "40" record - a mini-LP, really, as it's eight tracks long - is a game of two halves. Side one comprises the four songs released on the band's self-titled "yellow" seven-inch EP on New Year's Eve in 1980. The original vinyl version sold out in a couple of weeks, to be re-pressed in a re-mixed 12" version soon after, but this is the first time that the original mixes have made it to CD.