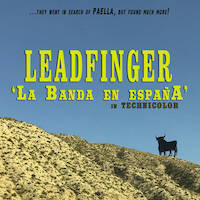 La Banda en Espana - Leadfinger (self released)
What does an Australian band that's revelling in Spain's delights (not the least of which is the populace's love of Real Rock and Roll) do on a day off from a European tour? Go into a studio and slap down some tracks, of course.
This six-track EP, committed to tape/hard drive in 2017, is the result of that and represents the first stirrings from the Leadfinger camp for more than a year, following band leader Stew Cunningham's successful fight against cancer.. Fuck, it's great to have him - and them - back.
"La Banda en Espana" sounds like the band was having a ball. It's not meant to be too serious. It's not going to make them rich.