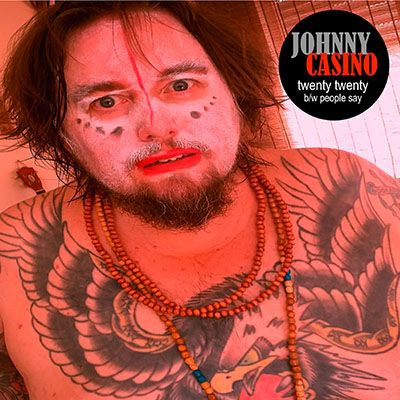 It's said great songwriters know to write about the things they know about. Johnny Casino has a new 45 imminent and it reflects the strange times in which we all live.
"Twenty Twenty" was written and recorded in the early days of COVID-19 as the expatriate Australian was stuck in Philadelphia, trying to work out a way to get back to his adopted home of Spain. The flip, "People Say", is a Bored! cover recorded in Spain in stripped-back style as a tribute to that band's late frontman Dave Thomas, who passed away in 2020.
The vinyl single is out on Spanish imprint Folc Records on January 15 and available for pre-order here.
"'Twenty Twenty' explains how i was feeling during the months of March and April 2020," Johnny says. "I had just touched down into Philadelphia International Airport and my brother-in-rock Billy was waiting to pick me up, and his first words were: 'Brrother I´m surprised they let you in.¨
"I had no idea what he was talking about!"
Casino explains: "Me and my wonderful wife Mayra live in a smallish seaside town called Denia in Spain and we knew there was ¨something¨ happening but not exactly what! We ain't much for watching news or current affairs programs.