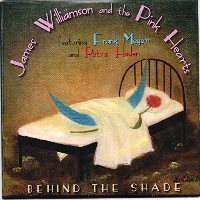 Plenty of people won't "get" this record. That's the inherent risk when you move forward and don't stay comfortably treading water in one swimming pool.
It's the second solo album for James Williamson (third if you count the live one with The Careless Hearts) and "Behind The Shade" doesn't kiss-off his substantial Iggy & The Stooges legacy. More pointedly, it reinforces that Williamson is no one-trick pony.
Of course you should know James for inventing one of the most brutal guitar styles ever. Iggy himself paid him a back-handed compliment by saying that his former collaborator filled every possible space in their band's soundscape. He did say it was to the point of claustrophobia, or words to that effect.