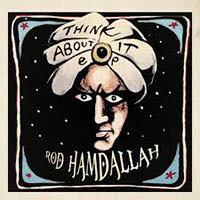 If you're going to raid the garage for inspiration, make sure you're taking your cues from the best.
Rod Hamdallah grew up in Atlanta, Georgia, and was playing gin joints and trashy dive bars before he was old enough to legally drink, steeping himself in blues, '50s and '60s rock and switchblade punk sounds from the get-go.
This 10-inch vinyl EP is a re-issue of Hamdallah's self-issued debut CD from 2014 and reverberates with rebellious righteousness.