Call it a gathering of the garage rock tribe or a gig for underground music's disaffected, but the "Born Out of Time #1" bill of high energy bands is going to rock Sydney's socks off.
A mini-festival of awesome proportions at Marrickville Bowling Club in Sydney on Saturday, September 15, it's the first of a series of national shows to showcase the best REAL Rock n Roll in the land.
Presented by Off The Hip Records and I-94 Bar, "Born Out of Time #1" features a line-up of motor-headed Melbourne punks Grindhouse; kings of fat 'n' drunken stupidity The Crusaders; new voodoo crew The Beat Taboo; revived and resurgent Sydney punks Aberration; and young Melbourne band The Devours.
"The concept of Born Out Of Time is to take bands from the label, and others, to places where they might not otherwise play," says Off The Hip Records honcho Mick Baty.
"It's a value for money, five-band bill that echoes the sort of nights that made the Sydney Trade Union Club famous in the 1980s."
The Crusaders will be making one of their all-too-rare appearances and their first since supporting The Sonics in Sydney two years back.
The Beat Taboo
is a group of Melbourne veterans with a swamp-voodoo
album
"Dirry Stash" making noise in Australia and overseas.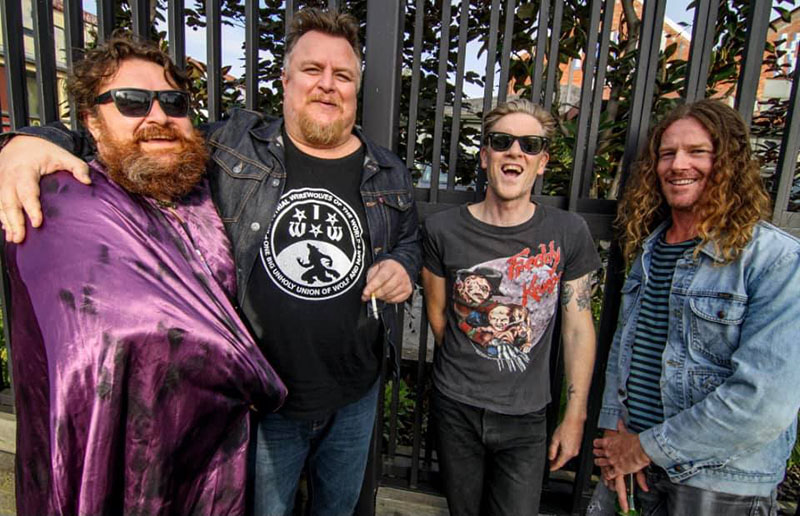 Swedish Magazines
+ Thee Cha Cha Chas
Old Bar, Fitzroy, Victoria, Australia
Friday, 3 December 2021
When Nick Carraway suggests the impossibility of recreating the past, F Scott Fitzgerald's nouveu-riche protagonist Jay Gatsby is incredulous. "Can't recreate the past? Why of course you can!" Gatsby, of course, is wrong. The past, as vivid and real as it may seem to us, cannot be dialled up like an old movie on the latest streaming service. At best there are flashes of lived experience, memories that loom large in consciousness, recollections skewed and exaggerated.
I can't remember exactly when I first saw the Swedish Magazines. Probably about 2003 or so, I think, in a world that seems quaint by comparison to today. Van and Cal Walker had already been in Melbourne for a couple of years or so. They'd been noticed by the right people around town, if not the people with the money and connections to catapult them down the road of commercial success.