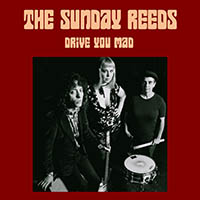 Drive You Mad - The Sunday Reeds (self released)
Well, The Farmhouse has been rocking, again. "Drive You Mad" is the new EP from the fabulous The Sunday Reedsfrom Adelaide. This six-track EP is a cracker.
Led by Romana Ashton (vocals and bass) this trio is rounded out by Drew Jones (guitar) and Sarah "Shakey" Portaro (drums.) Let me say this: they are crazy-good live. I've seen them supporting some of Australia's finest bands - Exploding White Mice, Radio Birdman and Hitmen DTK just to name a few - and they hold their own with catchy songs, pounding bass and some great guitar. "Drive You Mad" captures their live sound so well.