2020 Barfly Top Ten: Edwin Garland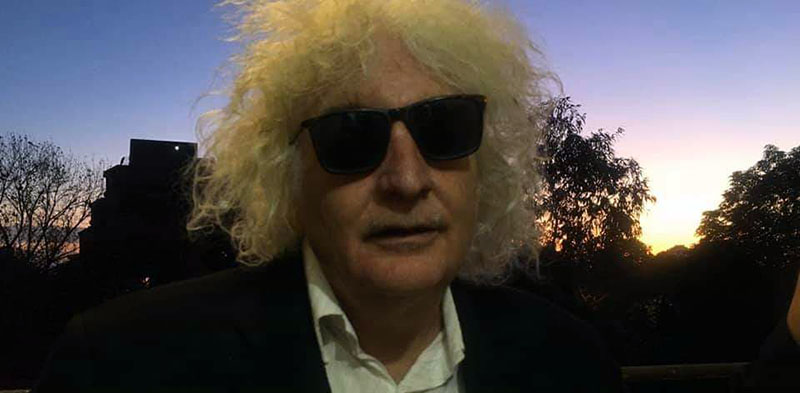 EDWIN GARLAND
Guitarist with Moonlight 5, Waxworks, Dwarfthrower
I-94 Bar reviewer
Sydney, Australia

I am sure many will say the same: This has been a shit of a year. Even so, I included much more than ten. Who cares !!
The passing of Greg Sawers
One piece of news hit me in the guts: Greg Sawyers' death. What more can be said about this real local legend and complete old school identity. He could be fit equally well at the Marrickville Bowlo or Annandale Hotel (R.I.P.) or the Wentworth Park dog track with his working -class dreams and love of supporting pure rock 'n' roll. Band manager Greg Sawyers took over when God got drunk. For Ian Rilen, Louis Tillet, Steve Lucas and Steve Balbi, he was their minder and advocate. He always had a couch for those in need and was willing to cook up his bacon and eggs when they woke sometime after midday. Greg was all heart and part of a Sydney music scene that is now gone.
LIVE MUSIC
The Darrans - Time and Tide Hotel. Dee Why, Sydney
Honestly, as far rock n roll goes, there is always a fringe of the lawless and "not giving a damn" element. These are bands whose gigs are not advertised and are attended through word of mouth. I discovered The Darrans playing at "the Time-o". The Darrans play brutally hard-core, surf punk that is bellowed and belted out over the most furious moshpit at a frantic pace. The singer dives into audience and they are relentless . All attitude. These sorta of gigs used to be found in the squats of Sydney in the late '70s and early '80s. You'd be hard pressed to find them in gentrified Newtown and Marrickville now. Get life insurance if you want to dive into the Darrans' mosh.
Jupiter Five – MoshPit Bar, St Peters, Sydney
This band is the antichrist of L Ron Hubbard: the bastard sons of Hawkwind and Black Sabbath, played in vein of a "Nuggets" album What do expect from the Grand Wizard Vince and his obsession with anything that's raw and pure garage rock, or Rossy the King of '70s Rock. Mix it up with space rock and you have one best bands to have emerged this year.
Simon Chainsaw and The Liberators, Frankies Pizza, Sydney
This band rocks. They are certainly the best exponents of 1978 British punk mixed with hard rockin' Aussie pop/pub rock in a relatively overcrowded end of the Sydney scene. Simply put, Simon has covered this ground since the mid-1980s and is uncompromising. This has always been at the deep centre of his existence since his early teens. When the band hits the stage, others are sloppy, try-hard amateurs in comparison. The Liberators are tough with a rhythm section that hits the mark, with a fine collection of melodic punk/pop classics in the set list.
LIVE STREAMS
Steve Lucas
Mammoth singalongs and campfire tapes in his lounge room in suburban Melbourne. Unpredictable, spontaneous and a lot of fun. Laidback and unpretentious. Drawing on Steve's early days of classic X songs and his solo albums, he'd take requests of the likes of the Kinks, Stones and Bowie - and deliver them the following week as the booze flowed freely at Steve's house. So just leave a gold coin on the fridge. The live streams would become happier and wilder affairs as the night wore on. Steve was always entertaining as the nips flowed. He made ISO a lot of fun.
Jim Mogine
Jim often jokes about his three bands: there is his Irish folk band that plays to 20 people at art galleries, his pub band that gets one hundred and that other one that plays stadiums. During lockdown, he released used solo streams to play songs that he wrote in the late '70s to Family Dog and Midnight Oil tunes, to classic covers that have really affected him. Moginie 's shows were a bona fide musical Mecca. Highlights were his cover of the Kinks' "Apeman" and the dark reworking of a full-on, early Oils song he wrote in 1977, " Is It Now". Stripped right down to piano, the song is as dark and stormy as an apocalypses. Jim Moginie donated thousands of dollars from his tip jar to Support Act. What a champion.
Swansea Hit and Run
John Cobbin and his mate Phil Stailaid have released a of quirky, original CDs over past years . They're a nod to the Mothers of Invention and Brian Eno, and even display some post-punk minimalism. As a duo playing around Sydney, they are developing a loyal following; they are probably the ultimate cult act. The monthly live streams show with their hybrid beat culture. They are always unpredictable with an array of characters from the school of absurdist theatre, while destroying local icons like K-Tel Records and taking the piss out of The Eagles. We all can salute.
Anne McCue
Anne McCue's live streams were stunning in their musicality with her striking voice and slide guitar Spurred on by the ghost of Django Reinhardt. Drawing from her 10 albums, we were taken down to the swamp with our toes dipping into the waters of the Delta. Then she'd open the doors to country swing as well as her array of amazing melodic pop rock gems - all without leaving her lounge room in Nashville. The only bummer was with the time difference. I missed a few and did have time to play catch up. Nashville was a city doing it tough with the nightmare of COVID-19 and there were sad moments with songs dedicated to peers who had passed away. Anne made it real and is one of Australia's fair dinkum greatest talents.
Monday Monday Gunk
Leaving the best to last: I have to hand it to The Barman and Rossy. Tis was a top idea. Present a mock TV show with interviews and reviews, and present a live act every week. I would have liked to get down to the MoshPit Bar to watch it live but work it made impossible so most were viewed on my phone with highlights being Kim Salmon, Psychotic Turnbuckles, Chris Masuak and Mick Medew with some razor-sharp set. Humour and great pub talk abounded and It was much needed and welcome in these locked down months. To get this running every week was a mammoth effort and it certainly was keeping the scene alive. Certainly, I hope there is a Season Two.
ALBUMS
Suzie Stapleton - We Are The Plague
Majestic and grand. A powerful album full of ghosts and whispers that is as much an environmental statement intertwined with intelligent songwriting and clever arrangements, I reviewed this album a month ago and it's still in place in my CD player. It takes you from the dark Gothic blues of an old wooden church on the Mississippi to a grand European cathedral. Suzie draws from such array of influences: British pop, Patti Smith, grunge and the early St Kilda music scene. Suzie's band rocks, as well. This is an album that's intelligent and creative. This is the Australian Album of The Year.
Bob Dylan - Rough and Rowdy Ways
Highly hyped album. I argue that all Bob's albums since "Time Out of Mind" (with one exception) have been five-star affairs. This is a brooding masterpiece, as expected, with long lyrical passages that form dark tunnels, brightened by the odd piece of Shakespearian wit. Bleak at times, isolating and populated by an array of ghosts, it is the aural equivalent of a Cormac McCarthy novel. The soundscape is mostly minimalism and underplayed with Bob's vocals penetrating with every grasp, whisper and growl. An album not for the light-hearted.
Lucinda Williams - Good Souls Better Angels
This album is a departure from Lucinda's customary stories about domestic disharmony, trailer parks, broken dreams and substance abuse. Her vocal ranges from whiskey-hollowed to an angelic whisper, peppered by a hundred years of pain. Lucinda is now settled into a wooden house in Memphis living in domestic bliss, yet her album is an immediate snapshot of America living under ugliness, materialism and Trumpism played with a fury of a wild rock 'n' roll band. It takes from the rawness of 1970s punk rock to Crazy Horse with some of the best guitar pushing the dials into the red. You feel like you're in a rehearsal room. There are tender moments, too, and it suggests the obvious notion that Lucinda is the love child of Hank Williams and Emmy Lou Harris. Lucinda smashes the doors down and bellows "Fuck you" with this record.
SPECIAL MENTIONS
Bob Short ISO songs and videos
Sydney's Bob Short is a unique chap who musically lays somewhere between Tiny Tim and Johnny Thunders (depending on his mood.) Bob loves to give a middle finger to an industry he is not impressed by. Over three months locked down in Rozelle, with occasional breaks to give his dog a walk, Bob was actually showing signs of being a workaholic (whether he admits it or not.) With more than 50 songs (that's right: 50) re-recorded or recorded, this was a major effort. Some were covers, others were ones that he'd written that day. From pure raw punk, to '60s inspired pop. Bob not only recorded them; he also created videos from old 8mm street scenes. It was (naturally) a hit or miss affair, all DIY and lo-fi but with some real gems and a few amazing songs. A real creative statement.
Tom Hilton - Aldora British Records Community
Tom is a legend and a workaholic who runs a monthly online fanzine of almost 50 pages accompanied by high quality online compilations, proceeds from the sale of which go to charity. Tom promotes quality bands from all corners of the planet - from garage rock from Bristol, swamp blues from Texas, siren folk singers from Canada and alt.country from Eastern Europe. He specialises in promoting the folk revival and for few bucks a week, you can get all the music sent to you, much of it of getting airplay on community radio stations. In networking these artists together, Tom Hilton reckons he puts about 70 hours a week into his obsession. Many songwriters, bands and musicians would otherwise be left behind by the new online world. Tom is an amazing bloke.
Sydney Sounds with Big Daddy K: For great radio during Lockdown
A can't think anyone in the Sydney music scene as dedicated and with such a deep love of live music. Others promote dubious credibility and are into self-promotion. Kevin is humble and just gets on with it: every Saturday, whether rain, sun, hail or storm, he gets into the studios in Gladesville. He's now been doing it for 33 years and makes the late John Peel seem like an apprentice. So many bands and artists owe Kev a debt for giving their demo or first release a spin. Kev captures the spirit of the underground scene - and garage rock is his speciality. He has a loyal cult following overseas who all tune in weekly. This year he was finally recognised and was awarded a grant from (of all things) American Express, recognising his contribution to the arts.
Chris Virtue - Virtual Reality
The second gong for radio goes to Chris Virtue, another 2RRR-FM announcer who concentrates on local bands and artists. This is high quality radio. Chris spends a lot time on his show with the aim to pack it with a variety ranging from an obscure Jerry Lee Lewis song mixed with county, alternative dark swamp or a bunch of teens belting out garage rock. Chris tries to give exposure to any artist that is ahead of the pack. He could be spinning Brisbane's HITS or Courtney Barnett. The interviews are intelligent and researched and thought provoking with a regular mixture of USA current affairs.
Tags: top ten, bob short, simon chainsaw, chris virtue, kevin cherry, edwin garland, midnight oil, 2020, jupiter 5, darrans, anne mccue