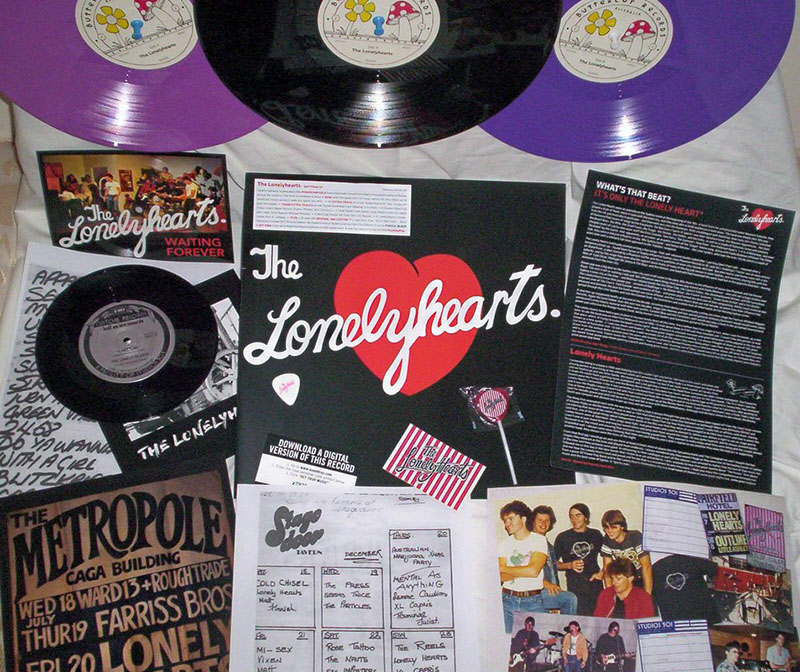 The Lonelyhearts are the great lost band from the 1980s Sydney scene. We're celebrating the release of an LP with bonuses, celebrating The Lonelyhearts, thanks to Melbourne label Buttercup Records.
Buttercup has gone to town on this one. As well as an LP of 14 songs, you get a bonus 45 of the band's first self-released single ("Last Kiss" b/w "Don't Feel Safe" - an actual pressing from back in the day), full colour inserts, a bonus playable colour postcard, download card, sticker, guitar pick and lollipop. It's reviewed here.
If you want to win one of two of these glorious LP packages answer these questions:
1. Name three Sydney live music venues that The Lonelyhearts played in their heyday. (In the event of a dispute, e.g. you being cute and coming up with a really obscure place, we will have this adjudicated by a band member, whose decision will be final.)
2. Name three songs that appear on this package. (If you're not sure, check it out on the Buttercup Records website.)
Send your answer This email address is being protected from spambots. You need JavaScript enabled to view it.. Don't forget to include your name and mailing address.
Entries close at midnight on Sunday. Be quick and if you really want to make sure you get a copy of the package, go online and buy one here. Just saying.