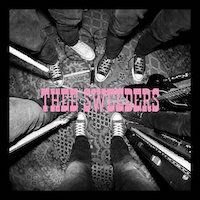 Thee Sweeders - Thee Sweeders (Let's Sweed Records)
No idea if there's a decent garage rock "scene" of any sorts in Annency, France. The French tend to do to rock and roll what Australia's backpacker killer Ivan Milat did to tourists, both using a place called a shallow grave, but if there is, it's lucky to have Thee Sweeders as part of it. This release is six tracks on vinyl of fine, hard driving punk rock and roll.
Comparisons are often odious and best avoided but let's pause and consider a couple:
The Murder City Devils gave equal prominence to keys and guitar and produced some of the best Stooges-in-the-garage skronk to come out of Seattle, Washington, in the wake of grunge in the '90s.Thee Sweeders peddle a similar style, with Oliv's swirling electric piano mixing it with Cuibs' chunky guitar. Sweeders vocalist Gilles approximates Spencer Moody's uncivil yowl - and probably speaks better English.