THE BEASTS + ADALITA (The Croxton, Melbourne)
An eclectic and "arty" set for the BEASTS with new & old songs and textures. Brave and playful. ADALITA solo is mistress of her songs and her guitar. Powerful and hypnotic.
RADIO BIRDMAN, MICK MEDEW AND THE MESMERISERS (The Factory, Sydney) and RADIO BIRDMAN, THE STEMS, LOS CHICOS (The Croxton, Melbourne)
High quality rock'n'roll from all acts on both RADIO BIRDMAN line ups – each having their own particular bent on rock'n'roll, all played with a fierce energy and oh what stamina! That's because they all committed to their art and are some of the best in the world at what they do.
RON PENO & THE SUPERSTITIONS (Memo Music Hall, Melbourne)
Classy and uncompromising, as always. Ron's many fans celebrated his return to the stage after his illness. Now he knows how much he is loved.
Japanese rock Melbourne!
I love a good 3 piece and Japanese punk bands really take it to a new level - THE LET'S GO'S served up pure rock 'n' roll energy at The Gem Bar; THE JETBOYS played a short chaotic set at Max Watts venue in Melbourne; MUSTANG JERX were firing at Off The Hip Records, on their first tour to Melbourne.
MASAMI KAWAGUCHI (solo) at The Old Bar, Melbourne.
I have been playing music with guitarist MASAMI KAWAGUCHI from Tokyo for nearly a decade now and he never fails to surprise. He is a magnificent guitarist and song writer and his solo performances go to sonic places that you wouldn't think possible.
EXHIBITION

I was lucky enough to see the exhibition Revolutions: Records and Rebels more than once at Melbourne Museum. The exhibition was a journey through five years (1966 – 1970) in music, fashion, art, politics, sex, equality and technology and was absolutely brilliant. Originally from the Victoria & Albert Museum, it comprised 500 iconic and thought provoking objects such as JOHN LENNON's glasses, THE WHO's PETE TOWNSHEND's first smashed guitar, JANE FONDA's Barbarella costume and the scribblings of WOODY GUTHRIE's journals, each telling the story.

Yes, the real thing – an object!
There was also some fabulous music as part of the exhibition. A must for rockers, rebels, intellectuals, hippies, and the plain curious.
FILMS
On ment toujours à ceux qu'on aime – a film by SANDRINE DUMAS, with a soundtrack by DELPHINE CIAMPI (France).
A French comedy that has a uniquely feminine perspective on surviving the world of rock n roll. The female protagonist, Jewel, is based in Paris and is immersed in her life – a life that is less than glamourous. The film's plot in ingeniously built around the lies she weaves in order to make her life appear "successful", in an effort to make others happy, or unhappy, depending on the lie. Confused? So was I. I saw the film in Paris and the majority of the dialogue was in French. There was enough English in the script, however, for me to piece together the plot. I identified with this film in so many ways, particularly in the blurred reality as to what constitutes "success" and "happiness" and how a woman's journey through everyday life and the rock'n'roll quagmire is inherently different to a man's. Multi-instrumentalist DELPHINE CIAMPI'S sound track was spot on and strikingly original. It included some instrumentation from the multi-talented DIMI DERO.
Blaze, a film by ETHAN HAWKE (USA)
Inspired by the life of BLAZE FOLEY, the unsung song writing legend of the Texas outlaw music movement that spawned the likes of MERLE HAGGARD and WILLIE NELSON. The film weaves together three different periods of time, braiding re-imagined versions of Blaze's past, present and future.
I watched this film on my flight back from Europe in March this year and it was a welcome relief after watching LADY GAGA in "A Star is Born" on the way over. I don't know what possessed me to watch that film, and to watch it until the bitter end. It was just so atrocious – everything about it. "Blaze", on the other hand, got everything right. Beautifully shot, with a well written script, great music and acting.
"A Dog Called Money", a film by Seamus Murphy (U.K.)
PJ HARVEY gathered lyrical and musical inspiration in Afghanistan, Kosovo and Washington DC, for her album "The Hope Six Demolition Project". This documentary was an interesting insight into her artistic process and how she utilised traditional instruments and "old" sounds to create something new & fresh within the rock genre, an idea I also toyed with on my "Tokyo" album.
"The Life and Times of Frida Kahlo"
A documentary about Mexican artist FRIDA KAHLO which was both tragic and elevating. What a life, what a personality and what an artist! Her art was in her everyday life – in her home, her clothes, her style, as much as in her paintings. It was in everything she did. A true genius and individualist!
"Trashfest 2019" a film by ANDREW LEAVOLD
Speaking of genius and individualist, ANDREW LEAVOLD, Queensland-based director of the cult documentary "The Search for Weng Weng", dug deep into his Trash Video vaults (his legendary Brisbane cult movie store from 1995 to 2010) to create a pastiche of clips from Bollywood and Nollywood – (that's Nigerian DIY "cinema"), Turksploitation and other cross cultural obscurities. An entertaining journey into a world of trash cinema that I never knew existed before.SOME PERSONAL HIGHLIGHTS OF THE YEAR FOR ME:
PLANTOPIA –w/ special guests myself & NICK OLIVERI (USA).
I was stoked to be invited to sing and play guitar on the track "Tasmaniacal" by Melbourne's most eclectic rock collective PLANTOPIA. International guest, the notorious NICK OLIVERI, ex-bass guitarist and vocalist of QUEENS OF THE STONE AGE, was also a guest artist on this track. He sings some startling vocals towards the end of the song. What a voice! You can listen
.
In case anyone hasn't noticed, I love travelling and in February/March this year I went to Paris to be a participant in a PANTHEATRE Voice, Performance & Music workshop and to perform in the South of France with French musicians and dear friends DIMI DERO (drums) and VINZ GUILLUY (bass).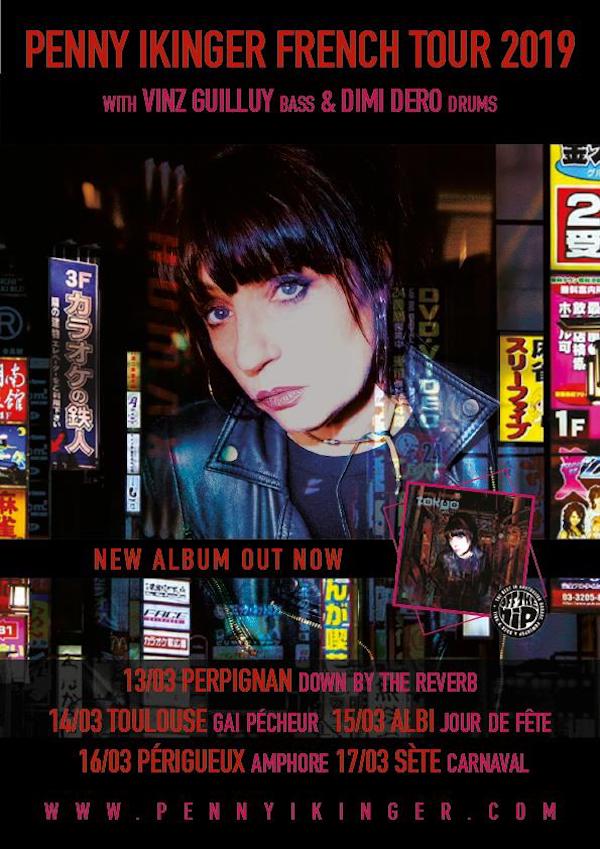 Fabulous French tour poster by LAURA HENRIQUES
As well as playing a string of gigs we recorded with JIM DIAMOND from THE DIRTBOMBS as Producer. I also went to Donostia in the Basque Country and played a solo show there. Thank you to UNAI LASKIBAR from SEÑOR NO and to the Basque people for their hospitality!
Doing it tough in Basque Country with UNAI LASKIBAR. Photo by Unai.
In August I went on a trip to Yellowstone National Park, Montana with RON and KAREN SANCHEZ and JIM DICKSON. Many of the things I did in 2019 happened in a roundabout way and this was one of them. After the sudden passing of our dear friend SUE TELFER, around the time I saw RADIO BIRDMAN play in Sydney in June this year, JIM DICKSON and I decided to live for the moment and take spontaneous a trip to Montana to visit RON and KAREN SANCHEZ who we had not seen for quite some time. Ron is head honcho at CAREER RECORDS and a multi-instrumentalist and songwriter who plays in DONOVAN'S BRAIN.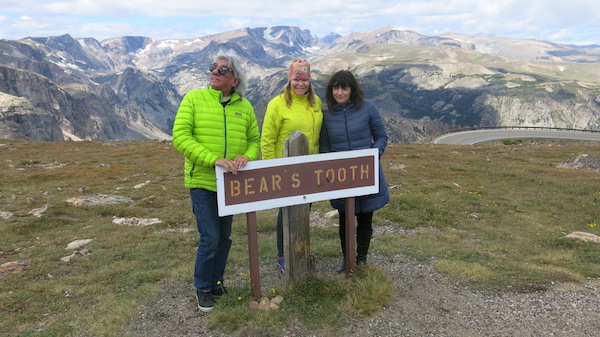 Feeling intrepid and in vogue with RON and KAREN SANCHEZ at Yellowstone National Park. Photo by JIM DICKSON
It was a real pleasure to hang out with them and to see some of the Montana countryside and meet some of their friends including DAVE WEYER and his partner OLIVIA, and BOB BROWN, bass guitarist for DENIZ TEK. Dave was re-assembling the amplifier Jimi Hendrix played through at Woodstock and modified some of Hendrix's Fuzz Face units to achieve Hendrix's sonic goals back in the day.
EPIC BRASS Melbourne shows
It's a real treat to play in such a fabulous band which is led by the ultra-talented and thoroughly nice guy, trumpeter Jack Howard, accompanied by an all-star line-up. As a performer I am under pressure because we play covers of both known and obscure Australian classics which means that the audience usually know the songs better than I do, but it's the best kind of pressure. I was happy that my 89 year old Mum came to one of the shows with my sister Kate and loved it. My Mum said she had never seen me "belt it out" like that before and she was not sure if STEVE LUCAS was a boy or a girl. I guess that's the hair-do – certainly not the voice, although he does have a marvellous falsetto.
'A CELEBRATION FOR CHRISSY' in Rocktober
This was a fabulous fundraising event that I held at Brightspace Art Gallery to mark the 60th birthday of rock and roll legend CHRISSY AMPHLETT (DIVINYLS), to honour her legacy and raise awareness around the issue of breast cancer. We raised over $6,000 for the OLIVIA NEWTON-JOHN WELLNESS, CANCER AND RESEARCH CENTRE at this event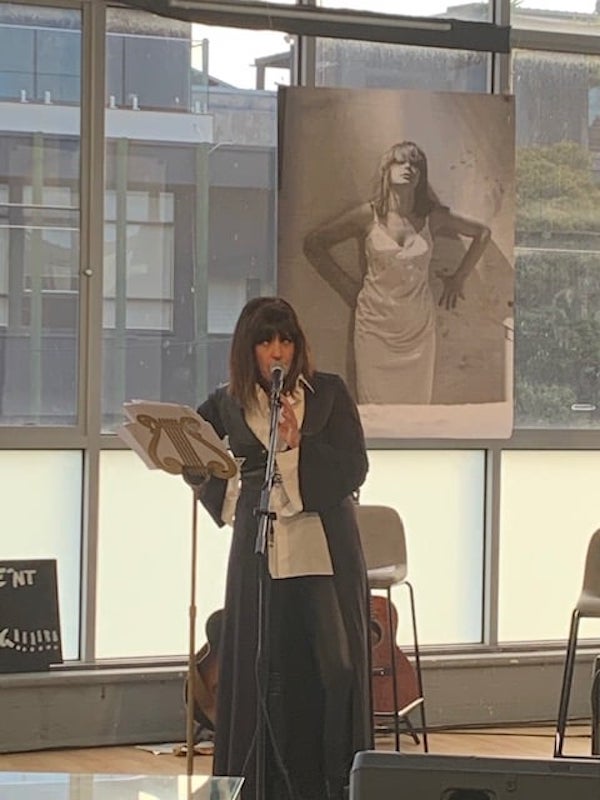 Myself in the unlikely role of MC at "A Celebration for Chrissy", Melbourne.
'A Celebration for Chrissy' included an auction of a TONY MOTT photograph of CHRISSY AMPHLETT and a reading from CHRISSY AMPHLETT's autobiography "Pleasure and Pain: My Life" by broadcaster and journalist TRACEE HUTCHISON accompanied by ex-DIVINYL, the legendary CHARLIE OWEN on guitar. There were also some incredible performances including a rendition of "Pleasure and Pain" by FREYA JOSEPHINE HOLLICK, Renaissance country music singer, songwriter and musician who recently travelled to the USA to record an album with LUCINDA WILLIAMS' renowned band Buick 6 and guitarist GREG LEISZ (known for his work with BECK, ERIC CLAPTON, AARON NEVILLE, SHERYL CROW among many others). REBECCA BARNARD, a singer, songwriter, producer and musician who has delved into rock, pop, and jazz genres, performed a stunning version of "Science Fiction". There is an exciting new release just around the corner for Rebecca which I am going to keep ssssssh ssssssh about…
All performances at "A Celebration for Chrissy" were breathtaking – at once both sparse and lush and like all great performances, emotionally charged, and for very good reason.

It was truly something special for me to be able to honour Chrissy in this intimate setting and to see the impact this event had on everyone present. CHRISSY AMPHLETT is still so well loved by her public.
I launched my new video for the DIVINYLS song "Boys in Town" at "A Celebration for Chrissy". This video was filmed and edited by TIM MCCORMACK, who also played bass on the recording. "Boys in Town" was released as a split 7" vinyl double A side single by FANTASTIC MESS RECORDS with BABY 8. The single was launched at the Old Bar, Fitzroy, Melbourne in December this year.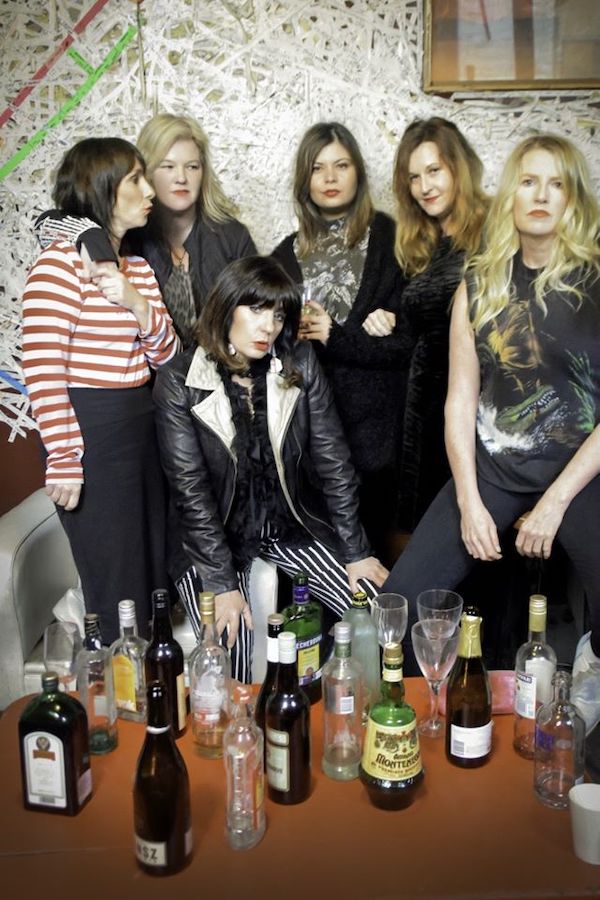 Aperitifs with BABY 8. Photo by HELEN CATTANACH.
I was accompanied at the vinyl single launch by the musicians who played on 'Boys in Town':- a "mystery band" featuring TIM MCCORMACK - bass, JASON MCGANN - drums, SAM BILLINGHURST-WALSH - guitar, JULIAN HELD - guitar and backing vocals and RYAN OLIVER - keyboards. We had never played a set together before (the "mystery" component), and it was an AWESOME show!!!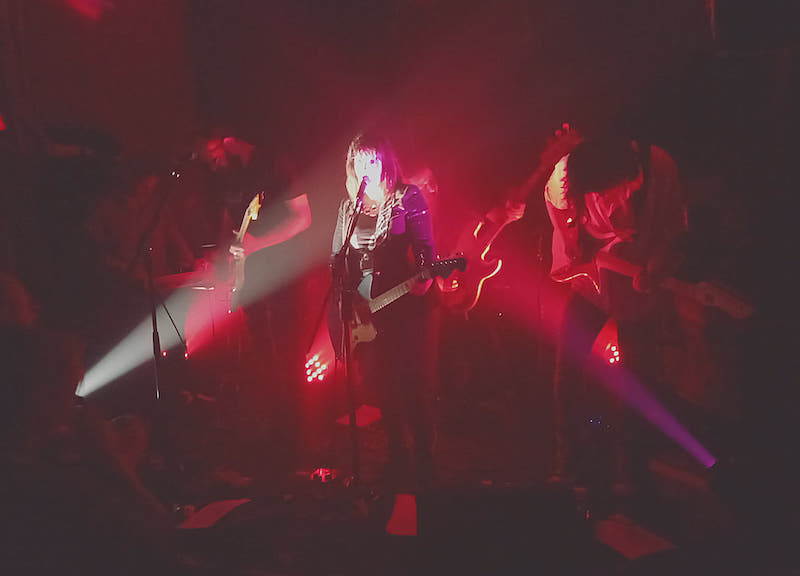 Mystery lighting for my mystery band at our "Boys in Town" vinyl single launch, Melbourne. Photo by HELENA ASHTON.
If you are keen to view the video or order the split 7" double A side vinyl single (w/ BABY 8) you can do so via my website: www.pennyikinger.com
The video can be viewed by donation and all proceeds will be going to the "I Touch Myself Project", which is a charity established in honour of CHRISSY AMPHLETT.
BABY 8 put in a killer performance at the launch with fab songs and a fierce rock attack. They were a hard act to follow! Like Brisbane band HITS, they have invigorated the rock'n'roll genre, just as you are getting worried that it's become music for old folks.
The inventive support act PLASTER OF PARIS took the three-piece rock sound a new level with a stripped back ensemble of guitar, drums and vocals. It was a fantastic night!
I played a string of solo shows with the very talented MICK MEDEW in Melbourne and will be playing with him in Brisbane on January 12th at The Junk Bar. I am always learning something new when I hear him play. He is a master of the solo performance for sure.
I also played some shows in 2019 with my Melbourne band featuring TIM O'SHANNASSY on drums, TIM DEANE on guitar and KATIE DIXON on bass. We have been playing a new set of songs from my "Tokyo" album and it rocks!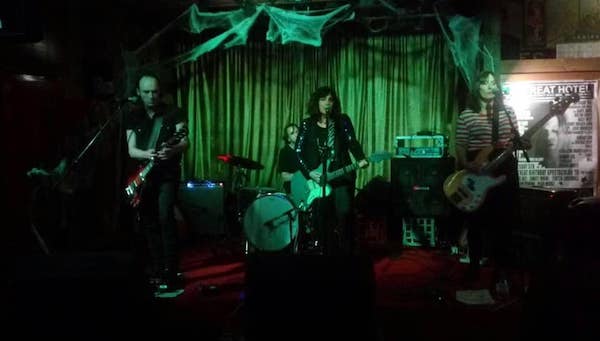 Myself with TIM O'SHANNASSY, TIM DEANE and KATIE DIXON at The Retreat, Melbourne.
2019 had some highs - and some lows

R.I.P
SUE TELFER
DAMIEN LOVELOCK
TRISTAN VARGA – MILLER
ROY LONEY

Pnny Ikinger is a Melburne-based singerm, guitarist and songwriter and former member of Sacred Cowboys, SALMON and the Wet Taxis.