Details

By

The Barman

The Barman

Hits: 5462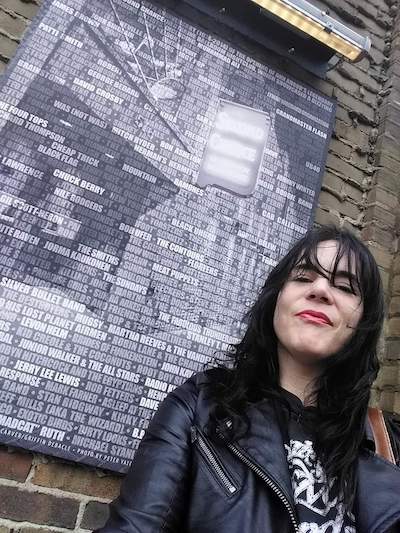 1. Lookin' 20p In the 10p Mix
SLEAFORD MODS ARE COMING in 2020!!!!!
Please, I don't want to argue with you.
All disparaging feedback please send to This email address is being protected from spambots. You need JavaScript enabled to view it.
2. New Rock Syndicate
Masami Kawaguchi from Tokyo graced us with his stunning soul again this year. Please refer to everything Penny Ikinger said in her Top 10. This gentleman is the most startling, perfect and inspiring guitarist I have ever seen and a true darling of a human being. Eternally grateful to have met him. Look at anything he has done, please. You're welcome.
3. The Kids Are Alright
You know when you're 32 and you think rocknroll has probably hit its comfortable slippers and pipe phase, and will be unlikely to return to what you've felt it to be in your life. Then you get to 39 etc. and realise ashamedly that you were very wrong. About most things, pretty much everything - it is an experience that spans generations, and is one of the many joys of ageing.
So many "young people" (definition pending, vomit pooling in throat) made music that blew my tiny mind out of my ears this year. Please pay attention to a band called Cable Ties, and one called Stiff Richards. Important, incendiary, vital, nasty, gorgeous, respectful, clumsy, intricate, hot, cold and wild. You may select which adjective attaches to which band yourself - like a choose your own adventure! God, this one has been bloody ridiculous, I'm sorry and you're welcome.
Details

By

Penny Ikinger

Penny Ikinger

Hits: 7187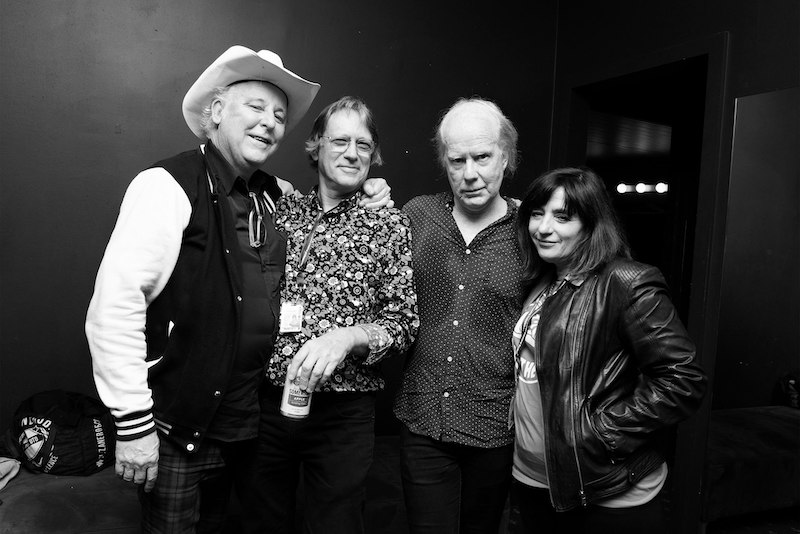 Backstage at the Festival of Sue with (from left) BILLY POMMER JR, CLYDE BRAMLEY and ROB YOUNGER. EMMY ETIE photo.
GIGS
GUADALUPE PLATA (Donostia, Basque Country)
GUADALUPE PLATA are an innovative 3 piece comprising (1) vocals and guitar (2) washtub bass/guitar and (3) drums. The play an eclectic and exotic mix of rock, blues, jazz and rockabilly. I saw them perform live after my solo show in Donostia, Basque Country this year. Pedro's guitar playing reminded me of my own, at times, demented approach to guitar playing.
KELLEY STOLZ, (Bottom of the Hill, San Francisco).
KELLEY STOLZ is a singer, songwriter, musician from the USA. His music has been compared to that of BRIAN WILSON, VELVET UNDERGROUND, NICK DRAKE and LEONARD COHEN. He played an awesome show with SARAH BETHE NELSON as support. Kelley is an all- rounder – a singer, musician and song writer. The real deal.
"A FESTIVAL OF SUE: THE JDS ARE ON YOU" (The Factory Theatre, Marrickville, Sydney)
Friends of SUE TELFER banded together to pay tribute to this much-loved Sydney lady with proceeds going to Support Act. A line-up that included myself (with special guest BILLY POMMER JNR on drums), X, the NEW CHRISTS, THE JOHNNYS, KIM SALMON, THE CRUEL SEA (instrumental), FRONT END LOADER, THE MIS-MADE, THE HOLY SOUL, & THE ON AND ONS. Having BILLY POMMER JNR on drums certainly gave me a run for my money. Highlights for me included the NEW CHRISTS, THE CRUEL SEA, THE JOHNNYS and X. Unfortunately, I did not get to see all the acts. Too busy chatting with my friends. It was such a great turn out from Sydney folks! After my trip into the city, seeing so many old buildings torn down (which caused me a lot of distress), it was great to see that Sydney folks still have a heart – a very big heart!
Details

By

TheDean

TheDean

Hits: 5046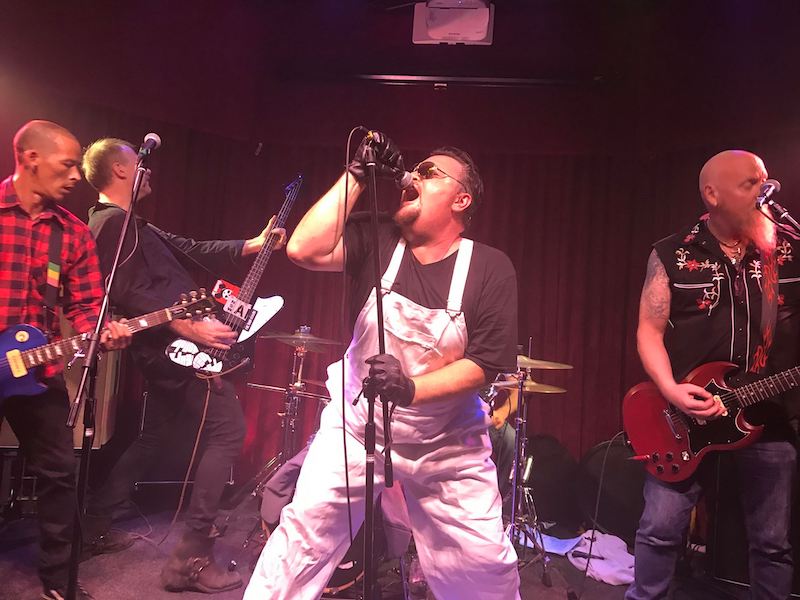 Dave Saul photo.
Rock n Roll CPR v Nostalgia Neuralgia
TheDean's 2019 - 10 things you should know
1) D is for Dickhead
Hey you! Yeah you sitting on your lounge watching TV. You sitting on your lounge, watching people sitting on their lounge, watching TV. If you're a fan of that show no worries. I can live with that but if I have to listen to you talk to your mate Thommo about it the next day, way too loudly on the phone in a crowded carriage and your follow up sentence is "all music these days is shit" and that there hasn't been a decent Aussie Rock Band since the Screaming Jets, you my friend; are a Dickhead.
2) A is for Australian
Dirty, Fast & Built to last. The Australian Kingswood Factory album Bloodshot and Shakin'. Get on it. Buy Australian & buy it now! Cow Punk, Punk-a-billy, punk, punk rock, rock punk or just plain old dirty rock n roll? Not sure how to pigeon hole these guys but I do know they are pretty much everything I ever liked in a band back in the day. If you don't check 'em out next chance you get, that's just plain Unaustralian.