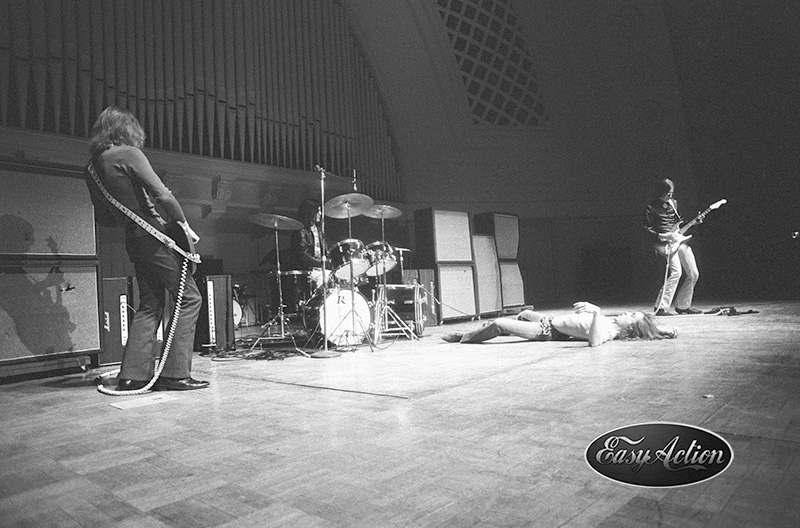 Leni Sinclair photo
"The Truth Is In The Sound We Make" (the title is from a post-Stooges Iggy Pop and James Williamson song) is littered with many previously unseen photos by professionals and fans. Close to 280 of them. Limited to the first life of the Stooges (1967-74) and produced in a run of 800, its earliest 150 (deluxe) copies come with two high-definition 8x10 live shots, a high grade art print, a poster and a bookmark.
"The Truth Is In The Sound We Make" contains no solo Iggy or reunion imagery. The text is a near-as-complete-as-can-be narrative of every Stooges show and recording session by co-author Per Nilsen, previously published in his own "On Stage 1967-74" but presented in expanded form. The visuals were laid out by Easy Action's long-time art guy, Les Clark.
Thumbing through the book from go to whoa and you can see the band's evolution from a bunch of misfit, stoner kids to road-ravaged walking dead.
Some of Ron Richardson's images of the fresh-faced (Psychedelic) Stooges at home have been seen before but they're an appropriate starting point. Barely into their life as a live band, Iggy looks so young you could mistake his Kabuki whiteface for Clearasil in shots taken by Stevce Bober at the Union Ballroom in Ann Arbor in '68, and Rock Action still looks young enough to be carded.
Contrast these with the slightly harrowing images of a strung out Iggy barely holding it together at Max's Kansas City in '73 or at various locations during the label-less death march as the Stooges stared down oblivion.
My favourite is a series of never seen Bud Lee captures of a shirtless Iggy straddling a leather jacketed punter (pages 154-55) who looks out of his mind with terror. An adjacent bespectacled concert goer stares imploringly at the lens in the following shot, with the dog-collared Pop now unseated on the theatre floor. It's mid-period (1970) so the full-blown habits, and sense of abandonment, are yet to settle in.
Co-author Carlton Sandercock set out to locate images that weren't dominated by the front-man (not an easy task) and it took years to locate owners and various right-holders. The colour photos of a glowing Steve Mackay, a pensive Dave Alexander and an uber cool Ron Asheton are a joy.
The authors pay fitting tribute to fan club force-of-nature, the late Natalie "Stoogeling" Schlossman, who was another source not only of numerous candid photos but of inspiration. A nice lady gone too soon.
Did we need another Stooges book? Of course we did. Is the postage a killer? Well, it costs half a case of beer to mail a CD over international borders these days, so you know it's not going to be cheap. At least there's an option to pay it off in instalments. And of course you'll own a copy of The Last Word.
Order your deluxe copy here and the standard edition here.