Details

By

JD Monroe

JD Monroe

Hits: 1905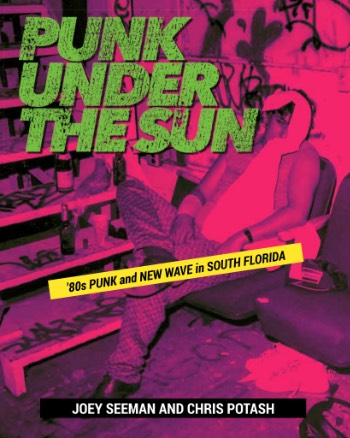 Punk Under The Sun: Punk & New Wave in South Florida
By Joey Seeman and Chris Potash
Hozac Books
I was never really drawn to Florida like so many of my ex-friends and former peers, I always called it "Ohio South" cause you know it's all the same insufferable tv brainwashed right wingers from Ohio who seem to migrate there.
Never liked Marilyn Manson or Disneyland all that much, or even Jimmy Buffet yeehaw beach culture, but weirdly a lot of musicians from all my favorite Murkkkan bands have Floridian roots.
Probably my fave band besides Generation X,Pretenders, and Beasts Of Bourbon was basically born there before relocating to Hollywood: a band called the Coma-Tones, who were, according to my famous old amigo the Sleazegrinder: "Like Jim Morrison singing for Guns N Roses". The vocalist Gio was approximately as excellent as Texacala Jones or early Tex Perkins, the guitar player Jimmy James went on to play for Junkyard and the Hangmen, and he's featured in the book.
Details

By

The Barman

The Barman

Hits: 1441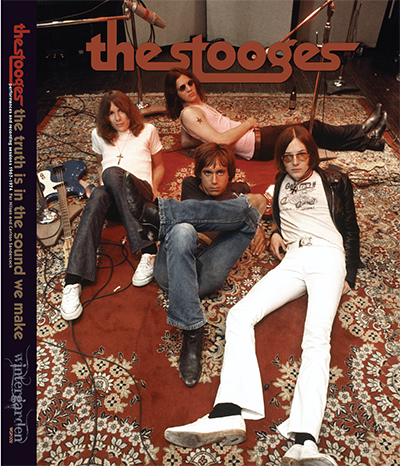 The Truth Is In The Sound We Make
by Carlton Sandercock and Per Nilsen
Wintergarden Books
It is The Last Word in illustrated Stooges books.
Big statement, and the competition has been stiff.
Change my mind.
First there was 2009's lavish "Stooges: The Authorized and Illustrated Story" by Robert Matheu (R.I.P.) and Jeffrey Morgan that chronicled the band's two careers in pictures and essays.
Ten years later, photographer Ed Caraeff's "Iggy & the Stooges: One Night at the Whisky" was a beautiful visual document of a 1970 Los Angeles show during the recording. of "Fun House". It was limited in scope but evocative in execution.
A few years later, "Iggy & The Stooges: Raw Power" by the late Mick Rock followed. Rock not only captured the memorable image on the cover of "Raw Power", taken at the Stooges' only UK show, but a slew of images of the boys during downtime.
"Total Chaos" by Iggy and Jeff Gold contained rare documents and handbills, but was mainly text and most of the live photos were familiar.
So Wintergarden Books (publishing arm of Easy Action Records), has scooped the pool with this 300-page, hard cover behemoth.
Details

By

Patrick Emery

Patrick Emery

Hits: 2560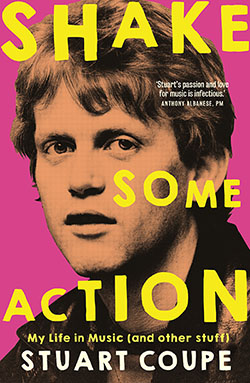 Shake Some Action: My Life in Music (and other stuff)
By Stuart Coupe
Penguin Books
"You're talking to Stuart Coupe?" remarked my wife excitedly, after I told her I'd catching up with Stuart at the tail end of an impending work trip to Sydney. "Tell him I used to read his column in 'Dolly' all the time! We all did!"
To thousands of teenagers – especially teenage girls – in the 1980s, Stuart Coupe was the guy who wrote that column in Dolly, championing music he liked, dissing commercial dross he didn't, and offering various observations and advice on various non-music topics, including kissing and the art of romance.
Not being a reader of the magazine, I wasn't familiar with Coupe's work with "Dolly", though his by-line did appear in regular dispatches in music magazines and newspapers. Decades later I interviewed Coupe for my Spencer P Jones biography; one thing led to another, and he became instrumental – in fact, was the critical force – in my obtaining a publishing deal. So, full disclosure, I consider Stuart Coupe a friend and sincere supporter of all the best things in music.
"Shake Some Action" tells Coupe's story, from his childhood in Launceston, to his formative years in Adelaide as a music writer, to syndicated columns (and "Dolly"!), the chaotic world of band management, the heady, drug and alcohol fuelled world of music industry largesse and the harsh economic reality of tour promotion and label ownership.