Still, we were here tonight for the Sunnyboys' final Melbourne show, so such pedantic concerns should be of trivial relevance. Local band The Prize are definitely on a roll at the moment, and their set was enough to whet the whistle of the old rocker crowd who'd arrived in time to see them opening proceedings.
The Prize have got some seriously good, catchy pop songs and their four-song 7" EP from last year is a record you could line up comfortably next to your dog-eared collection of classic Citadel Records 45s and wave fondly across that crusty old Flamin' Groovies poster you pull out and show your friends after a few beers.
Give it a few years and The Prize will be headlining this place.
Having seemingly spluttered to the end of their recording and playing existence over 10 years ago, Rocket Science have burst back into life, with a few live shows and a new album due for release this year. And they're as vital as ever.
Roman Tucker, whose current UK residence will inevitably limit the band's live appearances, bobs and weaves his way around stage like a hyperactive adolescent grooving to his favourite Nuggets tracks. Dave Gray lays down the heavy fuzzed-out bass lines, Paul Maybury's guitar licks are as brilliant as he is professionally enigmatic and if you've forgotten just how impressive Kit Warhurst is on drums, then just take a moment to remember. It's all good – is it possible to tire of hearing "Burn in Hell" or "Being Followed"? – and we're all happy as pigs rolling around in single origin organic manure.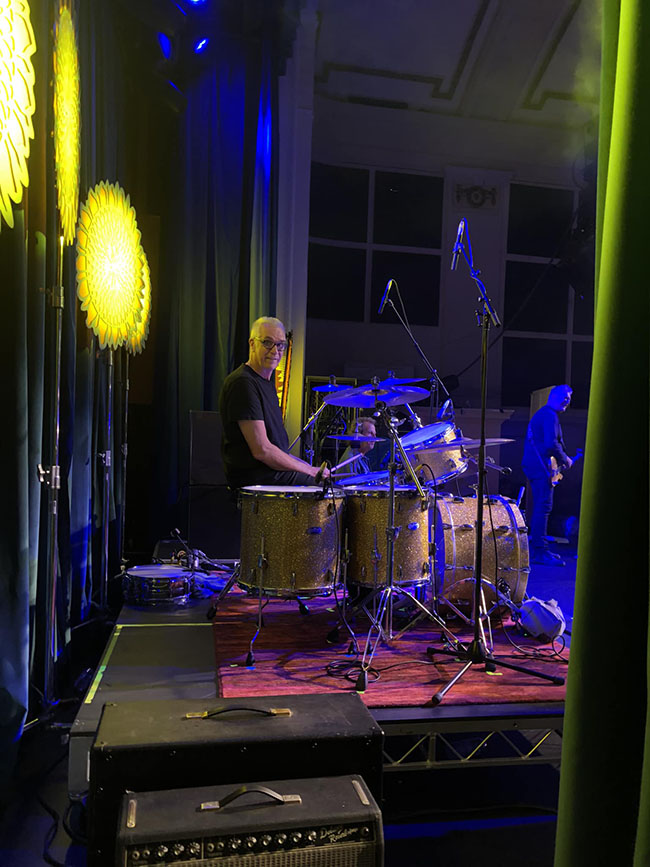 Sunnyboy Bil Bilson at his workstation. Michelle Bilson photo.
F Scott Fitzgerald has been misquoted as saying there are no second acts in American history. What the famed author actually wrote was "I once thought that there were no second acts in American lives, but there was certainly to be a second act to New York's boom days". The Sunnyboys' story is a three-act play: the first act was the band's rapid upward trajectory from 1979 to around 1984, three classic albums and some of the catchiest pop tracks. The second act was between 1985, with Jeremy Oxley increasingly struggling with the demons that had drawn a line under the band originally, vacillating between solo shows and, possibly with the encouragement of some without his best interests at heart, reviving The Sunnyboys name for the odd gig.
The third act, starting in early 2012 with the pseudonymous Kids in Dust set at the Sydney leg of the "Dig It Up!" festival, has perhaps been the most triumphant. The first time we'd seen them on in reunion guise, at the Corner Hotel in late 2012, there was a sense of love and genuine affection in the room so palpable it almost brought tears to your eyes. And so it's continued for past 10 years.
But everything must come to an end, and so it is tonight for The Sunnyboys' Melbourne appearances.
The band appears to rapturous cheers. Peter Oxley, bass player turned chef turned redoubtable familial presence. 'Big' Bill Bilson on drums. Richard Burgman, blessed with a face born to age gracefully, skips across the stage, smiling like he's playing live for the first ever time. And Jeremy Oxley, precociously talented, once tortured and forever redeemed.
Opening with "Love to Rule", the set is replete with obvious highlights – "My Only Friend", "Happy Man", "Trouble in My Brain", "Tunnel of Love", "Catch My Heart". I recently found myself in conversation with some university friends who were discussing legacy – the instant context was the naming of a wing in a hospital to recognise a lifetime of medical service – but what of the perennial legacy of The Sunnyboys? These are timeless pop classics, the soundtrack to everyone's adolescent years, whether you were there at the time or not.
A good pop song transcends time and place; the meaning is in the moment of enjoyment. There are other, less predictable moments of joy, including the Peter Oxley-penned "The Stooge" and some B-sides and rarities, including "Guts of Iron" and relatively recently uncovered demo "New Kicks".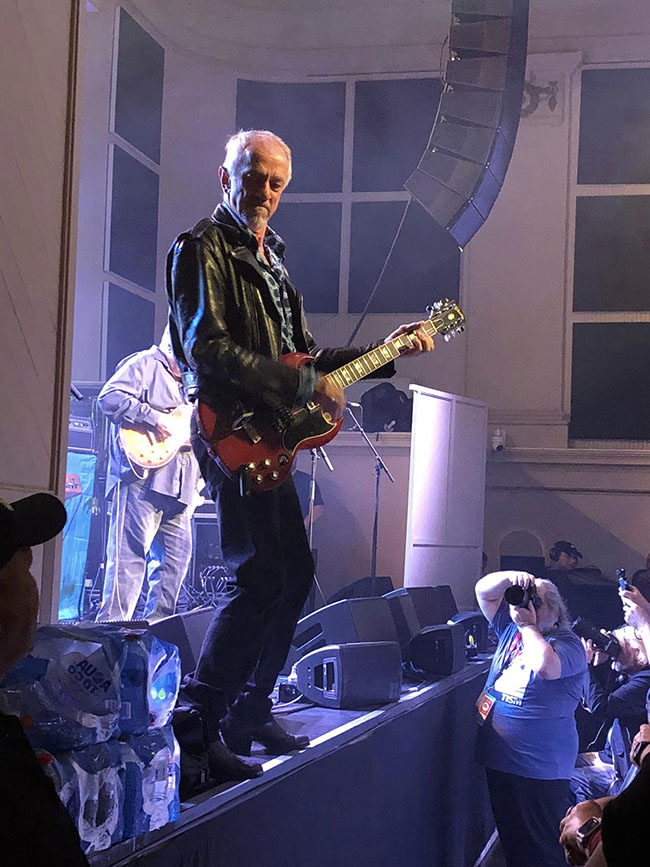 Richard Burgman gets edgy. Michelle Bilson photo.
Apparently Australia is going to get a poet laureate – but we need to do is recognise our power pop laureates of yore.
The main set finishes with "I'm Shakin'" but it's only a matter of time before the band returns for a three-song coda comprising "Ain't That a Shame", "You Need a Friend" and, inevitably, "Alone With You". Is it possible to do anything other than dance like an ageing teenage idiot when you hear those opening power pop chords and Bill Bilson's machine gun opening drum beat? Three quarters of the crowd couldn't hold a tune with a forklift but everyone's singing along.
Another short break and the night ends with "The Seeker", which, like The Who's identically named track, is a perennially underappreciated absolute gem of a pop song. The band leaves the stage, the house lights come on, everyone feels warm and fuzzy. The Sunnyboys may have gone but they will always be remembered.