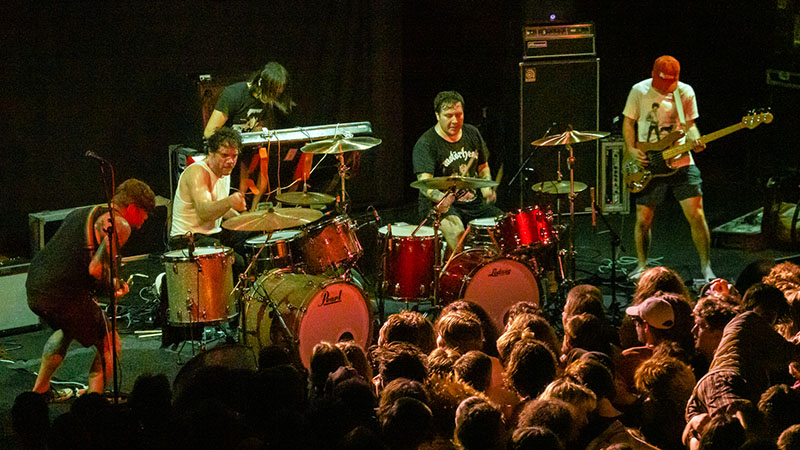 Then there is his music; this bloke John Dwyer is a genius.
More on that later.
I walked into The Metro mid-set for R.F.M.C.'s set to hear a muffled wall of sound with no separation of instruments. Pity. I do love Danectro guitars for their bite, and ability to cut through.
The band channels early Devo and I even heard late-'70s Sydney band XL Capris in their minimalist, post punk/new wave approach. Listening to their songs on Bandcamp, they really have a cool, retro sound and I understand why they have a big following online. The band is essentially the creation of drummer Buzz Chatworthy who writes all the material and has done so since his late teens.
When these sorts of bands emerged they were a reaction to shoegazing prog acts of the time. Edgy and visual, they put a lot of work in performance which matched the music. Right now, R.F.M.C. has the stage presence of the Year 11 Trinity Grammar debating team.
It is early days and it was a forbidding undertaking to support a monster rock machine like Osees in front of a sold-out crowd. That said, there is basic stage that's needed. You always bring spare guitars, for string breaks and tunings. And that five minutes spent on a string change is a a long time to be silent. I'd like to see these guys in a year's time and after 50 gigs. There have some great songs but they got lost.
Within 20 minutes, Osees assemble with an almost tradesman-like approach; it's all shorts and -shirts and no rock star glitter or dramatic entrance. After checking equipment, the band is right to go. The band explodes into " Withered Hand" - and it smashes with the impact of a Mack truck.
Not since seeing Ministry at the Coogee Bay Hotel 30 years ago, have I experienced such a sonic hit in the guts, body and mind. The band is very loud and clear.
Like Ministry of all those years ago, there two drummers on stage but unlike that band, Osees don't have that metal overtone. The rhythm section is intense yet with so much swing.The drummers, Dan Rincon and Paul Quattone, are deceptive at times; it appears they are smashing their snare with the involvement of a delay effect. Both apply slight variations to apply full power.
These songs build and build like a locomotive - so solid and powerful. Bass player Tim Hellman has melody and power in his solid bass-lines.
The new album, "A Foul Form" new has elements of hardcore. Tonight, "Scum Show" is another brutal smash in the face that makes Black Flag seem like a Joan Baez record. "Funeral Solution" and "Fucking Killed Me" continues those short jabs of brutality. The band is in the red and as the set continues, so does the bombardment through volume.
"If I Had My Way" comes across as a high speed-out LA trip-out by the mutant children of The Doors with the organ and swirling keyboard of Tomas Dolas prominent. There even is a nod to the street level and less pretentious of Frank Zappa's bands, The Mothers of invention, but it's been transplanted to a "Fear and Loathing" style bad acid trip against the unforgiving Sydney Metro's layered concrete backdrop. The set could be a distorted time capsule of L.A. In 1968, but Dwyer goes further back to recall the likes of old cluesmen like Howling Wolf.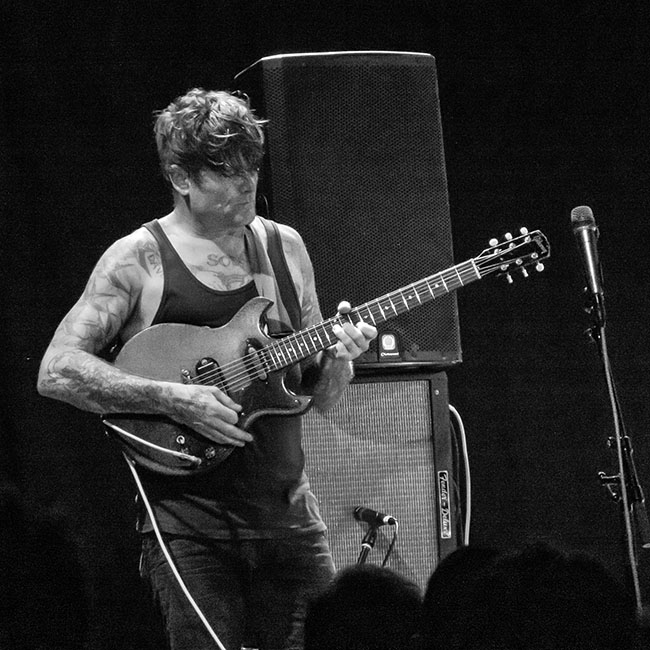 And make no mistake: it is Dwyer who is the manic, hardcore son of "Pebbles" records who is at the heart of The Osees. He is as inventive as anyone on guitar. He and his pedals create sounds with bottom octave wah–wah, phasers, delays, fuzz and much more.
The Metro theatre was shaking with waves of sonic swirls and loops. Always in the middle is Dwyer, dropping to his knees with his old, battered 1965 Gibson Melody Maker, sounding like a beast as he plays lead breaks above his head. His raw vocal approach imparts an almost death metal ugliness. Dwyer does not carry much melody on his vocals but his words and lyrics steer him clear of any pop sensibility. Pop is not what the band is about when he swallows the microphone.
The key to Osees is how they pull from such a diverse range of music. It's like they are scholars of underground music since the '60s. There are hard-core touches and elements of Kraut rock mixed with experimental psychedelic art-rock. There is a tension to the band's playing and an intensity. Tonight, we were served more than two hours of the most well-thought out and powerful and intense music that I had seen in 40 years of gig going.
Are Osees one of greatest live bands floating around the world at the moment? That is subjective but, yes, they are simply brilliant.