Details

By

The Barman

The Barman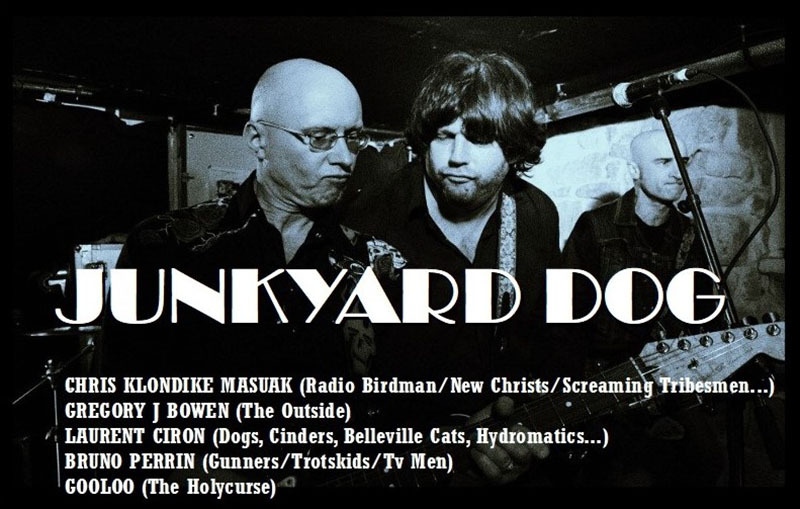 Chris Klondike Masuak will hit the road in France in November, armed with a band that has an impeccable underground rock pedigree.
Junkyard Dog boasts Masuak (Radio Birdman, Hitmen, Screaming Tribesmen) on guitar and vocals, guitarists Laurent Ciron (Dogs, Hydromatics, Cinders, Belleville Cats) and Gregory J Bowen (The Outside), bassist Bruno Perrin (TV Men, Gunners and Trotskids) and drummer Gooloo (Holy Curse).
In a time when real rock and roll is struggling to retain a foothold in Europe, that sort of heritage is going to be hard to beat. Check with local venues for times and tickets. There's a Facebook event here.
Chris Masuak & Junkyard Dog
French Tour
NOV
22 – Paris (tba)
23 – Breville/Mer @ Les Valseuses
24 – Vannes @ Le Barailleur
25 – St Brieuc @ Le Fût Chantant
26 – Rennes @ La Trinquette

Details

By

The Barman

The Barman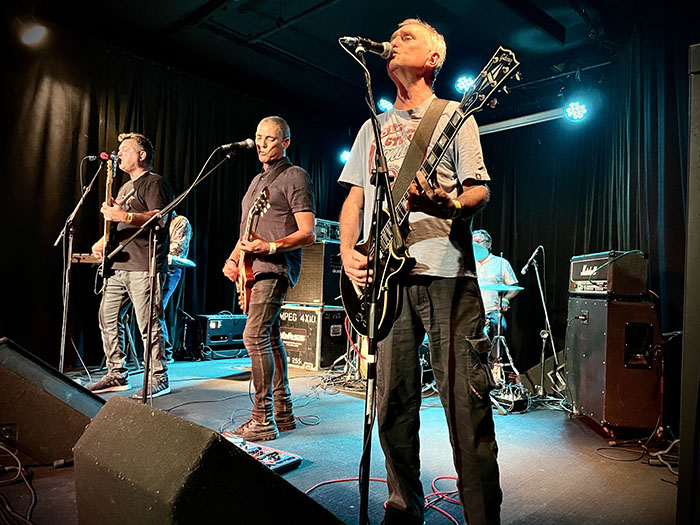 Sydney veterans Sonic Garage will unveil their second album, "Dark Country", at an early Friday night show at The Old Manly Boatshed on 6 October.
Supports are hard rock supergroup Bahne Super Flex, featuring ex-members of the Trilobites, Celibate Rifles and Mushroom Planet, and new comers Capital Romantics.
Read more: Sonically speaking, Album Number Two is leaving the Garage
Details

By

The Barman

The Barman

Sydney's finest purveyors of glam alt-rock, Starcrazy, are back with a hard hitting, hard rock rendition of ABBA's, "S.O.S"' and have given I-94 Bar first look at the brand new music video, which is due for release on streaming channels tomorrow. You can pre-save it here.
You can catch the band live at The Lady Hampshire in Sydney on Saturday, September 23 along with local up and comers, Mayeflower, The Polymics and DEDPAN. Tickets are here.
In only a few years since forming, Starcrazy have sold out multiple electrifying shows, released two independant EPs, received ongoing radio airplay from Alice Cooper, opened for world class artists (such as The Animals, Faster Pussycat, Wednesday 13, Chris Klondike Masuak and Hard-Ons), and even performed on national television!
Lead singer, Marcus Fraser, says of the new single:" We've always been into anything 70's and decided to incorporate a rocked up version of 'SOS' into our live set.
"It took a little patience learning the three-part vocal harmonies and transposing the piano part to guitar but audiences have been super responsive so we decided to record it in the studio. It's really fun putting our own spin on a classic pop tune.
"We added a completely new backing vocal part in the last chorus written by our bassist, Jack Barratt."
The music video was filmed and directed by John Flaws and edited by their very own, Jack Barratt. It pays homage to the original ABBA video from 1975 with crazy spinning camera effects and unique mirrored close ups of the band members.